There's nothing like art and craft to tap into your child's creative and imaginative side. Here are a few craft projects that will help your child learn from nature apart from being a lot of fun
Children love to play outdoors amidst greenery and everything it has to offer. Apart from the physical activity itself which is great for health, children can do so much more. For instance, nature-inspired crafts can prove to be an excellent hobby. It can inspire them, let their imagination soar, and help them better utilize their free time. And the best part is, you don't need to buy expensive material for such an arty craft. Anything in your backyard, from interestingly shaped or colored leaves, sand, pebbles, shells, pieces of wood, dried leaves or dried flower petals, can be used to make innovative crafts.
Here are some nature-inspired craft pieces that you and your child can make together:
1. Leaf paper art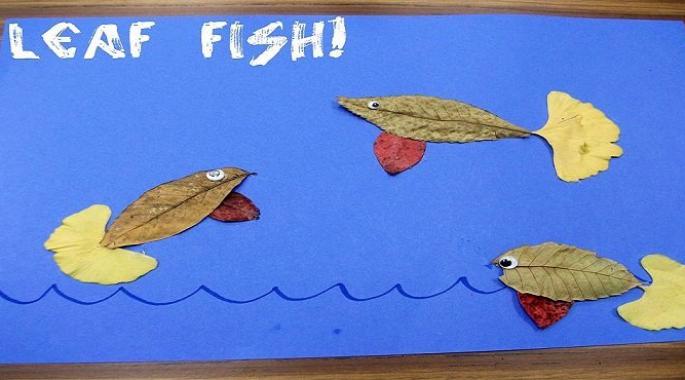 Materials required

Dried leaves
Dried flower petals
Some googly craft eyes
Sketch pens
Blue-colored chart paper
Method
Step 1: Cut a piece of chart paper for the required size.
Step 2: Stick three big dried green leaves to represent the body of the fish. Stick them in different directions, as if they are swimming.
Step 3: Stick the flower petals in such a way that they make the fins and tails of the fish.
Step 4: Stick one googly eye on every fish to make it look realistic.
Step 5: Using sketch pens, draw an underwater scene with waves and seaweed, around the fish.
Tip: You can also try different themes using the same materials. For instance, create interesting artwork by using twigs as trees, clouds cut out from leaves and small stones for pathways.
2. Miniature fairy garden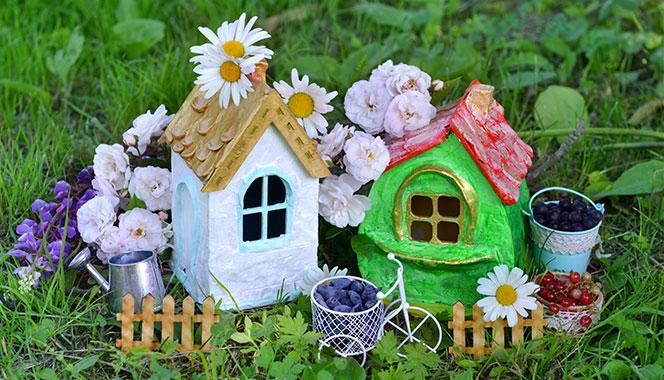 Materials required
A large mud pot
Some small pebbles and flat stones
Potting soil
Plants suited to a miniature garden like begonias, spider plants, herbs and button roses
Small decorative structures and figurines like a house, fairies, goblins, birds or squirrels
Method
Step 1: Fill soil up to the rim of the pot. This will make the plants in your pot more visible.
Step 2: Take your miniature plants out of their pots. Make sure you do not disturb the roots. Cut off dried or uneven leaves.
Step 3: Dig small holes to plant your saplings. Place taller plants at the back, short plants in the front. Use a variety of colored flowers and plants. This will make your miniature garden look colorful.
Step 4: Place your accessories like fairies and houses.
Step 5: Line up pebbles as a pathway outside the house.
Note: Place your miniature garden in direct sunlight and water as and when required. Trim your plants regularly so they do not become overgrown.
Tip: You can use themes such as playgrounds, waterfalls and parks. Dig a small hole and place a cup filled with water. This will look like a small pond.
3. Rock painting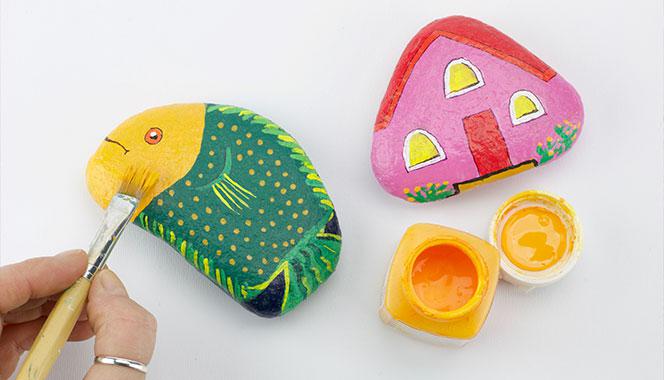 Materials required
Regular rocks (preferably flat on one side)
Sandpaper
Acrylic paints
Different-sized brushes
Glue
Method
Step 1: Scrub the surface of a rock using sandpaper to make it even. This gives a flat surface for easy painting.
Step 2: Paint using different colors and paintbrushes. Let dry.
Step 3: After the rock is dry, coat with glue and let it dry. This will give your rock painting a shiny finish and make it last longer.
Tip: You can paint anything be it a seaside scene, a woodland setting or insects and birds on the rock. Better still, make interesting doodles using sketch pens.
4. Seashell candles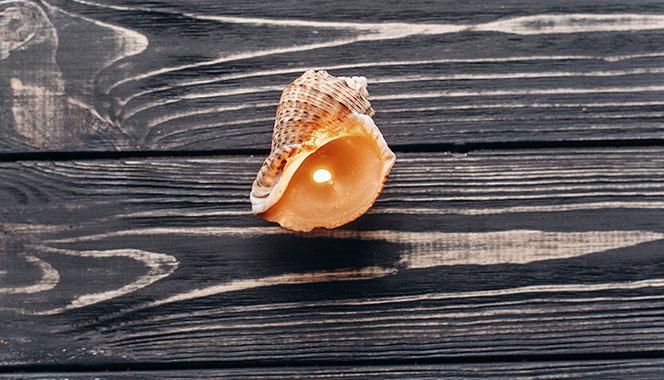 Materials required
Big-sized seashells
Wax
Twine
Smaller seashells
Method
Step 1: Melt the wax in a microwave until it is completely liquidized.
Step 2: Take one big-sized open seashell. Put two smaller-sized seashells inside.
Step 3: Pour the hot liquid wax into the seashell. If your child is doing this, ensure she is careful and does not burn her fingers.
Step 4: When the wax is semi-dry, place a small piece of twine in the middle and let the wax solidify completely. Your seashell candle is ready.
5. Treasure box with seashells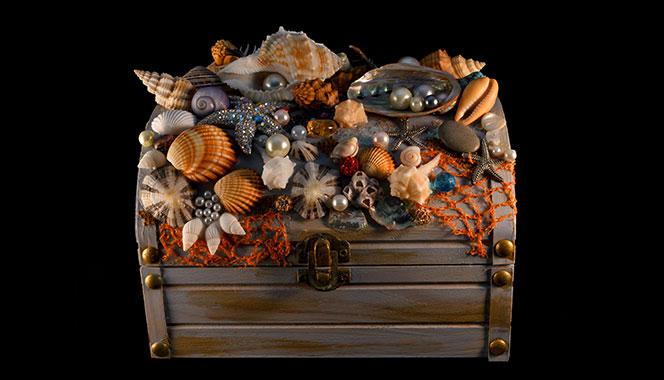 Materials required
An old box of any size or shape
Seashells of various sizes
Adhesive glue
Paintbrush
Method
Step 1: Glue the big seashells onto the box first. Let dry.
Step 2: Fill the gaps with the smaller seashells.
Step 3: Make sure the box is entirely covered with shells.
Step 4: With a paintbrush, coat the box with adhesive glue. This ensures that the shells don't come off and also gives a nice sheen to the finished product.
Such innovative art and craft activities can boost your child's confidence and help her hone her imagination. What's more, creating such craft together can be a great way to bond too. You will both have lots of fun and more importantly, your little one will also become more aware of the beauty there is in the natural world.