If you are running out of ideas to keep your kids engaged, and have exhausted all the tricks to reduce screen time with no luck, then you have come to the right place. Ever considered pebble painting?
Rock painting or pebble painting is a great hobby for your child to indulge in! And the best part is that it doesn't cost much, and the materials are easy to find.
So, fire up your child's imagination with a session of rock or pebble painting. Once done, the rocks look oh-so-cute that your kids just might refuse to part with it! Add these unique, handmade decor items to your home decor – you can use them as paperweights, windowsill decorators, showpieces, garden decor and so forth! And what's more? You and your children can use it as kindness stones for strangers! All you've to do is paint a pebble and leave it for a stranger to stumble upon – in the hope of brightening up their day! Confused about how to go about it? Read it all here.
What is pebble painting?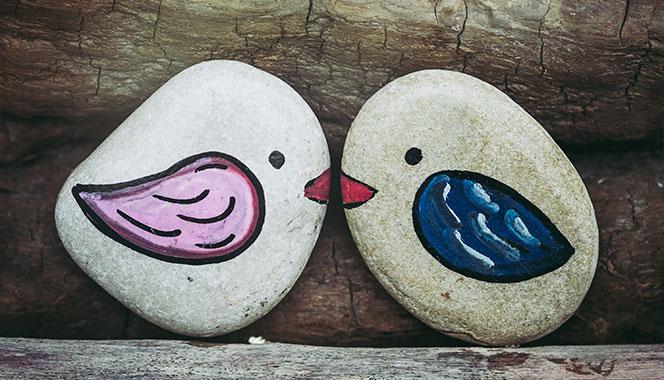 As the name suggests, pebble painting is simply painting on pebbles or rocks. These pebbles are all around us, you just need to put in a little bit of creativity, to turn these rocks into works of art. And it can be a great hobby for children to take on. Think painted owls, ladybirds, abstract designs and flowers. You can really unleash your inner artist with this medium.
In an age where children find it hard to sit still without an electronic gadget in hand, painting pebbles can be a wonderfully calming activity. It can bring down stress levels of both parents and children and can also serve as a great bonding activity.
"It's definitely a thing here in USA. My daughter Anjali, painted pebbles as part of a school project. People also do it as an activity during birthday celebrations," says Jessica Mckenzie-Murthy, a mom from Washington DC.
How to go about pebble painting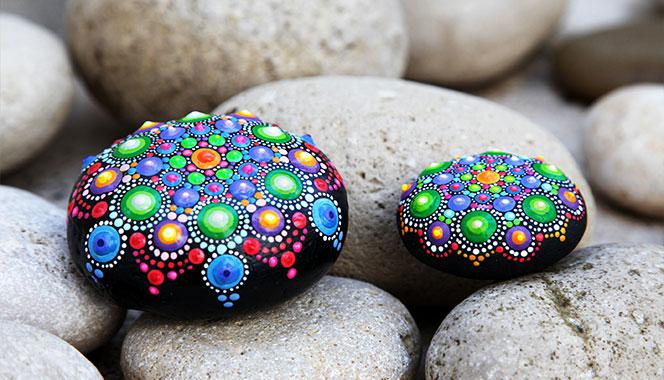 To get started, all you need is a smooth pebble, some acrylic paint and a paintbrush! Yes, you're good to go. It's as simple as that.
Roshni DSouza who works in wildlife conservation is a pebble artist. She says, "I was working in Panna district in Madhya Pradesh, and as a summer camp activity I wanted to teach something different to the kids. So, I started picking few pebbles to paint and it all started there. We generally paint characters on the rocks."
Speaking on why she loves pebble painting she adds, "It's a stress buster for me and the kids. It uplifts my spirit. I once gave a child who would always engage in fights a painted pebble with the message, 'Plant Seeds of Love'. This helped send the message across and it taught the other kids to do the same. I have also left pebbles on colleagues' tables as paperweights."
When asked about tips for picking up pebbles she advised, "I pick up the pebbles from anywhere. But I ensure that the place I pick up these rocks from is not a habitat or nesting place of any bird or any wildlife."
If you are not comfortable picking up rocks from nature for rock painting, many beginner kits are available in craft stores and online.
Types of pebbles that can be used and where to procure them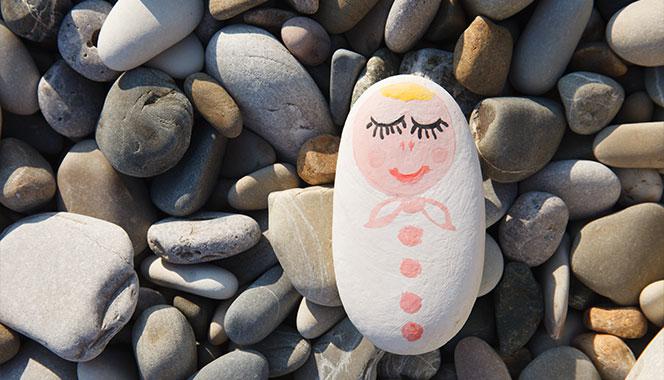 Pebbles or smooth rocks can be found everywhere. The best places to find them are rocky beaches and riversides. Flat stones found in gardens will also do. Most stores that stock gardening supplies will most likely have pebbles in different sizes.
Make it a day's program with your child – search for pebbles together, spend time outdoors, you can also try and take a picnic basket along. Later, wash the pebbles, dry them and start painting on them with your painting kit! This way, you can spend some meaningful time with your children, and they would surely enjoy the process of looking for the pebbles and creating something from scratch.
What kind of paint do you need?
Pune-based craft teacher for children, Jyoti Mehta says, "Acrylic paint works best. You could use emulsion paint or poster paint as well. Avoid watercolors and chalk as the colors would get washed off especially if you want to place it in a garden or use it as a decorative item outdoors."
How to get ideas for rock painting designs?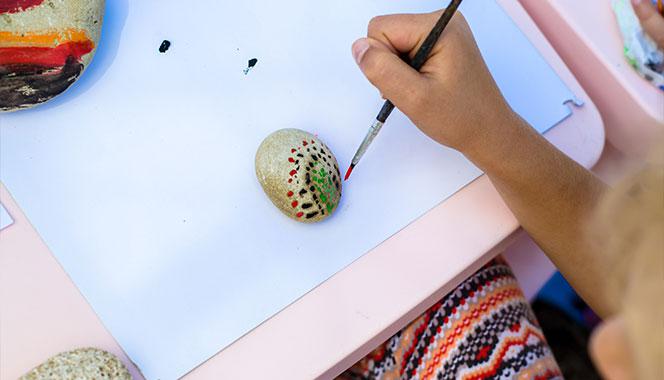 One quick tip – give the pebble one coat in a bright rich color, and then do a simple design on it like a flower or a heart in a different color. Your child and you can slowly progress to try different themes such as cartoons, animals, nature, etc. The Art of Stone Painting: 30 Designs to Spark Your Creativity by F Bac is a good guide. YouTube and Pinterest have a plethora of ideas as well. Encourage your child to explore and discover creative ideas she can try out.
The Kindness Rocks Project
Did you know that these simple rocks can help your child learn values like kindness? 'Kindness Rocks' is a trend in countries such as Canada, New Zealand and Singapore and is catching on in India as well.
Painted pebbles with a positive message scrawled on it are being used to bring a smile to someone (even a stranger). It is a wonderful way to uplift someone's spirit with a motivating message. There are school groups and Facebook groups that you can join – where you paint rocks, hide them in parks, beaches or gardens for other children to find. This is not only a fun way to get your kids outdoors exploring nature, but the painted inspirational messages are a way of spreading kindness.
With the motto of Lucius Seneca, a Roman philosopher "Wherever there is a human being, there is an opportunity for kindness," the Kindness Rocks Project started off as a woman's small gesture to spread kindness, and now it has become a global movement of sorts.
"It's big here in Singapore. We joined a group for my daughter Ishika to have a bit of fun. She was painting a lot of pebbles and I thought it would teach her what paying it forward means," says Aparna Das-Sadhukhan, a jewelry designer and mother.
You can start your own kindness rock project in your community through WhatsApp or Facebook or at your child's school even!
Things to keep in mind while pebble painting with kids
Painting is fun but messy – remember to cover surfaces with newspapers and make your kids wear old clothes or an apron.
Enforce a house rule that there will be no hurling of pebbles.
Clean the pebbles well before use.
Use sandpaper to clean uneven areas on the pebble or rock.
Plan in advance what you want to paint and pick the right-shaped pebble accordingly.
Use a pencil and make an outline of the picture and then let your child fill it in with color.
Start with inexpensive brushes or whatever you have at home. You can buy better ones as their skill improves.
Make each painted pebble personal by asking your child to add their name or date.
A little painted pebble may seem like just a simple art and craft activity, but it has a lot of soul. In a world addicted to screen time and gadgets, pebble painting is tangible, portable and comes with the ability to de-stress and uplift. Be it starting off a Kindness Rocks project, or a gifting idea or a project to engage the kids gainfully, painted pebbles can offer a lot. Do give rock craft a shot in your home – we guarantee that you will not be disappointed.