Atal Bihari Vajpayee: 6 Life Lessons From India's 'Anmol Ratna'
Vanshika Devuni Kalanidhi
7 Mins Read
With the passing away of Atal Bihari Vajpayee, India has lost one of her greatest sons. As a teen, I will always remember Atalji for his wisdom and courage, and the lessons his life has taught me.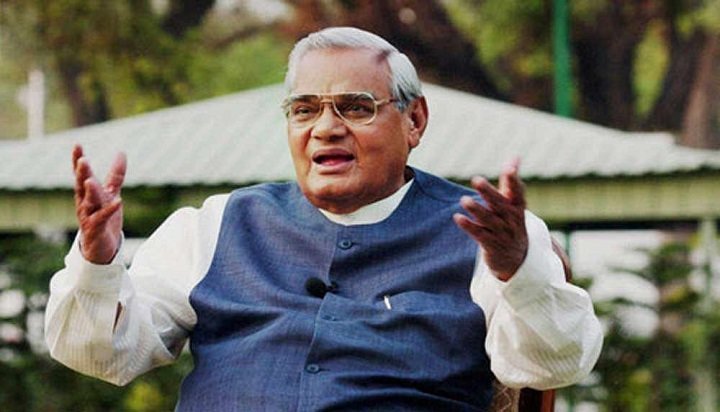 Born on 25 December 1924 in Gwalior, Atal Bihari Vajpayee grew up to become one of India's leading statesmen and political leaders. From taking part in the freedom struggle to giving the go-ahead for the nuclear tests in 1998, Atalji dedicated his life to serving his country.
With his passing away at the age of 93, an era has come to an end. Today, as we mourn his death and pay tributes to this great personality, we also take inspiration from his life. Here are six life lessons that we can learn from Atalji:
Start young: While most 20-year-olds are still wondering what to do in life, Atalji was very clear about the path he would tread upon. He jumped into the freedom struggle when he was in his early 20s. He joined the Rashtriya Swayamsevak Sangh (RSS) in 1939 and used to arrange meetings, coin slogans, and spread awareness about the organisation. Never one to waste time complaining or wait for others to act, Atalji used every opportunity to work hard and get closer to his goal. He became the general secretary of Arya Kumar Sabha, a youth branch of Arya Samaj, in 1944, which was his first step towards activism. He believed in starting young.

Stand up for your beliefs: Atalji began his journey in politics by taking part in the freedom struggle. He participated in the Quit India Movement when he was in his 20s and was sent to prison. This was an important milestone in his life. He was not afraid of taking on authority, as he believed in fighting for what was right.

Develop resilience: Life is full of ups and downs. Atalji became the tenth Prime Minister of India after the general elections of 1996. However, he held office for only 13 days, as his government failed to get support from other political parties. This gave him the distinction of being the shortest serving prime minister of India. However, failing to garner support and stay in the office did not demoralise or dishearten him. He led his party from the front in the general elections of 1998. His indomitable spirit ensured that his party won the elections and he became the prime minister once again.

Stay productive: Along with being a distinguished and respected politician, Atalji wore many hats. He was also a poet. In fact, Atalji continued to write poems even when admitted in the hospital. Ill-health did not prevent him from contemplating and putting his thoughts together in the form of poems. He made the best use of his time and was always productive.

Be proud of your heritage: Before Atalji became the prime minister, he was also the external affairs minister in the government headed by the late Shri Morarji Desai. In 1977, as the foreign minister, he had the opportunity to address the United Nations General Assembly (UNGA). And, he made every Indian feel proud and left an indelible impression on our minds when he chose to address the UNGA in Hindi instead of English. He was motivated by his deep love for his cultural heritage and his mother tongue.

Words make a difference: Atalji was not only a great statesman but also one of the greatest orators of modern India. Wherever he went, people wanted him to speak a few words. With his eloquence, he could keep everyone enthralled. He had the rare ability to weave words of wit and wisdom with every sentence. His speech about the Chinese occupation of Tibet on the floor of the house in 1959, and his address to the UNGA in 1977 and later, prove that words have a huge impact. Atalji believed in the fact that one should choose his words wisely as these can create a lasting memory.

Atal Bihari Vajpayee's never-say-die attitude, his capacity to infuse humour into any situation, his ability to rise above the rest, and his simplicity and humility made him hugely respected in India and throughout the world. These lines from one of his poems tell us about his invincible and resolute spirit:
Thunn gayi, maut se thunn gayi, jhoojhney ka mera koi irada na tha, mod par milenge iska wada na tha, raasta rok kar woh khadi ho gayi, yun laga jaise zindagi se badi ho gayi
The author is a writer/blogger who blogs at www.vanshikadevuni.blogspot.com.

Looking for expert tips and interesting articles on parenting? Subscribe now to our magazine. Connect with us on Facebook | Twitter | Instagram | YouTube