In a conversation with ParentCircle, young naturalist Vikas Madhav talks about the importance of nature conservation, his passion for bird watching and why children should spend more time with nature
Many parents lament the growing influence of gadgets and the World Wide Web on their children, worried that the lack of outdoor activities and the constant exposure to technology and social media, can be detrimental to their well-being. They could take a cue from teenager Vikas Madhav to inspire their kids he was recognized by Sanctuary Asia with the Young Naturalist award when he was just 15 years old, for his efforts to conserve wildlife in the urban environs of Chennai.
The verdant outdoors held great appeal for Vikas even as a toddler. But it was a chance encounter with a woodpecker, pecking away at a tree trunk that really sparked his interest in the natural world. He was only in the first standard then. "My grandfather was with the Zoological Survey of India, so he had a lot of reference books on birds and animals. I loved reading them and became really interested in the living world," says the 17-year-old naturalist and birdwatcher.
A love for winged creatures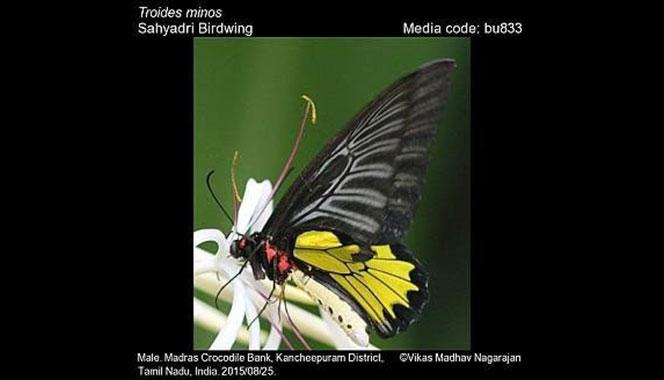 Vikas chose his passion early -- he was amazed by birds and butterflies and has concentrated on documenting these winged creatures. He has traveled and recorded around 700 birds and close to 400 butterflies all over India and has been closely associated with the Madras Naturalists Society (MNS) and the Tree Foundation. His checklist of various species of birds has featured in the society's publications and he has also written about his findings in both national and international journals.
Vikas feels that his family has played a major role in his journey so far. "My parents have been really supportive and I couldn't have done so much without their encouragement. They accompany me on all field trips and take a lot of interest in the conservation activities," says the youngster.
The science and art of birdwatching
So how does he spot rare birds and recognize them so easily? "It takes some practice but when you become accustomed to documenting butterflies in the wildlife, it is easier to recognize birds. While recording butterflies, your eyes get trained to look at the small creatures and differentiate among each of them, depending on features such as size or number of dots on the wings. You also have to read up a lot," he explains.
A relentless campaign for a greener world
It is this dedication that has helped Vikas pursue his conservation efforts. The youngster has been instrumental in putting the spotlight on urban wildlife in the Pallikaranai marsh in Chennai by campaigning for its protection and also the water birds in the Odiyur lagoon. His efforts have received attention not just in India but also from birdwatching communities around the world.
He continued his passion even while he was pursuing his chemical engineering degree at the SSN Engineering College. In fact, in his first year in college, he recorded 110 species of birds and 60 species of butterflies on his campus. Apart from writing serious articles for environmental journals, Vikas is also interested in wildlife photography. His photographs have been displayed at wildlife photography exhibitions. The most recent bird he has spotted is the Black Baza on his college campus.
More eyes for birdwatching
The young naturalist was heartened that his college made efforts to keep the surroundings green, which contributes to urban wildlife. "Considering there is so much pollution everywhere, more colleges need to think seriously about maintaining greenery in their urban campuses; this would really help in increasing the bird and wildlife population in cities," he feels.
"I want more people to be involved in birdwatching. We now have a Whatsapp group of enthusiastic birders from varied backgrounds. Our youngest member is 16 years old while the oldest is 74. We often go on field trips together and have been documenting whatever we see. The next step is to come out with a catalog. We need younger eyes for birdwatching. Children need to really get outdoors and connect with the environment to enrich themselves. It will help them experience the miracle of life," says Vikas.
What children can do to conserve nature
"Start small. Take up small eco-friendly projects in the school and college. Clean up your neighborhood, segregate waste. Spread awareness about avoiding the use of plastic and so on. Those interested in birdwatching can enroll in field trips organized by the Tree Foundation and similar organizations," he concludes.
With his deep passion for nature conservation and his determination to bring about change, Vikas is a true inspiration for all youngsters. May his tribe increase.