Single-Use Plastic Ban Comes Into Effect In India: Here's What That Means For Us
Meera Mathews Marrate
2 Mins Read
India has announced a ban on all manufacture, sale, and use of single-use plastics from July 1, 2022, to tackle the plastic pollution problem in the country. Single-use plastics, also called disposable plastics, are mainly used as packaging items that should be thrown out or recycled after one-time use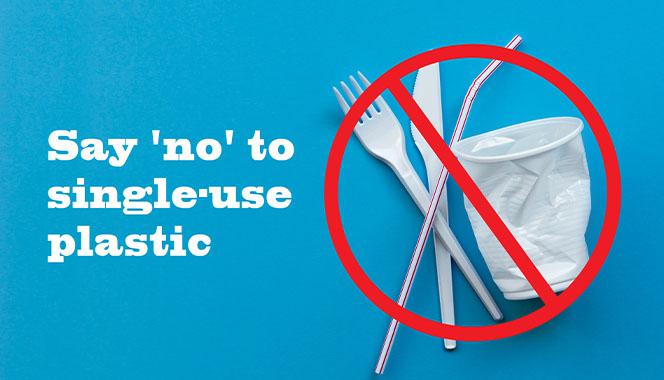 Why the ban?
India is among the top 100 nations contributing to single-use plastic waste generation. Earthday.org published a report that said humans use around 1.2 million plastic bottles per minute and around 500 billion plastic cups yearly. Single-use plastics are not biodegradable. They are unsustainable and remain in the environment for hundreds of years. They do not decay and cannot be burned, as they release hazardous fumes and gases into the atmosphere. In due course, sun and heat slowly turn plastics into tiny pieces called microplastics, which will find their way into food sources and eventually enter the human body. Banning single-use plastics is a step toward reducing overall plastic waste generation.
According to the International Union for Conservation of Nature (IUCN), 300 million tons of plastic are produced in the world every year, out of which 14 million tons end up in the ocean. As per data from the Ministry of Environment, in FY 2019–20, around 34 lakh tons of plastic waste were generated in India.
A Few Items That Are Banned
Cutlery items including plastic plates, cups, glasses, forks, spoons, knives, straws, stirrers, and trays
Plastic shopping bags, food packaging, and grocery bags
Plastic material packaging used for gutkha, tobacco, and pan masala
Balloon sticks
Earbuds with plastic sticks
Plastic flags
Polystyrene for decoration
PVC banners measuring under 100 microns
Wrapping or packing films around sweet boxes, invitation cards, cigarette packets
Things We Can Do To Limit Single-Use Plastic Waste
Using reusable water bottles
Carrying reusable shopping bags
Limiting buying things sold in plastic
Recycling plastic bottles or containers
Shifting to stainless steel glasses, water bottles, and containers
Investing in cloth diapers
Switching to menstrual cups instead of sanitary napkins
Bringing your own reusable container to restaurants for takeout
Using eco-friendly cutlery like wooden products, bamboo cutlery, paper-based straws, compostable plastic straws, glass or metal trays
How will the ban be enforced and what are the fines?
The ban will be overseen by the Central Pollution Control Board (CPCB) and by the State Pollution Control Boards (SPCBs) monitored by the central government.
The penalty for using or littering single-use plastic will be a spot fine of ₹500 for individuals and households and ₹5,000 for institutional waste generators.
We know the harmful effects of plastics and chemicals, so let's try and remove all traces of them from our homes. Cutting back is a challenge but making small changes in our daily life would mean a big leap forward.