World Environment Day is celebrated on 5 June to increase awareness about environmental issues. Try these simple DIY activities with your child this weekend and do your bit for the environment
"Learn to use the resources of the Earth in a manner that minimize our consumption, so that we can share equitably with all today and leave behind enough for tomorrow's inheritors."
- Sunita Narain, renowned environmentalist
It is important for parent to teach their children about the importance of environmental preservation as this will help her learn about real-world issues, appreciate nature and use natural resources carefully.
Here are 8 eco-friendly DIY activities that you and your child must try over the weekend preceding Environment Day (parental supervision recommended).
1. Shoebox birdhouse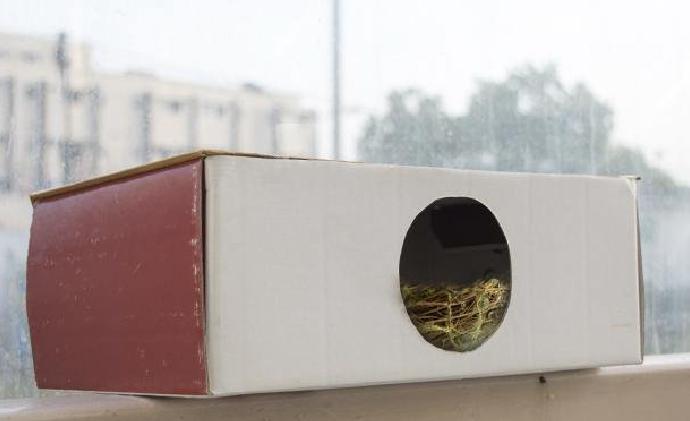 Invite birds to live with you by setting up a birdhouse on your balcony. Birds are happy, social creatures and can be good company for your child.
Things you require:
Shoebox
Scissors, cello tape
String
Time: 5 minutes
How to: Use cello tape to tightly secure the lid of the box. On one side of the box, make a circular hole, about 3 inches in diameter. Attach strings to the top with cello tape if you're hanging it out. Alternatively, place the box on a window sill or in the nook of your balcony.
2. Fruit enzyme cleaner
A lot of food waste, including fruit peels, goes from your kitchen to landfills. By making fruit enzymes, your child can learn to reuse fruit peels and make organic cleaning agents.
Things you require: 
Used airtight plastic container
Jaggery/brown sugar
Fruit peels
Time taken:1 week
How to: Put fruit peels collected over 2-3 days into an airtight plastic container. To this, add a teaspoon of powdered jaggery or brown sugar. Let it sit in a cool, dry corner for a week. The mixture will start fermenting. Open the lid of the container every other day to release the gas let out by the peels. After a week, you can filter the liquid and use it as a household cleaning agent.
3. Compost bin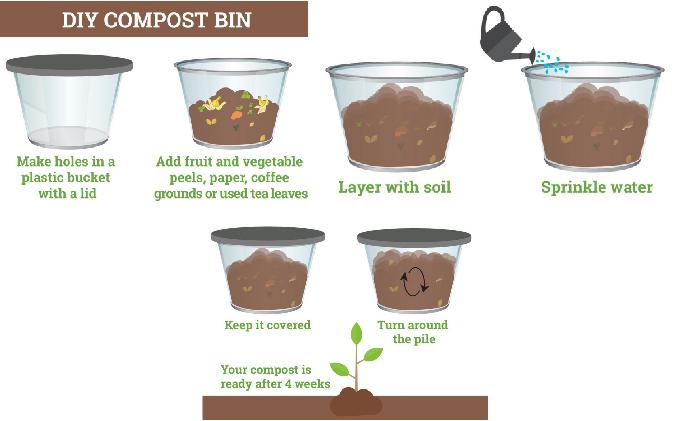 Food waste can also be used to make compost. This compost can replace the chemical fertilizers, which adversely impact the environment.
Things you require: 
Used plastic bin/bucket with a lid
Sharp object to drill holes
Loose soil
Fruit and vegetable peels
Buttermilk/water
Paper
Time: 1 month
How to: Make a few holes in the base and sides of a bucket. Place in a shady area of your garden or balcony. Add fruit and vegetable peels, coffee grounds, or used tea leaves. Add some shredded paper.
Layer with a little soil. Sprinkle water or a little buttermilk every 5 days to keep it moist. Keep it covered always. Turn around the pile every 4 days to aerate it.
Add kitchen waste, soil and paper every other day till the bucket is full. When it is full, top with a layer of soil, cover and leave aside for 4 weeks. At the end of the period, you will see the waste has broken down and you have crumbly soil ready.
4. Recycling game chart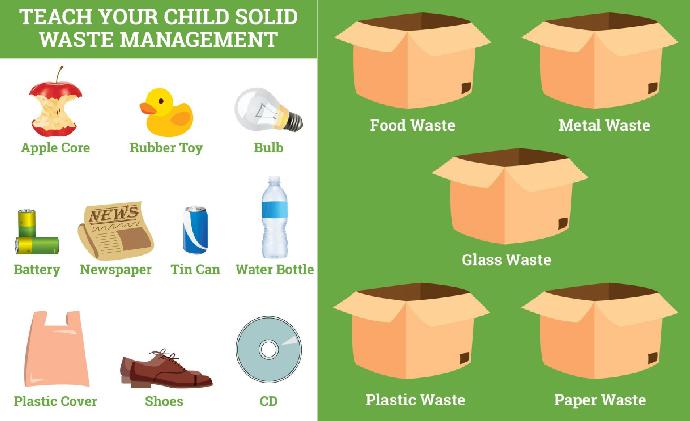 A recycling game chart can be a fun way to teach your child about solid waste management. This activity can help your child learn how to sort household waste.
Things you require: 
Time: 30 minutes
How to: Draw pictures of various household items made of different materials. Then, draw 5 boxes representing the different types of waste, one each for food waste, metal, glass, plastic and paper. Use the printable recycling chart to teach your child the basics of waste management.
5. Paper bag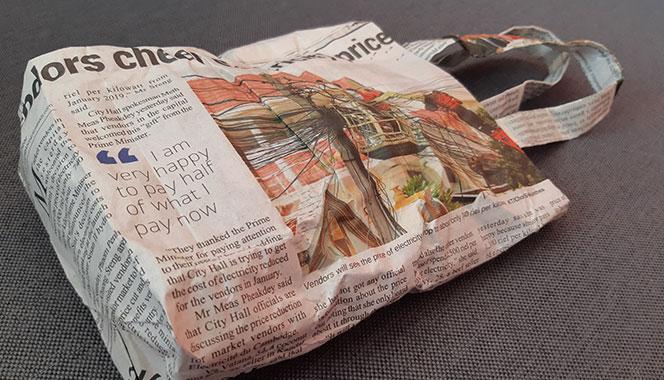 Paper is a costly resource as it is produced by processing wood obtained by cutting trees. Teach your child to make bags out of old newspapers. They're trendy and a great way to teach your child to save trees and money.
Things you require: 
Old newspapers
Glue, scissors
Old shoelace or rope
Time:  30 minutes
How to:  Fold three whole sheets of paper so it resembles a rectangle. Glue the left edge over the right. Make creases on all the sides of the rectangle. To make the base of the rectangle, fold the edges of both the sides inwards along the creases, approximately 3 inches. Fold the 2 flaps and glue them one over the other. Make holes approximately one inch from the top to insert a rope for the handle. Repeat this process on the opposite side as well.
6. Tetra-pack bird feeder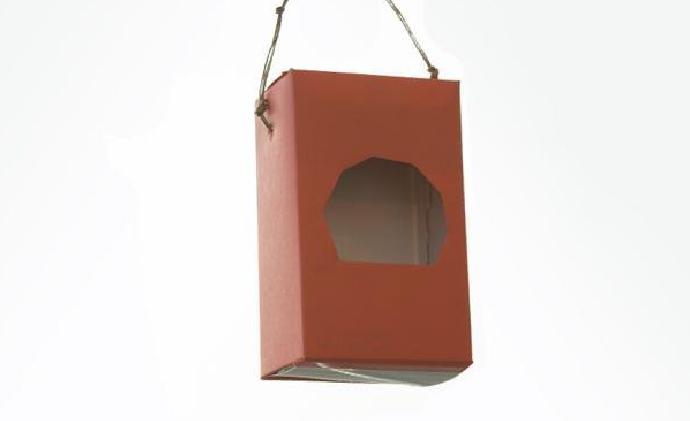 A DIY bird feeder is a good way to invite birds home. Show your child how to make one and shell grow up in harmony with nature.
Things you require: 
1-liter tetra-pack
A thin rope
Birdfeed (dried fruits, rice, berries, nuts)
Time: 10-15 mins
How to: On one side of the pack, about 2 inches from the bottom, cut out a 3-inch semi-circular hole. Run a rope through the upper part. Fill the pack with bird feed and hang it on a tree or on the grill of your window.
7. Colored bins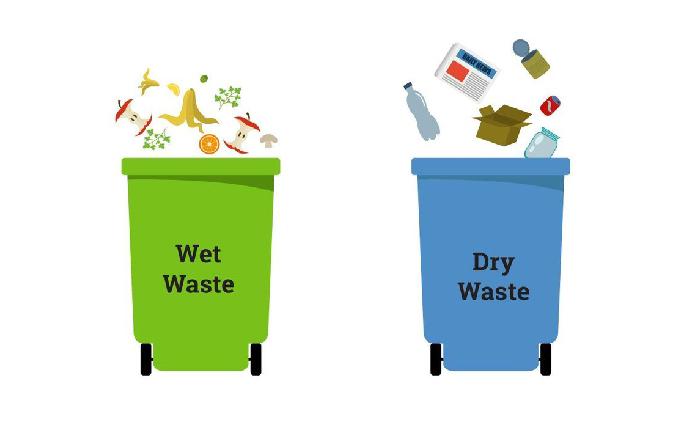 Segregating dry and wet waste is essential for recycling. It ensures that less waste goes to landfills. This activity will teach your child the importance of waste segregation at home.
Things you require:
2 small bins
Blue, black and green paints
Time: 4 hours
How to: Paint one bin green and the other blue. Allow them to dry. Using the black paint, draw "Wet waste" on the green bin and "Dry waste" on the blue bin. Tell your child to sort the kitchen waste and put the dry and wet items in the respective bins.
8. Cardboard box book holder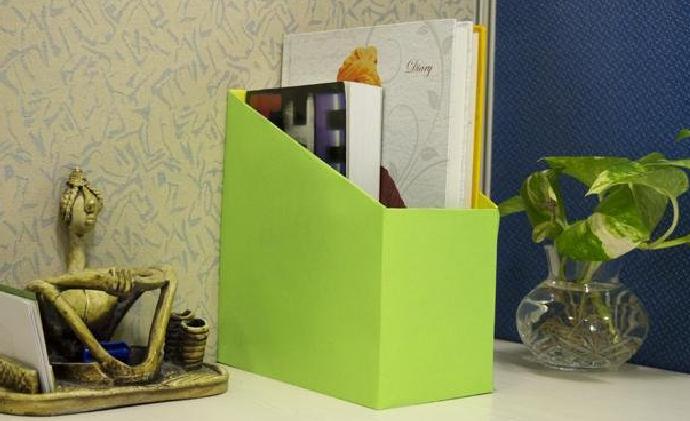 This activity will help your child learn to reuse things and to keep his desk tidy.
Things you require:
Cereal box
Scissors
Colored paper and glue
Time: 30 minutes
How to: Cut an old cereal box in half at a 45-degree angle. Stick colored paper on the outer sides to make a cheery holder where you can stow away your books.
We're sure these activities will help your child understand the importance of recycling and value the limited resources on earth. Remember that resources do not last forever. However, with proper planning and eco-friendly methods, you can do your bit for the environment.