Known for her outspoken personality, actress Khushbu dons many hats. But her favorite role is that of a doting mother to her teenage daughters. Here she talks about her family and parenting approach
Actress Khushbu Sundar is impeccable and effortless just like she is when juggling the various roles of actress, television host, and politician, with great aplomb.
However, there is one role that is close to Khushbus's heart - that of a loving mother to two daughters. Known for handling both success and controversy with equal ease, and always with an effervescent smile, Khushbu along with her husband Sundar is right now busy imparting several life lessons to her daughters Avantika and Anandita.
In an exclusive interview with ParentCircle, the actress talks about the highs and lows in her life, the challenges of being a celebrity parent, and the parenting principles that she and Sundar have adopted.
Q: Tell us about your daughters Avantika and Anandita... 
Both are very different personalities, as opposite as chalk and cheese. Avantika is a very quiet child while Anandita loves to chat a lot. Like other teenagers their age, both are busy with their studies, friends and enjoy spending time with all of us in the family.
Q: Tell us about your experience of holding your daughters in your arms for the first time and bringing them home.
It feels like it happened yesterday. When I realized that I was pregnant with Avantika, my joy knew no bounds. We weren't planning for a family at that time and she came as a surprise. I was in labor for 14 hours but finally had to deliver her through C-Section. I still remember holding her in my hands. We wanted a daughter for the second time too. The girls have an age gap of two years and Avantika was very excited to see her little sister.
Q: What is the parenting principle you and your husband abide by?
Being friends with the children is our first parenting principle. We have always treated them as our friends and they have absolute liberty to share their views, opinions, challenges they face, and so on with us. Though I am very close to them, they have a different equation with their father. They have got him wrapped around their little fingers and at times this makes me the bad cop.
Q: What do you love to do together as a family?
We live in a big joint family. My mother and mother-in-law live with us; my sister-in-law and her daughter's family live next door, so we always have guests at home. One routine is for all four of us to have dinner together. It is a daily ritual. I serve dinner while we all have interesting conversations. After a long day at work, I feel the best way to unwind is to sit together for a family dinner. We also travel a lot. We would love to travel together every weekend if time permits.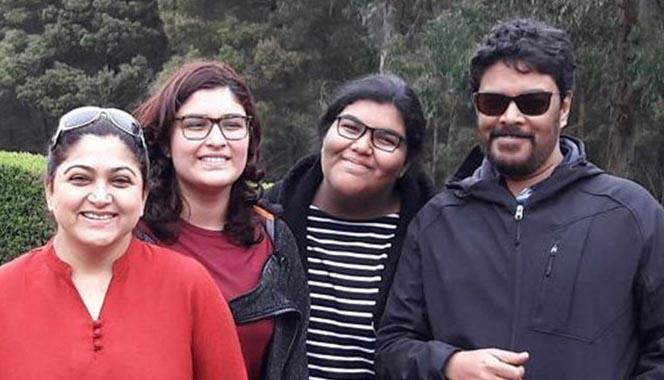 Q: Considering your celebrity status, have you both agreed upon a specific parenting style? 
There are certain rules that we abide by when it comes to parenting our children and one of them is to never let our work interfere with our parenting style. Neither I nor Sundar bring work home or discuss it in the children's presence. We don't have any citations, shields, awards, or trophies adorning our walls, reminding them of our association with the film industry.
We also plan our schedules very carefully so that one of us is always at home. We make a conscious effort to spend time with children, attending to their needs. If I work for five days at a stretch, I ensure to take a break the subsequent week to spend time with the girls.
Q: You are also a very fiery politician appearing on various talk shows, debates. Do your children share your interest in politics? 
My older one Avantika understands a little bit of politics, but both don't like watching me on TV debates. They don't like me debating. Avantika once mentioned to me that Rahul Gandhi is the cutest guy around. He laughed to his heart's content when I shared it with him. She has Rahul Gandhi's picture autographed by him. But, they don't feign interest in my political career at all.
Q: Do they watch their father's films and share opinions?
Yes. They watch all their father's films first day, first show. In fact, they demand tickets for their group of friends to watch it together. They don't interact with other actors from the industry. Avantika adores Ranveer Singh and Hrithik Roshan while Anandita is mad for Shahrukh Khan. I once facilitated a meeting between them and Karan Johar and Anandita absolutely cherished every moment of it. These might be little perks they get to enjoy due to our profession, but these gestures are very rare.
Q: Have they discussed career plans with you?
Both my daughters may get into the film industry but behind the scenes. Avantika likes writing scripts and dabbling in theatre while Anandita is interested in editing and is also a self-taught make-up artist. Her favorite pastime is to do make-up on everybody at home!
Q: Have you been a hands-on mother from the very beginning? Do you give wardrobe advice to your daughters?
I have always been a hands-on mother and never hired a nanny. I always wanted to do everything myself, be it giving them a bath, changing diapers, dropping and picking them up at school. I also rely on my mother and mother-in-law for advice. To date, I do all the cooking at home before stepping out to work.
These days we discuss a lot about what to wear and what not to. In the process, we also have arguments. I love shopping with them and enjoy picking up dresses that suit my daughters.
Q: Are your children gadget geeks? Do you have control over that?
Yes. That is the main challenge these days. However, I insist on having a timetable while playing with gadgets. They also have friends coming over, meeting over dinner and I encourage them to stay connected all the time. I am also friends with their parents; we meet once a month and have fun.
Q: What is the major challenge you have faced as a mother?
In 2005, my first one was diagnosed with dengue fever and she needed an urgent blood transfusion. I was mired in controversy due to my comments and there was a police complaint against me with media stationed outside my house. I couldn't take my daughter out and a nurse was sent home to attend her. We could take her to the hospital only after two days.
My friends helped a lot with my children when there was a non-bailable warrant issued against me. They used to pick up the kids from school, drop them home, and ensured they didn't get affected by all the media glare. Those were very challenging times, but my husband stood by me like a rock.
Q: What is your parenting advice on dealing with teenage kids?
Listen to your children, be their friend, discuss their worries, ensure all unconditional help and try keeping your promises. I and Sundar come from very humble backgrounds and we have built a strong family relationship with all our heart and soul. However busy, spending quality time with your children will take their worries off and yours too! Enjoy parenting every bit!