Looking for interesting recipes for lunchbox? Here are 3 easy and healthy snack recipe ideas
Sharmilee Jayaprakash
3 Mins Read
Want to do something special for your child this Children's Day? Get creative and pack a colorful lunch or snack for your little one. After all, what is a celebration without yummy food!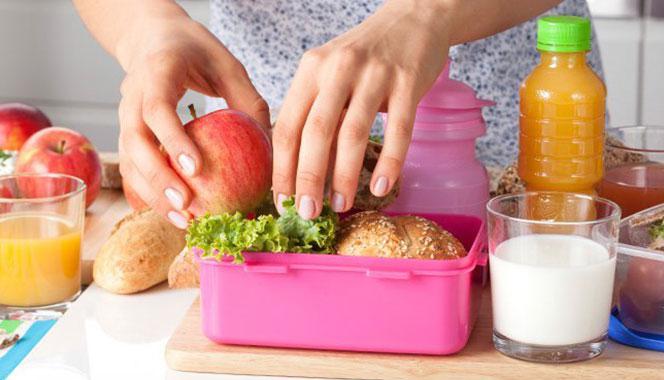 Don't we all want our children to always eat healthy but unfortunately, that does not usually happen. For, children tend to crave eye-catching food. And that habit sometimes tends to have unhealthy consequences!
This Children's Day, why not use your creativity to transform your child's lunch or snack box? Let your child celebrate her special day, with healthy and colourful food!
Here are some creative lunch box menu ideas:
Bread and vegetable upma
Preparation Time: 15 mins
Cooking Time: 20 mins
Serves: 2
Ingredients:
6 bread slices
1 large-sized onion, chopped lengthwise
3 tbsp sweet corn
1 medium-sized carrot, finely chopped
3 tbsp green peas
1 tsp turmeric powder
1 tsp pepper powder
1 tbsp tomato sauce
1 tbsp coriander leaves, chopped
Salt to taste
For tempering
1 tbsp oil
1 tsp mustard seeds
1 tsp jeera
A small sprig of curry leaves
1 green chilli, slit
Method:
Cut the bread slices into bite-sized squares and set them aside
Pressure cook sweet corn, peas and carrot with very little water. Set aside without draining the water
In a pan, heat oil; add the items for tempering and saute till the mustard seeds splutter. Add onions and fry till translucent
Add the cooked vegetables along with the water. Saute for two minutes and let sit till the water evaporates completely
Add turmeric powder and pepper powder, and toss
Add tomato sauce and stir. Add salt to taste
Finally, add the bread pieces and mix well
Garnish with coriander leaves before serving
Tip: You can choose vegetables depending on your kid's liking and preference. You can even skip the veggies and add just onion and capsicum. However, I recommend adding the veggies as it makes the upma filling and wholesome.
Methi thepla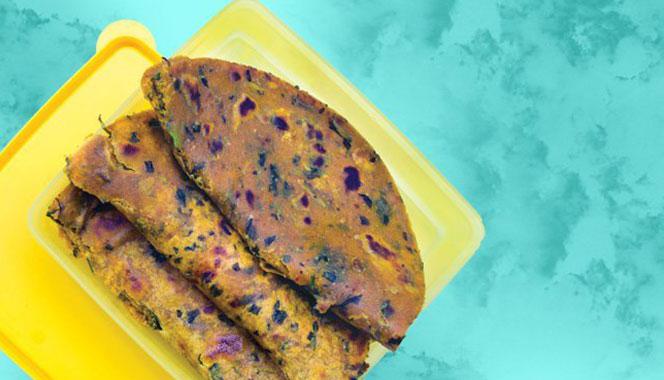 Preparation time: 20 mins
Cooking time: 10 mins
Serves: 2
Ingredients:
2 cups wheat flour
1 cup fresh methi leaves, roughly chopped
2 tbsp oil
2 tbsp curd
2 tbsp besan flour
1 tsp red chilli powder
1 tsp turmeric powder
1 tsp coriander powder
1 tsp jeera(cumin) powder
A few cumin seeds
Salt to taste
Water
Method:
In a pan, saute the methi leaves until they shrink and reduce in volume
In a bowl, mix wheat flour, besan flour, turmeric powder, coriander powder, red chilli powder, jeera(cumin)powder, cumin seeds, curd, oil and the required amount of salt.
Add the sauteed methi leaves to the above mixture. Add water little by little and combine into a soft pliable dough that is of the consistency of roti dough. Cover and leave aside for 15-30 minutes.
Make lemon-sized balls and roll into thin rotis. Cook the rotis on a tawa till brown spots appear on both sides.
Serve hot with onion raita/pickle.
Tip: Clean greens the previous night itself and refrigerate. The dough should be kneaded only in the morning.
Chapati noodles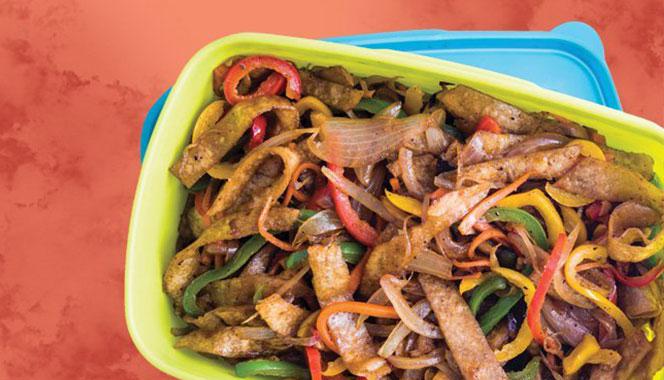 Preparation time: 15 mins
Cooking time: 15 mins
Serves: 2
Ingredients:

4 chapatis

1 large-sized onion

 1 cup cabbage

3 carrots

3 capsicums

5 pods of garlic, chopped finely

1 tsp pepper powder

 1 tsp soya sauce

2 tsp tomato sauce

Salt

1 tbsp cooking oil

Method:
Chop vegetables lengthwise, uniformly and keep aside
Stack the chapatis and cut them into four parts. Cut each quarter into two. Then, cut thin strips, lengthwise.
Heat oil in a pan, add onion and garlic and saute until browned. Now, add carrot and cabbage; saute till well-cooked. Then, add capsicum and saute for a minute.
Add soya sauce, tomato sauce and pepper powder, and mix well. Add salt to taste. Now, add the chapati strips and toss. Let simmer for two minutes and serve.
Tip: Make soft chapatis/phulkas, only then will the noodles stay soft. Or else, chapati noodles will become hard.