Make your child's birthday extra special by baking a special chocolate cake at home
Dr Meghna Singhal
4 Mins Read
Birthday cakes are the most important part of a child's birthday party. So, why not bake one for your child on his birthday. Here's a special recipe that you and your child are bound to enjoy!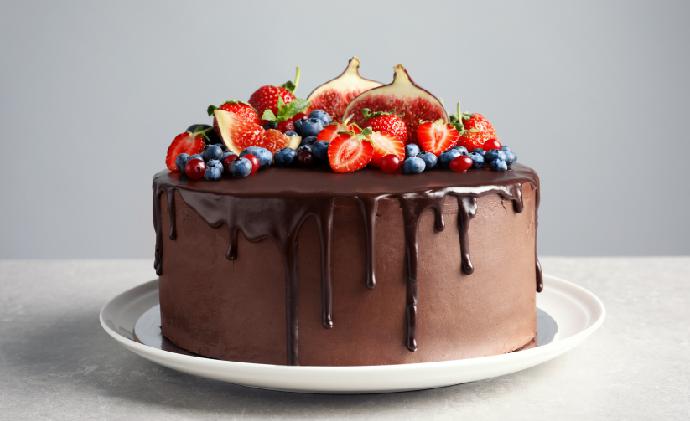 Birthdays are special for children and adults alike. People usually throw birthday parties for their family and friends, complete with food, games, decorations, and of course the cake. In the last two decades, the birthday cake has become a ubiquitous part of celebrations in Indian households. No birthday celebration is complete without a cake. While custom birthday cakes can be ordered from bakeries, why not try baking an impressive cake at home? Here is my recipe for a special birthday cake that your child will love.
How to make a birthday cake
I bake this cake often at home - sometimes as a big cake or as small cupcakes. My two children (4.5 years and 2 years of age) actively help me in mixing the batter and I use the time to connect with them and have some fun!
Though there are a variety of flavors of cake available, nothing beats the classic chocolate cake. Here is a recipe for a chocolate cake that can be made easily at home, with most ingredients available in your pantry. Get your child involved too and get baking!
Chocolate cake recipe
Ingredients (1 cup - 240 ml)
½ cup cocoa powder
¾ cup all-purpose flour (or whole-wheat flour)
½ teaspoon baking soda
¾ teaspoon baking powder (aluminum-free baking powder available online)
¼ teaspoon salt
2 eggs, at room temperature (to bring them to room temperature, put them in a glass of warm water for 5 minutes)
¾ cup brown sugar (decrease to ½ cup if you're also icing the cake. You can also use coconut sugar or jaggery powder as healthier alternatives)
½ cup vegetable or coconut oil
2 teaspoons vanilla extract
½ cup buttermilk
For chocolate ganache
200 gm dark or milk chocolate bar
¼ cup milk
For cake topping
Fresh fruit of your choice
Sprinkles or crumbled Oreo cookies or chocolate chips
Method
Baking the cake
Preheat the oven to 177°C. Prepare a baking tin (or muffin pan or cupcake mold) by brushing it with oil and then dusting some flour evenly on it.
Alternatively, you can line your baking tin with parchment or baking paper. You can use an 8X8 inch square or a 9-inch round baking tin.
Whisk the cocoa, flour, baking soda, baking powder, and salt together in a bowl.
In another bowl, whisk the eggs, sugar, oil, and vanilla together. You can use either an electric mixer or a whisk.
Now gradually add the wet ingredients into the dry ingredients, mixing slowly, until just combined. Add the buttermilk and mix again. Avoid over-mixing.
Pour the batter into the baking tin but fill only halfway to avoid spilling over the sides while baking. If any extra batter is left, bake it in a second installment. Don't be tempted to use all the batter at the same time.
Bake for about 20 minutes, and then check with a toothpick inserted into the center of the cake. If it comes out clean, take the cake out of the oven and allow it to cool for 5 minutes before de-molding it.
When you de-mold it, place it over a wire rack to cool from all sides. If you're icing the cake, allow the cake to cool completely, before you start.
Making the chocolate ganache
Break the chocolate bar into small pieces, put them in a pan.
Warm over medium heat, and add milk gradually. Stir until the chocolate melts completely. It should be thick. Your ganache is ready.
Pour this ganache over the cooled cake until it is completely covered. Decorate with fresh fruit (such as chopped strawberries or bananas), crushed Oreo cookies, sprinkles, or chocolate chips. This is the stage at which I usually let my kids take over and let their imagination run wild (even if it's not perfect and creates a mess). This helps them own the process and makes baking fun for them.
You can also choose a theme for your cake, depending on what your child likes. Here are some popular cake themes for boys and girls.
Popular cake themes for boys
Spiderman cake
Superman cake
Thomas the Tank Engine cake
Pirate cake
Bal Hanuman cake
Chota Bheem cake
Mickey Mouse Cake
Popular cake themes for girls
Princess cake
Frozen theme cake
Butterfly cake
Teddy bear cake
Dora cake
Fairy cake
Heart-shaped cake
Go ahead and try making this cake for your child's birthday. Even if it doesn't turn out the way you'd like, it'll be a memorable story to share with friends and family for years!