Are you a big fan of chocolate? Try these irresistible chocolate desserts by Chef Sabyasachi Gorai to make your days 'sweeter'.
"Life is like a box of chocolates. You never know what you're gonna get"
- Forrest Gump
Sweet, dark, gooey, warm, rich or creamy - chocolate makes for a sinful dessert. Whether it is a bar of your favourite chocolate after a meal, a gooey choco lave cake, a melt-in-the mouth chocolate pastry or a triple chocolate ice cream, this yummy ingredient always makes us want more. Chocolate has been a people's favourite from as early as 1900 BC when early Mesoamericans enjoyed chocolate beverages. Who knew the Mayans loved hot chocolate too!
Wondering how chocolate is made? The beans of the cacao tree are fermented, dried, cleaned and roasted. They are then ground to make chocolate in its unadultered form. This is further liquefied to make chocolate liquor, which is cooled and processed to give cocoa solids and cocoa butter. The chocolate we know is a combination of these two products, vegetable oils and sugar. Next time your kid opens a bar of chocolate, let him know how cacao beans became the mouth-watering dessert in his hand.

Just the way chocolate excites us, it inspires chefs and culinary experts around the world to make the most decadent desserts. One such chef with the Midas touch, Chef Sabyasachi Gorai has created three tempting desserts with our hero ingredient. All about chocolate with a dash of walnuts, these dessert recipes can help you make a 'sweet' surprise for your family!

Walnut Chocolate Peppermint Bundt Cake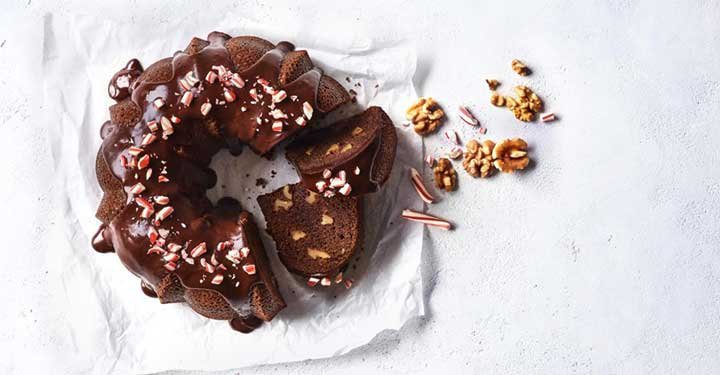 Ingredients
For Cake
1 cup water
1 cup butter
1/2 cup unsweetened cocoa powder
2 1/4 cups sugar
1 teaspoon peppermint extract
3 eggs
2 cups flour
3/4 teaspoon baking powder
1/2 teaspoon salt
1/4 teaspoon baking soda
1/2 cup buttermilk
1 cup walnut halves and pieces
For Chocolate Peppermint Truffle Glaze
1/3 cup dark chocolate chips
3 tablespoons butter
2 tablespoons milk
1/2 teaspoon peppermint extract
Toppings
1/2 cup coarsely chopped walnuts
1/2 cup crushed peppermint candy
Preparation
1) Preheat oven to 180C. Lightly butter a Bundt pan then dust with flour or cocoa powder. Turn pan, tapping as you turn, to coat the pan on all sides; tap out excess.
2) Melt together butter, water and cocoa powder in a small saucepan, over low heat, whisking until smooth; let cool.
3) Transfer to the bowl of a mixer and lightly beat in sugar, extract and eggs.
4) Mix together flour, baking powder, salt and baking soda in a medium bowl. Add about 1/3 of the dry ingredients to the chocolate mixture and beat on low speed to combine. Add half the buttermilk and beat again. Repeat steps ending with the flour mixture, mixing only until combined. Fold in walnuts.
5) Spread in prepared pan and bake for 50 to 60 minutes or until a toothpick inserted into the center comes out clean. Let cool, then invert onto a serving plate or platter.
6) While cake bakes, melt chocolate, butter, milk and extract together until smooth. Let cool slightly to thicken, then drizzle over the cake. Immediately sprinkle with walnuts and peppermint candies.
Tips:
1) To keep the walnuts from sinking, coat with a little flour or cocoa powder.

2) Cake will cook more quickly when baked in a dark-coated pan.
Chocolate Cake With Toffee And Walnuts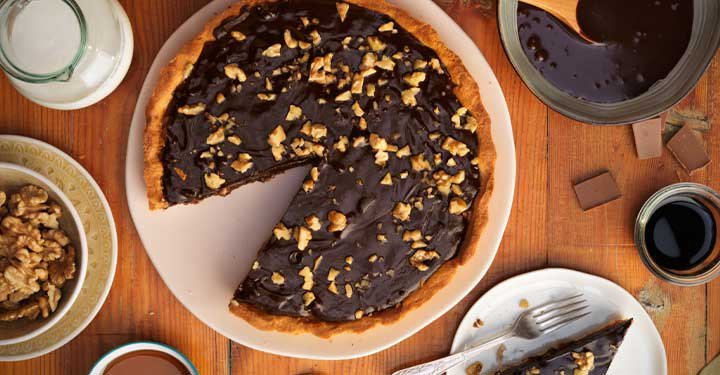 Ingredients
For the dough
225 g of flour
175 g of cold butter
45 g of icing sugar
1 teaspoon pure vanilla extract
1 large egg
For the toffee
250 g of white sugar
80 g of butter
200 ml of liquid cream at room temperature
120 g of walnuts
For chocolate coverage
200 g of dark chocolate 70% cocoa
1 tablespoon of maple syrup
60 g of butter
Preparation
1.In a bowl and with the tips of your fingers, combine the butter with the flour and sugar. Add the egg and knead until the dough is thin and smooth. Make a ball, wrap in foil and cool in the fridge.
2.When the dough is cold, place between two baking papers and with a rolling pin, stretch until it is about 3 mm thick.
3.Preheat the oven to 180C. To avoid that the dough rises in the oven, put the dough extended in the mold and cover with chickpeas or dried beans (this trick will make it bake well and make a flat and smooth tart).
4.Bake at 180C for 15 minutes. Then, when the dough is baked and has cooled, remove the chickpeas or beans and bake again for another 5 minutes lowering the temperature to 170C. Reserve.
5.For the toffee, in a saucepan, cook the sugar with 80ml of water. When the water has evaporated, and the sugar is golden, remove from the heat and gradually add the liquid cream. Return to heat and let cook until it acquires a thicker consistency. Then, remove from heat and add the butter cut into pieces. Let cool.
6.Cover the dough with the toffee and put the chopped walnuts on top. Place in the refrigerator.
7.In a bowl, put the chopped chocolate with maple syrup and butter and heat in the microwave for 30 seconds. Mix well and repeat if necessary. Remove the cake from the refrigerator and cover with chocolate. Return to the refrigerator until the chocolate hardens (20-30 minutes).
Chocolate Brownie and Walnut Cookies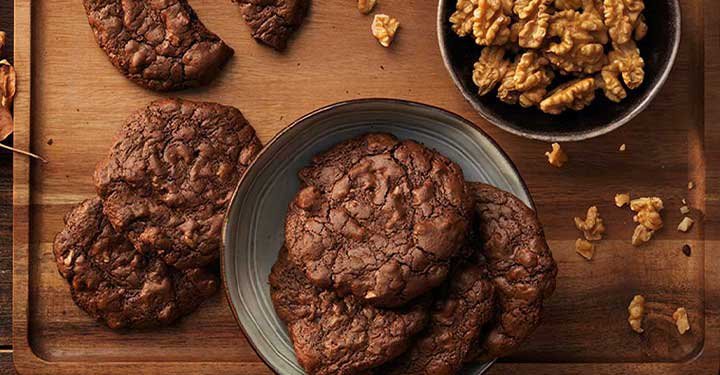 Ingredients
190 g of chocolate 70% cocoa
30 g of butter
75 g of sugar
2 eggs
1/2 tablespoon of cocoa powder
1/4 teaspoon of baking powder
1/2 teaspoon of baking soda
A pinch of salt
30 g of flour
70 g of chopped walnuts
Preparation
1.Preheat the oven to 180C.
2. Chop the chocolate and put of it in a bowl with butter. Melt them in the water bath or in the microwave. Reserve.
3. In a large bowl, put the sugar and eggs and whisk until they foam. In another bowl, sift the cocoa, baking powder, salt, baking soda and flour then combine the eggs with the cocoa and flour mixture and knead the dough.
4.Once the dough is uniform, add the melted chocolate and continue mixing. Finally, include the walnuts. Place it in the fridge for 30 minutes. Separate the cookies well from each other by placing 6 in the tray.
5. Bake for about 15 minutes until the cookies are toasted on the edges, but not in the centre. Pass the cookies to a rack and allow to cool completely.
Try these recipes at home to take your culinary skills up a notch and treat your family to a 'chocolaty' delight. Every time you feel down, every time you need to celebrate and any time you just crave for a sweet treat, grab some chocolate. After all, life happens, and chocolate helps!
Also Read:
Easy Chocolate Recipes For Kids
Top 5 Places To Take Your Child For The World's Best Chocolate
14 Fun Facts About Chocolate For Kids
About the author:

Written by Kerina De Floras on 6 July, 2020.
Join our Circles to share, discuss and learn from fellow parents and experts!
Looking for expert tips and interesting articles on parenting? Subscribe now to our magazine. Connect with us on Facebook | Twitter | Instagram | YouTube