Managing the responsibilities of looking after a baby and work can be quite challenging for young mothers. This article looks at how one can take charge of one's career while managing home. Read on
A couple of years ago, Sheila was an accomplished data scientist, inspiring her subordinates with her infectious enthusiasm and leading her team to success. She was never bothered by early-morning meetings or tough deadlines. Fast-forward to two years: She is struggling to concentrate at work and meet deadlines. She is also a mom now.
The poor woman has to endure unsolicited advice too. "Your husband is earning a handful; why do you need to work now?" asks her aunt. "Your priority is your baby. Stay at home with her and you will never regret this decision," declares her wise, old neighbor. Sheila feels helpless and confused.
I feel at one with Sheila. A few months ago, while I loved playing goofy games with my six-month-old daughter, I missed stepping out, being financially independent, and having an identity of my own. So, I decided to start work after a lot of deliberation. Despite having an extremely supportive family, it has been a bumpy ride, like it is for all working moms.
So, what challenges do young working moms face?
At home:
Guilt: Number one enemy, right mommies? When you get back from work and the baby is already in bed, you try to swallow the lump in your throat; when you drop off your kid at the daycare and she gives you that doleful look, you feel like quitting right away. Swapna, a full-time working mom to a three-year-old, talks about an occasion when guilt consumed her. "My nanny was off that day, and my mother-in-law who takes care of my daughter when my husband and I are at work was also away. So, I took off from work to be with my daughter. It was such a perfect day, and my daughter learnt so many new things. By the end of the day, I should have been happy. But I was weeping so badly, wondering if I was right in deciding to resume full-time work. Thankfully, my husband helped knock sense [AR1] into me," she laughs.
Feeling dog-tired: You often go to bed at midnight and wake up at the crack of dawn, with intermittent wake-up calls by your baby through the night. Add to that, a long commute to and from work. You feel weary and exhausted.
Endless chores: Mornings are particularly hard – cooking, packing lunch, doing the laundry… A United Nations report says women take care of 75% of the world's unpaid domestic work.
No 'me-time' or 'spouse-time': Sometimes, it's so crazy that you have even forgotten what it feels like to relax. Those movie nights with your spouse seem like a distant dream. Sigh!
Emergencies: Your nanny calls you in the morning to say she can't make it. You're forced to take off. Sindhu, a mom to a three-year-old, recalls the number of distress calls she's received while at work, during those times her daughter fell sick.
Nursing: Now, how do you manage that when you are away from your child for eight hours?
As if these challenges aren't enough, there's more at work.
At work:
Anxiety about your child: Out of sight, out of mind – it doesn't work that way when it comes to your child of course. You suddenly want to hold her. You keep wondering if she's managing alright.
Tough deadlines: You have always been the kind to take up challenging projects. You have stayed back late and pulled all strings to give your best. But you can't do that now, can you?
Delayed promotions: When you approach your supervisor for leave or permission to leave work early for doctor visits or nanny-absence, you can be seen as lacking in dedication. A 2018 study shows that while women are more likely to be top performers, they are less likely to be the boss.
Pay disparity: Some companies offer moms the much-needed flexibility but end up reducing their pay. Global Wage Report 2018/19 by the ILO shows that on average women continue to get paid 20% less than men.
All these challenges can not only seem overwhelming, but yes, they ARE actually overwhelming at times. But with a little planning and support, they can be managed.
Here's how you can take charge of your career while managing home: 
Be open with your organization: If you face any difficulty, be frank about it with your boss and your company HR. Not able to manage unreasonable deadlines? Talk. Would you like remote-working or flexi timings? Let your boss know. Saundarya Rajesh, founder of AVTAR Career Creators, in an interview with ParentCircle, says, "Flexibility is the oxygen to a woman's career." If you would like to work part-time and switch to full-time later when you think you can manage better, do not hesitate to discuss the option with your boss. If you would like a pumping room and if your company doesn't have one, talk to your HR well in advance and tell them about your need."
Plan well: Use some time during the weekend to plan for the week ahead. Keep minimal work for the mornings. Sindhu says, "The previous night, I meal-plan, pack my daughter's bag, keep my clothes and hers for the next day ready. That saves a lot of time and tension."
Share work equally: Do not feel that childcare is your sole responsibility. Share it equally with your partner. For instance, when your nanny is on leave, take turns to take off from work.
Get help – do not hesitate: If your family stays close by, involve them. Your child also gets valuable bonding time with his grandparents. If not, childcare of course will cost quite a bit. Even if you end up spending most of your income on these expenses, now, you have a career and you're independent. A few years from now, when your child is ready to take care of herself, you would have done something worthwhile.

Learn to let go of guilt:
That's easier said than done, right? Here are some tips:
Take a deep breath when guilt strikes, and count till 10.
Take a walk outside and talk to your partner.
Remind yourself that you are doing your best. Go through some chirpy pictures and videos of your baby and you on your phone. Complete mood-changer that one, I tell you!
Why are you back at work? For financial reasons? Because you've always wanted to contribute to society? Then you don't have a choice, right? This is the right decision and you know it.
How about having inspirational quotes like these stuck on your desk? "Option A is not available. So, let's just kick the shit out of Option B. Life is never perfect. We all live some form of Option B." – Sheryl Sandberg or "Never feel like you have to tick all of the boxes on everything to be able to feel like you can do a job…From a personal perspective, I am so looking forward to my new role as a parent. But I am equally focused on my job and responsibilities as Prime Minister." – Jacinda Ardern, New Zealand Prime Minister
Have a book on handling mommy guilt handy and read your favorite chapter when you feel low.
Work effectively: Come up with effective plans that work for you. Anamika Sinha, a senior HR professional and a mother of two, says, "It's all about how you treat those nine hours at work. I don't go for coffee breaks. I focus on work, and you can never find me in the office after six."
Take good care of yourself: This is more important than you think. A happy 'you' means a happy child and a happy boss. Yeah, that is right! So, take some time out for yourself. It can be a short, brisk morning jog or a quick visit to your favorite coffee shop in the evening. Do whatever relaxes you. But do it.
So, now that you have these tips, here's our sample one-week planner for you. Take this up as a challenge, customize it and let us know if it works for you!
Some rules before you begin:
Go to bed early and wake up early.
Make stick-on lists of to-do things.
Stay away from time-guzzling social media.
Some tips to make this work:
Split housework with your spouse. One of you leaves early and gets back early, while the other finishes house chores and leaves a little late.
Ensure that at least one of you has an easy commute.
Remember, relaxation and bonding time are as important as work.
Child's age: 4 years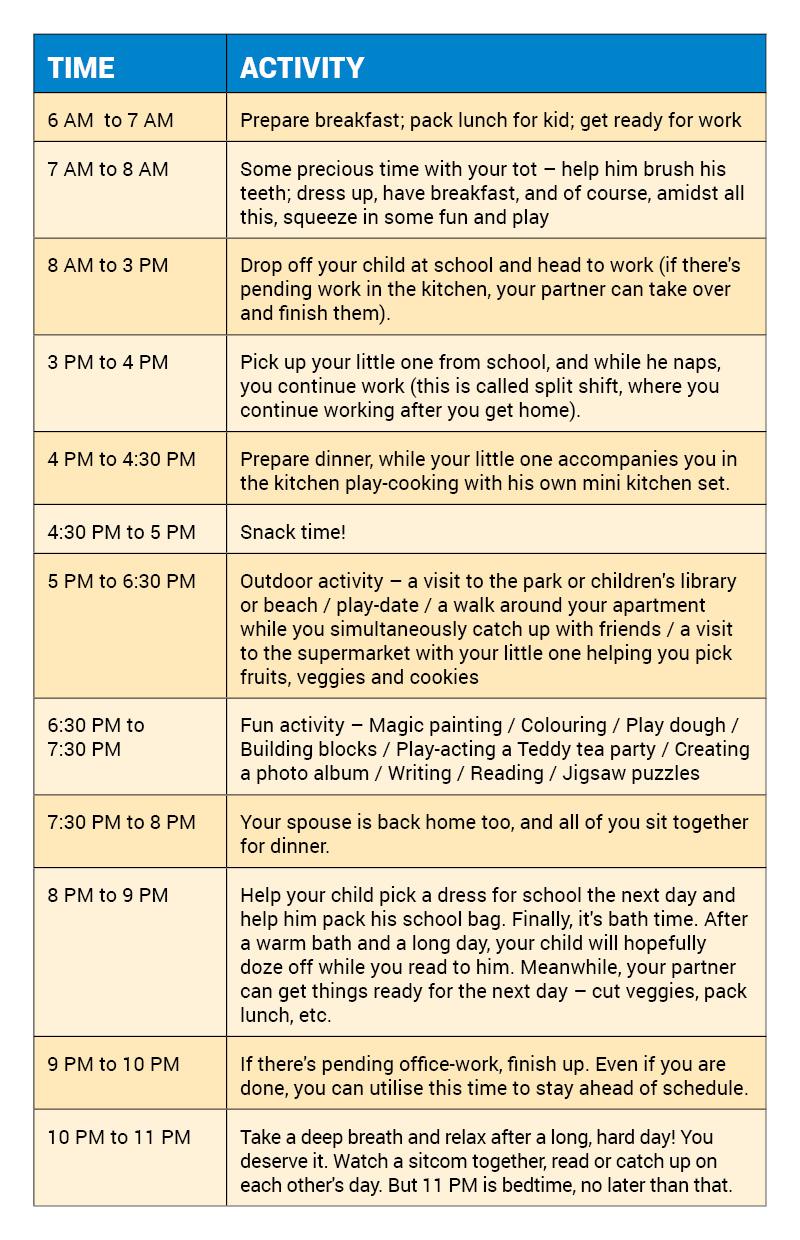 Wait, Fridays are special though! See if you can step out for dinner at your best-loved, kid-friendly restaurant. Or plan a movie at home coupled with your favorite ice cream.
Weekends: Relax, play, meet friends and family, picnic, and…don't forget to plan for the coming week – grocery shopping, meal planning, etc.
So, there you go. Try it out. You'll soon realize it's working out well for you both at home and at work. You get the best of both worlds. So, don't let anyone stop you. Chase your dreams and good luck as you climb the ladder!
In a Nutshell:
It's not easy. Young working moms do find it challenging balancing work and children – guilt, exhaustion, almost-nil me-time, a delayed promotion at work, pay disparity. Intimidated? Worry not. With some planning and support, you can get the best of both worlds!
Be open with your organization about any difficulty you may be facing.
Keep minimal work for mornings. Plan your week during the weekends.
Share work with your partner.
Get help from family or hire help, whichever is feasible.
Learn to let go of guilt.
Start working effectively.
Remember, 'me time' is precious.
Go ahead and give it a try and you won't regret it. Before you know it, you will be managing just fine.
What you can do right away...
Set aside time for some rest and relaxation. Curl up with your favorite book, listen to your favorite song or sit down and meditate.
Make your workspace chirpy. Decorate it with happy pics of your little one and you.
Sit with your partner and discuss work-sharing: How would you like to split the various domestic responsibilities?