Musical instruments are an ideal way to introduce children to the world of sounds. And a simple, beginner's keyboard is a great instrument to help children learn sounds
Learn more about keyboards and other musical instruments here
"How do I introduce my kid to different sounds"? 
"What musical instrument would be ideal to help my child recognize sounds"? 
These are some questions that every parent must have encountered at some stage in their life. When it comes to growing children, sounds play an important role in their overall development. They are an integral part of their world. For, children in their growing up years are full of curiosity and like to explore everything around them.
Learning a musical instrument is a rewarding and meaningful experience for children. It is for nothing that people say music is a universal language.
The role of sound in early childhood
It is no secret that infants respond to their parent's voices, lullabies, and nursery rhymes, and later, as they gradually grow up, different sounds help them to learn and connect with the world. Sound (and music) is a great, proven way to help children grow physically, mentally, socially, and culturally.
A toddler or a child can naturally get going when he hears any sound or starts banging his hands on a table. Each new sound helps in the development of the senses.
Whether children are hitting all the 'sweet' notes on a keyboard or strumming a guitar, music offers a host of benefits to them.
Music develops listening and concentration skills
Hones memory skills of children through practice and repetition
Assists in learning about emotions and expressing one's feelings
Develops language skills, motor skills, and coordination
Helps children learn about different sounds and instruments
Apart from music, children are also exposed to sounds daily through actions and emotions like crying, clapping of the hands, talking, etc.
Best keyboards for beginners
Children's tastes and opinions can change quickly, so one should consider multiple factors before choosing a keyboard. A keyboard with mini-keys is ideal for kids to start their musical journey. Cheap keyboards are easy on the pocket, but their sound quality may not be good, and they may not last when compared to keyboards from a reputed brand.
Fortunately, good and recognized brands such as Yamaha offer inexpensive keyboards that come equipped with different key ranges, built-in speakers, and a variety of sound options.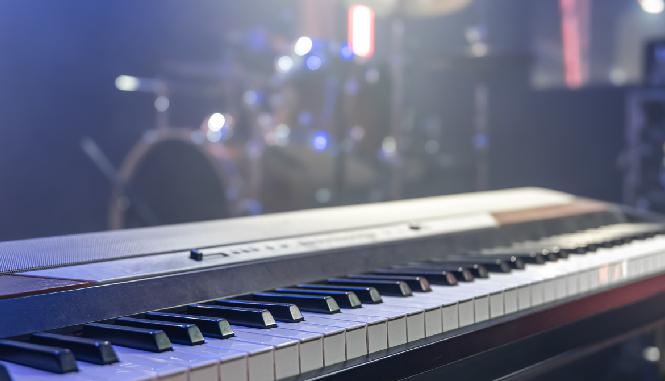 Yamaha PSS-E30
Take the Yamaha Remie (PSS-E30) for example. A part of the PSS series (the other one being PSS-F30),  it is the perfect musical instrument for children. With a compact body, the PSS series keyboards weigh just 1.2kg and take up very little space, all the while offering ease of handling.
The PSS-E30 Remie keyboard is ideal for kids in the age group of 2-5 years and has a songbook to guide the little ones. The preset songs in the songbook are famous tunes that children will love such as 'Twinkle Twinkle Little Star'. The PSS-E30 has rounded edges and 37 keys. The self-explanatory panel will help parents guide kids easily.
Yamaha PSS-F30
The Yamaha PSS-F30 is ideal for kids in the age group of 5-7 years. It is designed for small hands, has a preset library of famous tunes, and has a wide range of stunning sounds. This keyboard will enable kids to discover wonderful combinations of notes as they play along.
A striking feature of this model from Yamaha is that it has Indian voices, styles, and songs that can help children experiment and play Hindi songs and even bhajans.
In India, the major scale is
| | | | | | | | |
| --- | --- | --- | --- | --- | --- | --- | --- |
| SA | RE | GA | MA | PA | DHA | NI | SA |
| SA | NI | DHA | PA | MA | GA | RE | SA |
In a nutshell:
PSS mini keyboards are handy, compact, and convenient to carry. These work with batteries or a USB adaptor that one can always plug into a power bank.
Types of keyboards
There are many types of keyboards that cater to different age groups. The main types of keyboards are:
Kids keyboard: This type of keyboard is for kids' basic learning combined with fun.
Beginner keyboards: For learning and pursuing grade exams for keyboards.
Indian keyboards: With Indian voices and styles along with Riyaz function for vocal practice.
Arranger workstation keyboard: Includes its own computer for composition and is designed to provide auto-accompaniment.
How keyboards are the easiest instruments to help children learn sounds
When it comes to musical instruments, a keyboard is one of the simplest instruments to help children learn sounds. A keyboard is played by pressing down the keys, which control a mechanism that produces sound. Some common types of keyboard instruments are the piano and organ.
Alphabets and numbers
Alphabets and numbers are considered the first steps in learning for kids and this applies to keyboard learning as well. The only difference is the first letter here is C, not A.
"Which keys should I press to make a certain sound"?
As children learn to play the keyboard, they will have a better understanding of sounds. Even as they begin to learn basic melodies, they are picking up precious information about how to read music, gain an understanding of how sounds work, etc.
Keys on a keyboard
Starting on a keyboard with fewer keys is always easier for a beginner. The number of keys varies from one keyboard to another. While some keyboards can have as few as 25 keys, most keyboards come with 49, 61, and 76 keys, while some keyboards can also have 88 keys – just like in a piano.
The unique sound of keys
Each key has a unique sound of its own. This will enable kids to learn new sounds and distinguish between existing ones. Some keyboards come with an onboard recorder that enables children to record and listen later to what they have played and make a note of different sounds.
If children want to play and listen to sounds in private, they can plug in earphones or headphones. In a way, keyboards are a great tool to spark the imagination of the player with regard to different sounds. As time passes, children begin to explore and experiment with the sounds the keyboard makes, and this helps develop the listening skills of children.
Take piano lessons, for example. A piano produces many unique sounds that not only create music but can help kids build up their language skills. Children who play the keyboard are better at learning sounds and the meaning of words. They can see that pressing a key on the keyboard makes a sound and they learn to pay attention to different sounds. For example, they observe that certain sounds are heavier or gentler than others.
So, the next time your child is interested in learning a musical instrument, introduce him to keyboards, which are one of the easiest instruments to help children learn.
In this journey, to support your kid's initial steps into the world of music through Yamaha keyboards, Yamaha has prepared easy tutorials to learn the keyboard.
PSS users will also get free access to these videos on the Yamaha website.