Are you looking for quick and healthy breakfast ideas? These super easy and nutritious recipes that take only seven minutes to whip up are just what you need
Research says that breakfast should never be skipped. A healthy breakfast gives you essential energy to brave the travails of the day and fires up your digestive system. Start your morning with these 7-minute metabolism-reviving, energy-boosting, grab-and-go healthy breakfast recipes.
1. Fruitilicious Smoothie
There's a reason why make-ahead smoothies are a hit with moms. You can keep the ingredients such as cut fruits, chia seeds and avocado ready in freezer-friendly airtight containers, in the fridge and use them the next morning. Apart from the fruits, we are also mixing in avocado to give it a smooth and creamy texture. Avocado and chia seeds are packed with disease-fighting antioxidants. Almond milk makes it suitable for dairy-free and vegan diets. Always opt for fruits that are in season.
Preparation time: 7 minutes
Serves: 1
Ingredients
200 g mixed fruits (mangoes, bananas, apples, strawberries)
1 avocado
A handful of spinach
1 cup almond milk
1 tbsp powdered probiotics (optional)
2 tbsp chia seeds
Method
1. Put all the ingredients into the blender.
2. Blend with your favorite type of milk, till it has a smooth consistency.
3. Pour the liquid into a mason jar and you can top the smoothie with some fruits if you want. Serve and enjoy!
2. Sweet Poha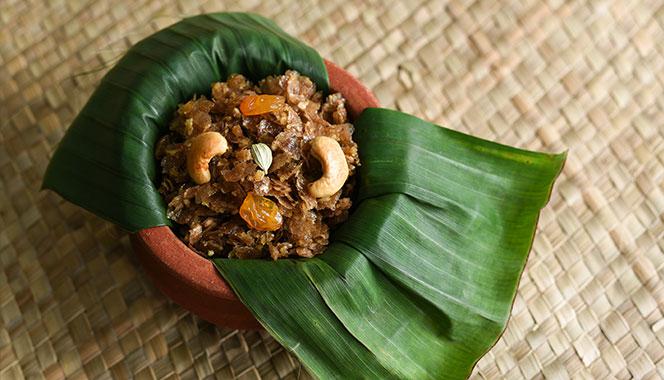 Preparation time: 7 minutes
Serves: 2
Sweet poha recipe is a simple, easy-to-make, quick and tasty dish. It's usually made during Janmashtami. Why not include this in your regular breakfast routine? It's believed to be Lord Krishna's favorite dish and I'm sure will be a hit with your little Krishna as well. Poha provides a low-calorie base while jaggery with its right amount of sweetness is a healthy alternative for sugar.
Ingredients
1 cup thick poha/aval
3/4 cup powdered jaggery
2 tbsp grated coconut
1 pinch cardamom powder
20 g nuts (almond and cashew fried in ghee)
2 tbsp water
Water for soaking
20 g nuts for garnishing (almond and cashew fried in ghee)
Method
Wash the poha and soak it in water for three minutes.
Drain, squeeze all the water out and let it sit for a couple of minutes.
Now add the powdered jaggery in 2 tbsp of water and heat it in low flame till the jaggery melts and turn off the heat. Don't let it thicken.
Add this melted jaggery syrup, grated coconut and cardamom powder to the poha and mix well.
3. Instant Porridge
Preparation time: 3 minutes
Serves: 2
Sometimes when you are really pressed for time but need a nutritious meal to pick you up in the morning, a simple porridge will do the trick. This one has many ingredients but once you make the powdered mix and keep it in the fridge, you can use it for days, as and when you need.
Ingredients
100 g green moong dal
100 g wheat
100 g ragi
100 g rice flour
100 g puffed channa
10 g peanuts
1 cup badam
1 pinch cardamom powder
10 g sabudana
10 g barley
Method
1. Just dry roast each of the ingredients and once cool, grind into a fine powder.
2. This instant porridge mix can be made well in advance and stored in the refrigerator. As and when needed, cook it in water for about three minutes and mix it with milk for a delicious breakfast.
4. Jowar Flour Dosa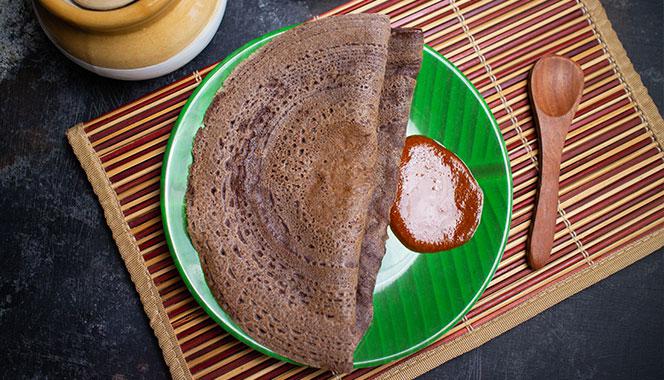 Preparation time: 5 minutes
A shout out to all the short-order-cook moms. This breakfast option will feature in your breakfast calendar for quite a number of days. It is a dosa that can be made as and when demanded by your little munchkins. No overnight soaking or fermentation is needed. Jowar or sorghum is a gluten-free grain loaded with essential nutrients. Jowar helps strengthen bones, thus the ideal choice for your growing kids.
Ingredients
1 1/2 cup jowar flour
1 cup rice flour
1/2 tsp black pepper
1 red chilly
2 pods garlic
1-inch piece ginger
2tbsps grated coconut
Salt to taste
Water - as needed to grind the batter
Coriander leaves - a handful finely chopped
Oil to drizzle
Method
Grind black pepper, garlic, ginger and red chilly with minimum water.
In a bowl, mix both the flours and add the above paste along with salt, grated coconut and cilantro leaves.
Bring it to a thick dosa batter consistency.
Heat a tawa, drizzle one tsp oil over it.
Using a ladle, pour the batter in the center of the tawa and spread it.
Drizzle oil over the dosa.
After the first side gets cooked for a minute, flip it and cook for another 1-2 minutes. Serve with any dosa podi.
5. Avocado egg in a hole
Preparation time: 5 minutes
Serves: 2
A slice of bread, an egg and avocado. What can you do with these three ingredients? Follow the instructions below to convert a regular slice of bread and a plain egg into this super simple-to-make yet classy dish. What's more, you get a healthy dose of omega-3 fatty acids, calcium, fiber and antioxidants, and a heavy sumptuous breakfast that will keep you and your child full for a long time.
Ingredients
1 avocado
4 slices of bread
4 tbsp butter
4 eggs
1/2 cup mozzarella or processed cheese
1 tbsp chopped green onion-
1 pinch salt
1 pinch pepper
Method
Cut the avocado in half and scoop out flesh as one big piece.
Lay the avocado half on its side (the hole should be on its side) and cut in 3-4 large pieces, keeping the shape of the hole in each slice.
Cut a hole in the center of each slice of bread, big enough to fit one of the avocado slices.
Melt the butter in a skillet over medium heat. Place the bread on the skillet and toast both sides. Place avocado slices inside each slice of bread in the skillet.
Crack an egg into the center of each circle. Season with salt and pepper.
Cover and cook until the egg is done, about 3-5 minutes.
Sprinkle cheese on top of each slice, cover with the lid again and cook until the cheese is melted. Repeat with remaining ingredients. Garnish with green onions.
6. Yoghurt and Fruit Parfait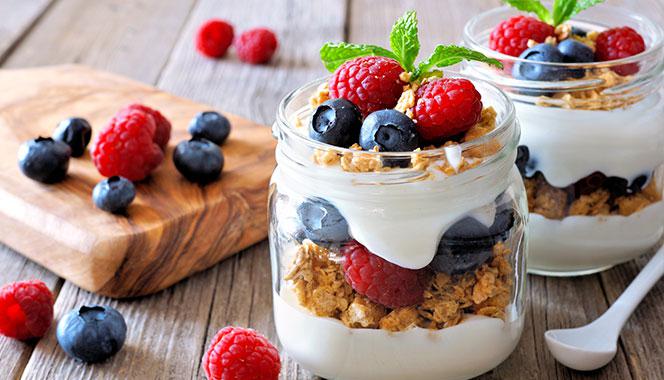 Preparation time: 5 minutes
Serves: 2
This is one that dads will love. Layered yogurt with the richness of nuts and the sweetness of fruits a fruity feast that is an ideal option for an on-the-go meal. So what does it take for dad to get this dish to the dining table? All he has to do is assemble the ingredients and a yummy breakfast is ready in minutes.
Ingredients
1/3 cup oats
1 cup yogurt
1/2 cup fruits (strawberry, banana, etc.,)
1 tbsp honey
1 tbsp crushed cornflakes
1 tsp flaxseed
Method
In a bowl, combine yogurt, oats and flaxseed until mixed well.
Stir to combine, then layer half in a wide-mouth mason jar or container.
Add half the fruit then layer in the remaining yogurt mixture and berries.
Note: Soak the oats overnight in milk, this makes it nice and chewy. Or you can use granola instead of oats.
7. Nutty Crepe/Dosa
Preparation time: 7 minutes
Serves: 2
Get started in the morning with a low-fat yet filling breakfast. A medley of healthy ingredients gives this comfort food an extra boost. Making this dish is as easy as getting your kid to polish off the entire plate of sweet and nutty crepes. Here's how.
Ingredients
1/2 cup wheat flour
1/2 cup rice flour
3 tbsp brown sugar
20 g powdered nuts (almonds and cashew)
1 pinch cardamom powder
2 tbsp grated coconut (optional)
Ghee for making dosas
Method
In a bowl, mix together rice flour, wheat flour, cardamom powder, powdered nuts and coconut. Add water.
Blend well till it is the consistency of dosa batter.
Grease a tawa with a little ghee in the center and heat it. Once the tawa is hot, reduce the heat to low.
Take a ladle of batter and pour it in the center of the tawa and spread it in a circular motion. Do not spread too much. Make small dosas on low heat.
Wheat flour takes a little longer than rice flour to cook. So cover and cook if needed. The tasty and nutty power breakfast is ready.
Mornings are a busy time for everyone and a healthy and tasty breakfast that is ready without much fuss can be a lifesaver. These recipes are just the right thing for those busy weekdays.