This Christmas, give your homemade cakes a mouthwatering makeover with walnuts. Adding these crunchy, nutritious nuts will transform them into exotically interesting and utterly delicious treats!
Did you know that walnuts are picked from August to November and sold all through the year? Every walnut you have is preserved in cold temperatures, unshelled, to keep in the goodness intact.
So, this Christmas, why not give your trusty recipes a festive update by adding walnuts! Sounds exciting? Create beautifully creamy treats with loads of nutrition because walnuts are the perfect addition to make your holiday celebrations truly special.
What's more, walnuts are nutrition powerhouses being excellent sources of omega-3 fatty acids (2.5 grams of ALA/28 gm), antioxidants and loads of fiber.
So, this holiday season, here is a curated list of classic recipes with the added crunch of walnuts for you to relish with loved ones and friends!
Christmas walnut cake recipes
1. Flourless walnut cake with poached pears

Ingredients
For the cake
350g walnuts
Zest of 1 lemon
4 eggs
225g golden caster sugar
1 tbsp icing sugar
For the poached pears
4 ripe pears
8 cardamom pods
Pinch of saffron
Juice of 1 lemon
150g caster sugar
250ml water
Greek yogurt to serve
How to make
Preheat the oven to 180°C, grease and line the base of a 9-inch cake tin with a circle of baking parchment.
Place the walnuts into a food processor and blitz until you have a flour-like consistency.
Separate the eggs into 2 mixing bowls.
Whisk the egg yolks, lemon zest and caster sugar with an electric hand whisk until pale and creamy, and then whisk the egg white to stiff peaks.
Mix the blended walnuts into the egg yolks, and then fold in the egg whites.
Spoon the cake mixture into your prepared cake tin, place it on the middle shelves of the oven, and bake for 35-40 minutes (or until cooked in the center and risen).
Meanwhile, peel the pears and cut them in half, scooping out the core with a melon baller or teaspoon and bruise the cardamom pods.
Add the peeled pears, saffron, cardamom pods, lemon juice, caster sugar and water to a medium-sized saucepan over low heat and poach the pears for 15-20 minutes, or until soft and infused.
Slice the cake into 8, and serve each slice with a poached pear on the side and a blob of Greek yogurt or crème fraiche.
2. Cinnamon zucchini walnut cake with cream cheese frosting

Ingredients
For the cake
3/4 cup brown sugar
3/4 cup white sugar
4 eggs
1 cup canola oil
2 cups all-purpose flour
2 teaspoons cinnamon
1 teaspoon baking soda
1/2 teaspoon baking powder
1/2 teaspoon salt
3-1/2 cups freshly grated zucchini
1 cup walnuts, chopped
Cream cheese frosting
1/4 cup unsalted butter, softened
8 ounces cream cheese, softened
1 teaspoon vanilla extract
3 tablespoons heavy whipping cream
3 cups powdered sugar
How to make
1. Preheat oven to 176°C. Lightly grease a 9x13-inch pan with nonstick cooking spray.
2. In a large bowl, beat together sugars, eggs and oil until well combined. Set aside.
3. In a medium bowl, sift the flour, cinnamon, baking soda, baking powder and salt. Combine dry ingredients with the wet ingredients. Stir in zucchini and walnuts.
4. Pour batter evenly into the pan. Bake for 35-40 minutes or until a toothpick inserted comes clean. Cool completely.
Cream cheese frosting

1. For the cream cheese frosting, beat the butter and cream cheese together until creamy.
2. Add vanilla extract and heavy whipping cream and beat until combined.
3. Beat in the powdered sugar until smooth. Frost the cooled cake and serve immediately.
3. Pumpkin-Bundt cake with walnuts

Ingredients
260g roasted and crushed pumpkin
250g butter
3 large eggs
250g sugar
150g flour
125g ground walnuts
1½ teaspoon baking powder
1/2 teaspoon of baking soda
A pinch of salt
The zest of a lemon
60g chopped walnuts
For the glaze
200g sugar
3 tablespoons semi-skimmed milk
½ teaspoon ground cinnamon
How to make
Preheat the oven to 170º C, grease a bundt cake mold and set aside.
In a bowl, sift the flour, ground walnuts, baking soda, baking powder and salt. Add the lemon zest and reserve.
In another large bowl, whisk the sugar with butter until the mixture froths. Incorporate the eggs one by one. Add the pumpkin puree and mix well. Begin to include the flour mixture using a tablespoon and mix gently.
Fill the mold and bake for about 40-50 minutes. Check if it's cooked thoroughly or leave it in for a little longer.
Wait 10 minutes before unmolding and let cool completely.
Mix all the ingredients of the glaze until obtaining a uniform mixture and pour over the cake. Finish with the chopped walnuts on top.
4. Buttermilk-walnut coffee cake with orange essence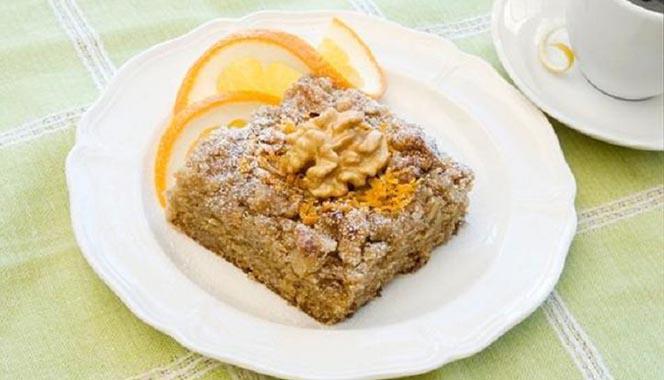 Ingredients
2 1/4 cups flour
1 cup light brown sugar
3/4 cup granulated sugar
2 teaspoons cinnamon, divided
1/2 teaspoon salt
1/4 teaspoon ground ginger
1 tablespoon freshly grated orange zest
3/4 cup vegetable oil
1 teaspoon baking powder
1 teaspoon baking soda
1 cup buttermilk
1 egg
1 cup chopped walnuts
How to make
1. Preheat oven to 176°C.
2. In a large bowl, sift together flour, sugars, 1 teaspoon of cinnamon, salt and ginger. Stir in orange zest and oil until the mixture is moist. Reserve ¾ cup of the flour mixture in a small bowl, set aside (save for topping).
3. Stir baking powder and baking soda into the main flour mixture. Beat together buttermilk and egg. Add to the cake batter and mix until just combined (do not overmix). Pour batter into a lightly greased 9x13 inch baking pan.
4. Combine reserved flour mixture with walnuts and the remaining cinnamon. Sprinkle evenly over cake batter.
5. Bake 40-45 minutes until center springs back or toothpick comes out clean when inserted in middle. Cool completely before serving.
5. Walnut carrot cake bliss balls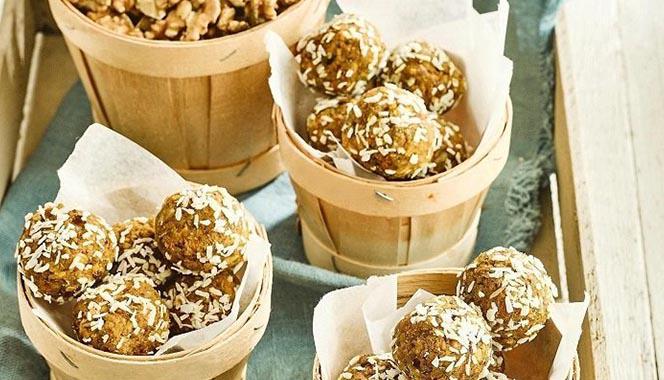 Ingredients
200g walnuts, toasted
80g oats
50g sunflower seeds
2 heaped tsp ground ginger
1 heaped tsp ground turmeric
Zest and juice of half an orange
130g grated carrot
200g Medjool dates
60g desiccated coconut
How to make
1. Place the walnuts, oats, sunflower seeds, ginger, turmeric and orange zest into a food processor and pulse until you have a fine meal-like consistency. Add the carrot and dates and whizz again. Add in a little of the orange juice and blitz again, adding a little more juice if needed, until the mixture just comes together.
2. Roll the mixture into 25 balls. Place the coconut onto a plate or tray, and roll the balls to coat. Chill it in the fridge or keep it in your freezer until needed.
These recipes sound utterly blissfully delicious, don't they? Yes, we're sure that you are already drooling! What are you waiting for? Get into the Christmas spirit. Let's get baking!