What happens when a mother and her two children go on a vacation to a forest? Hear it first hand from Kamana, a mother, who spent four days with her two little ones in the wild
How many of you go blank when you have to do something new, something you have never done before? Well, that's what happened to me when I first thought of taking my daughter and son, aged 5 and 3.5 years respectively, on a trip all by myself and into the wild. But I did it. And it was an exhilarating and meaningful experience. Let me tell you the story of how we spent four days in a forest, volunteering, making new friends, playing in a mud pond, using compost toilets and doing many more exciting things.
How it all began
2019 was quite cruel to me and my family. My husband was laid off from work. He eventually found a job after being at home for more than four months. But he had to move to a different city. I chose to stay back with my children in Hyderabad. Although I knew the decision was in the best interests of everyone, it was not easy being away from each other. At that time, Navaratri holidays were fast approaching, and a vacation was long overdue. My husband had just joined work and couldn't afford to take off. So, a thought struck me - why not extend my solo parenting to a travel holiday? I started making mental notes and decided I would take them to Sadhana Forest, a destination that had been on my list for quite some time (details to follow). I discussed this with my husband and he suggested I make an itinerary so that we could plan better. Within the next 48 hours, we had a full-blown plan ready for execution.
The planning
I wanted to travel by train to reduce our carbon footprint, but the planning started quite late, and tickets weren't available. Finally, on my husband's advice, I agreed to take a flight to Chennai and then a local bus to Sadhana Forest. Meanwhile, I also booked our stay at Sadhana Forest. Here I must add that the people there were friendly and patient with me and my questions. I then made a checklist of necessary and emergency items that I'd need to carry - torch, power bank, mosquito repellent and medicines. I made sure I did not buy anything that I will not need later. Thanks to friends and people in my community who lent me some items, including raincoats and bags, my task was made easier.
Arrival
Finally, the day arrived. My children and I landed in Chennai. We boarded a bus to Sadhana at the Perungalathur bus stop. This bus goes via Tindivanam and not the main ECR route, thereby saving time, money and effort. The journey lasted about three hours, and we got down at the Moratandi toll plaza. You can either take an autorickshaw from there to Sadhana or you can call the Sadhana folks for a lift and they will send a bike to pick you up. I chose the first option because I had luggage and two children. When we reached the place, we were warmly welcomed by the hosts of Sadhana.
Our stay at Sadhana Forest
Let me tell you about Sadhana Forest now. It is a reforestation project and a sustainable vegan community, which works on a volunteer system. Sadhana is the epitome of patience and perseverance. It was once an arid land, though native to much rare flora and fauna. The 70-acre land has since been transformed into an area rich in biodiversity. They have successfully increased the groundwater level, which is benefitting the neighboring villages as well. Our host gave us a tour of the forest and explained all the rules and regulations.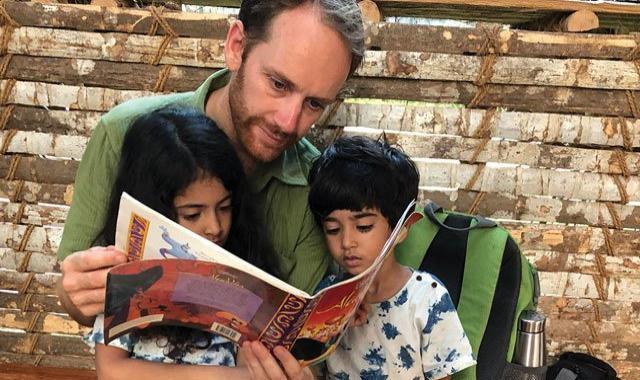 The electricity is generated through solar panels and so, energy consumption is understandably restricted. You get a couple of hours to charge your electronic items, and that's it. Wi-Fi is available only in the dining and reception area and the rest of the forest has no network connectivity. It may seem like you have gone back to the Stone Age, but this strict discipline is needed to maintain the place. We were given a 'family' hut, thanks to my children. You can also opt for a shared dormitory if you are traveling alone. The huts are well ventilated and have no electricity. The torch I carried was a big help at night. A basic mattress and a mosquito net decorated the little 'home'. Even as I write this, my mind cannot fathom how my children slept for four full nights in a hut without a fan. I guess I didn't realize how adaptable children are.
Seva
Guests who stay at Sadhana usually volunteer, which they call 'seva' (though it is not enforced). You are awakened by a melodious bell early in the morning. Once ready, you are assigned tasks depending on your liking. I was told that 'my first seva is to my kids' meaning I was supposed to take care of them first and cater to their needs. They told me that I could participate in anything during the day, provided my children too enjoyed that activity. I heaved a sigh of relief on the first day and was glad that I was at the right place - a place where they respect a child's space and needs.
I gave my children ample time to absorb what was happening around them. I had spoken to them about the place a couple of days before we left for our vacation. The talks must have helped. They showed a keen interest in helping. The first task they chose was to help make ragi ladoos for Sadhana's tea shop, which opens in the evening. Guests get to eat ladoos along with coconut milk tea with the neighboring villagers in the evening.
One of the best features of Sadhana Forest, according to me, is its mud pool. It is a man-made pit filled with mud and water. Taking a bath in the pool along with a frog is a totally unforgettable experience! After our first day of stay, my children got absorbed into the rhythm of Sadhana Forest and wanted to participate in other activities like collecting twigs for fire to cook food, cleaning the common area, etc. Many strangers-turned-acquaintances helped me take care of my children - reading books to them, playing with them, involving them in various activities, and so on. One really needs to stay at Sadhana Forest to understand why they say, 'It takes a village to raise a child'.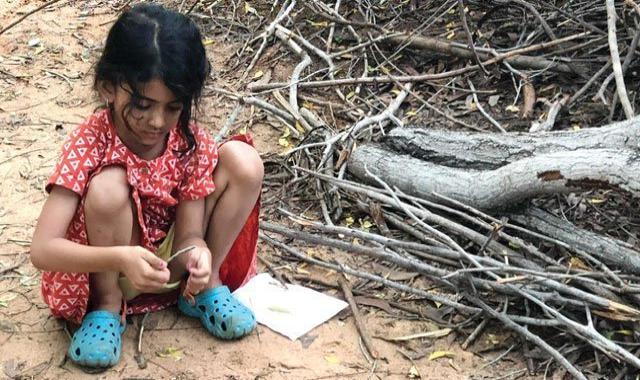 What we ate and how

Sadhana Forest is a vegan community, with a wide variety of vegan food that is made by volunteers. The food is different every day with a unique flavor. Volunteers can cook the food any way they like. I fell in love with the peanut curd kadhi made by one of the volunteers. While my children did not like the food initially, when they realized that there was no other option, they accepted the food and did not create a flutter. Meal timings are fixed. But if one feels hungry at odd times, bananas are available in the kitchen.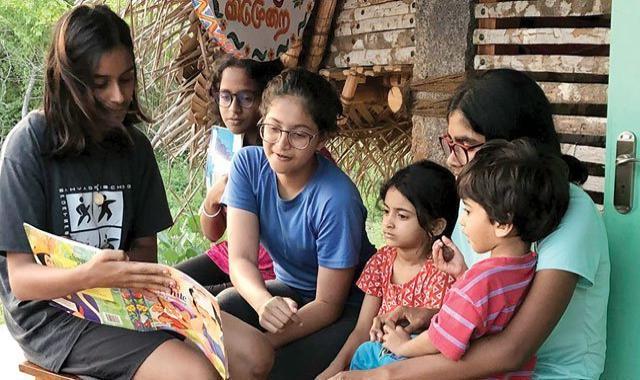 Sustainable practices
After finishing each meal, you will have to wash your own plate at the washing area using ash and a three-bucket water system. The water is re-used for gardening. The leftovers are given to cows, cats and dogs.
They believe in conserving resources. So, there is only one tap for filling water bottles. For washing hands, you get to use a unique water mug with tiny holes at the bottom. For bath, you fill a bucket with water and take it to the washroom. The soaps and hand-wash liquid are biodegradable.
Fair warning - Toilets. You will have to mentally prepare yourself for this. They have compost toilets and I had never used one before. I must say it was a bit of an unsettling experience for me, more because I got my periods when I landed there. Women at Sadhana use menstrual cups and they have a separate compost washroom for emptying the cup. There are two pits in the washroom - one is for passing urine and the other is for passing stools, which is also used as compost for plants. In case you have to pee and poop together, you will have to collect your pee in a separate pan and discard it in the urine pit. Confusing? Trust me, you will get used to it. My three-year-old son learned the whole process and got quite adept at it quickly.
There is an exclusive space for children called the 'Children Land' which has several activities and fixtures, all made from upcycled waste. This space, with tree swings, treetop houses, seesaws, etc., lets children learn as they play and explore. There is also a goshala (cowshed), where you can volunteer.
During the whole stay, the most interesting experience was seeing children from different languages and backgrounds playing together. There was a Chinese girl who didn't know English, but my children were able to understand what she communicated and vice versa. Many members of Sadhana Forest are parents who are unschooling their children there.
The learning
We spent four full days at Sadhana Forest, and it was one of the best learning spaces I have ever been to. It made me realize how we just need basic resources to thrive on this planet. A real example of a sustainable life is when you have to work to get food and you learn the value of sharing and caring. Words will not do justice to the whole experience.
There are some things to note. Although it was an experience of a lifetime, I was on high alert since I traveled with my children. Keeping them safe and secure was my top priority. I wanted this trip to be zero waste, but when you are with kids, you have to pick and choose your battles. Although we carried our own eco-friendly, disposable cutlery, there were times I forgot to use them and used plastic. Every trip has a learning curve and I made many mistakes that could have been avoided. I am sure I will be better prepared for the next trip. I also wanted this trip to be budget-friendly. The cost of the trip, including air tickets, food, accommodation, local transport, came to less than Rs 25,000 for seven days (we traveled to Pondy and Auroville after our stay at Sadhana) for one adult and two children.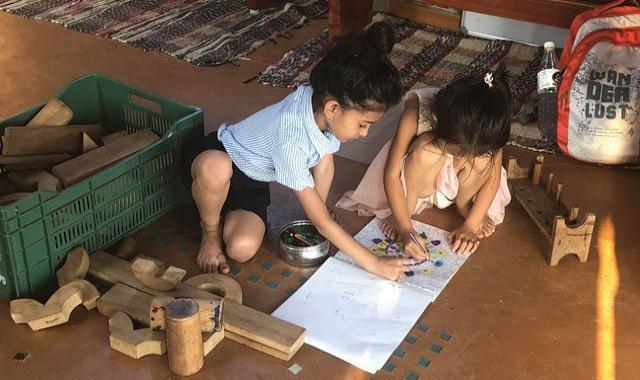 During the trip, I realized something. You become resilient and learn more about your children with every experience like this. Of course, your children also learn by observing how you handle things and they reciprocate with equal interest. This trip has boosted my confidence to travel more often with my children. There is so much in our country to explore. I aspire to show the beauty of our very own country to my children.