Seasonal Favorites: 5 Delicious Mango Recipes Your Kids Will Love
Priyanka G Mehta
4 Mins Read
Priyanka G Mehta
Follow
Written by Priyanka G Mehta and published on 06 May 2021.
Children wait all year to gorge on mangoes and love to eat the fruit in its different forms. So, give your little ones the goodness of mangoes with these mouth-watering recipes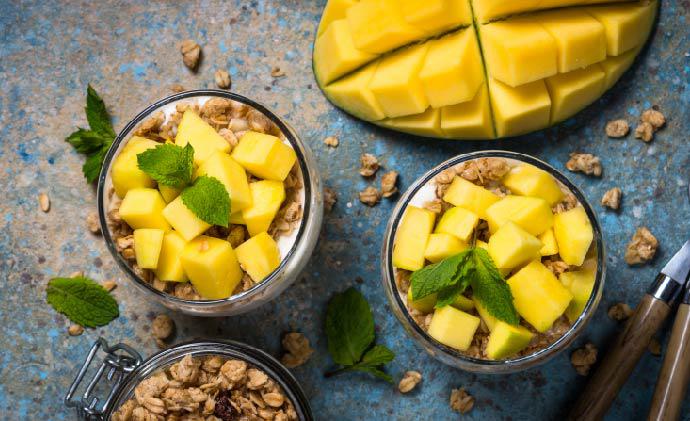 Who doesn't love mangoes? They are rightly called the king of fruits - juicy, luscious, and delicious. Mangoes are a perfect treat and a gift of the Indian summer. What's more, this is one power-packed fruit, rich in dietary fiber, vitamins, minerals, and antioxidants. You can make both sweet and savory dishes with this versatile fruit. That's why we have come up with some unique mango recipes that you can enjoy with your family.
Mango coconut pops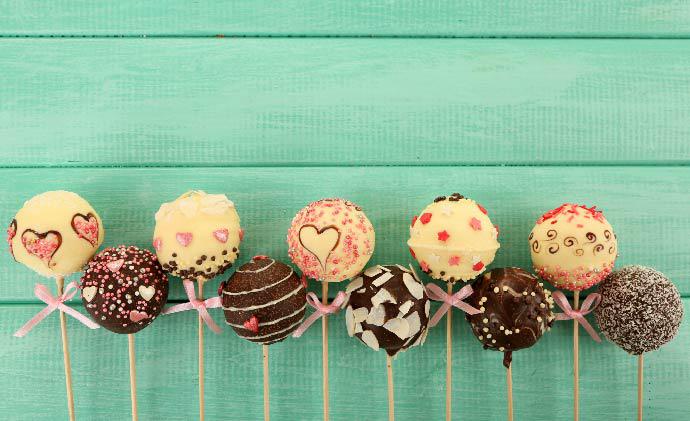 Mango puree with coconut and chocolate in cake pops filled with smooth deliciousness.
Ingredients
½ cup mango puree
1 cup desiccated coconut
½ cup condensed milk
50 g dark chocolate
Few pistachios
Method
In a heavy-bottomed pan, dry roast the desiccated coconut till fragrant. Roast lightly but not too much.
Then, add the mango puree and stir well; let it cook for 2-3 minutes.
Add the condensed milk and mix well; let it cook for 5-7 minutes until it comes together like dough and leaves the sides of the pan. Let it cool.
Then, roll them into little balls and place them over a lightly greased plate to cool. Then insert a toothpick into each ball to hold them upright.
Melt the chocolate in the microwave, or using a water bath. To make a water bath, bring water to boil in a vessel on your stovetop, and place the bowl containing chocolate over it. The steam from the water below will melt the chocolate.
Now dip the prepared pops in the chocolate - you can dunk them fully or halfway.
Sprinkle chopped pistachios and enjoy the fabulous homemade mango coconut pops.
Spiced raw mango and kiwi salsa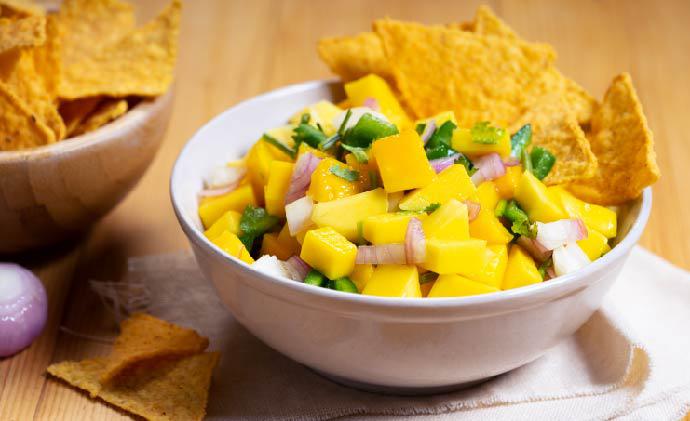 This salsa recipe uses raw mango to give that perfect tangy taste.
Ingredients
½ raw mango diced small
1 kiwi fruit diced small
¼ cup corn kernels
2 tbsp fine-chopped coriander leaves
Rock salt to taste
1 tsp crushed black pepper
1 tsp roasted cumin powder
1 tsp paprika (Kashmiri red chilli powder)
1 tsp lime juice
1 tbsp olive oil
Method
Boil corn kernels in water, strain, and keep them aside to cool.
In a small bowl, combine olive oil, lime juice, salt, pepper, paprika, and cumin powder and mix well.
Take the diced mango, kiwi, the boiled and cooled corn in another bowl, and pour the olive oil mixture into this.
Mix it well and finally, sprinkle the chopped coriander.
Enjoy it as it is or with some baked nachos to make a crunchy snack.
Mango cheesecake parfait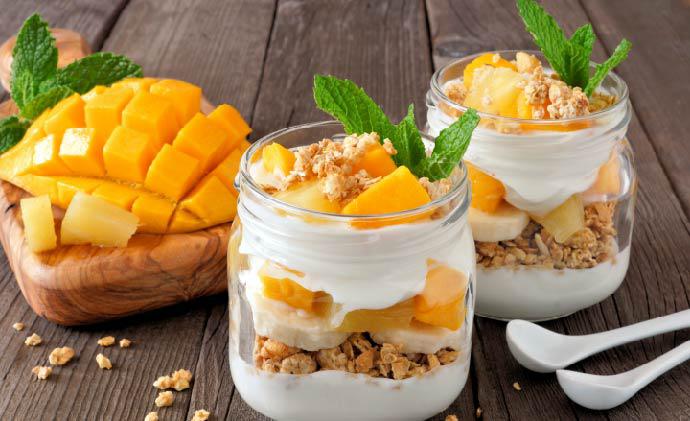 Cheesecake in a glass - how appetizing does that sound! Try this exquisitely simple recipe with mangoes.
Ingredients
1 cup cream cheese
1 cup mango pulp
½ cup chilled fresh cream
150 grams digestive crackers
½ cup powdered sugar
Method
Take chilled fresh cream in a large mixing bowl and whip till fluffy.
Add sugar in parts and slowly mix into the whipped cream, mix lightly to retain the incorporated air.
Add cream cheese to this mixture, using the cut and fold method to keep the lightness of the cream intact.
Take the digestive biscuits in a zip lock pouch and crush with a rolling pin, to a coarse powder.
Now, start layering the ingredients.
Layer the cracker crumbs first at the base, then the cream cheese mixture, and finally, the mango puree.
Repeat layers as required.
Mango basil lemonade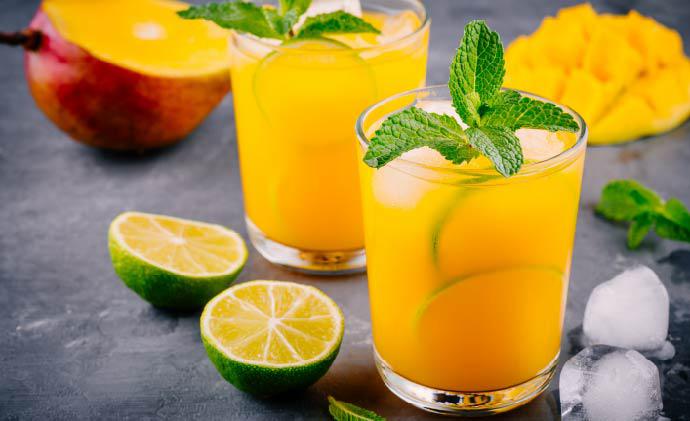 This is a refreshingly tangy and 'mangolicious' version of lemonade.
Ingredients
A handful of basil leaves (or tulsi leaves)
2 ripe mangoes
1 small raw mango
2 tbsp lemon juice
4 tbsp sugar
Rock salt to taste
Method
Clean and chop all the mangoes and cook in a big vessel along with water. There should be sufficient water to cover the mangoes and a little extra.
Cook for 5-10 minutes and take it off the flame.
Once cool, strain and transfer any remaining mango pieces to a blender jar. Remember to preserve the strained water for later use.
Add washed basil leaves, lemon juice, and sugar to the blender jar and blitz the mixture to a puree.
Strain the puree into the previously strained water, and add rock salt to taste. Chill in the fridge and serve this flavourful drink with ice cubes.
Mango Pista Chocolate Bark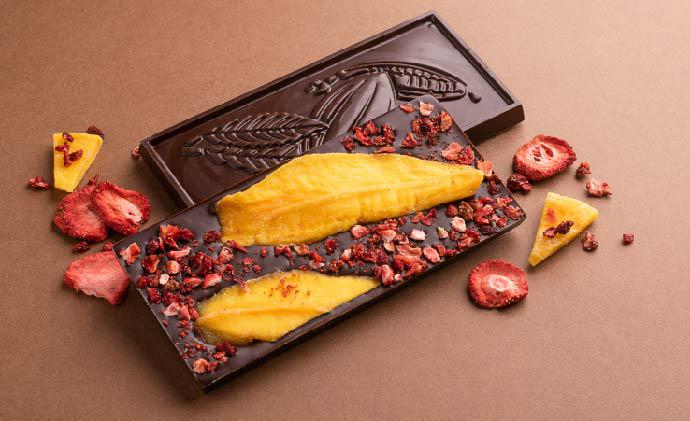 Kids will love the experience of making these fruity and chewy chocolate barks!
Ingredients
½ cup chopped pista
½ cup chopped dried mango (aam papad)
150 grams dark chocolate
75 grams white chocolate (optional)
Method
Line a small tray with parchment paper.
On the tray, layer half the pista and half the mango pieces.
Melt the dark chocolate in a microwave-safe bowl in 20-second spurts and stir until smooth.
Pour this melted chocolate over the pista and mango on the tray and cover.
Now, melt the white chocolate in the same manner, and pour it over the tray in dollops. Run a skewer in an up-down direction so as to bring about a marbled effect.
Now sprinkle the remaining pista and mango pieces over this.
Let the log set for an hour or chill in the fridge for some time. Later, break off pieces and enjoy this decadent treat!