Are you on the lookout for 'unexplored' destinations that are Instagram worthy? The usual tourist spots are pass. Any exotic locations in India? Yes, there are! Read on, you will be surprised.
India has a lot to offer them wandering souls. While, some tourist places are well-known and have reserved a permanent spot on the must-see list, unknown to many, are a host of lesser-known offbeat places waiting to be explored. Away from the sights and sounds of the city, untouched by commercialisation or crowds and surrounded by pristine nature, are hidden gems of serenity and bliss.
Nowadays, more and more people are looking for destinations off the charted routes for a unique getaway with family. Indulging in a whole new experience - be it an action-packed trip or a relaxing stay somewhere - leaves a lasting impression. It will become a cherished and memorable family trip. After all, travel can ignite your child's imagination and her sense of adventure. The journey and the experience, in turn, will teach your child more about the world, people, cultures, lifestyles, nature and the amazing diversity around us.
And, plus, these places are extremely Instagram-worthy. Yes! Another reason for you to pack your bags and get going!
So, this year, keep aside the scenic beauty of Kashmir, the historical monuments of New Delhi, the vibrant atmosphere at Marina beach in Chennai and the salubrious climate of Bengaluru from your travel itinerary. Instead, take a chance and visit a lesser-known destination and make some new memories with your family.
So, for those who don't fancy the traditional done-to-death kind of destination, we bring to you five places in India you may not have heard about. Our well-thought list has a little something for everyone. From a pristine beach to a beautiful mountain trek, from a plateau filled with flowers to rocky caves, here are some destinations that will take your breath away:
1. Mawlynnong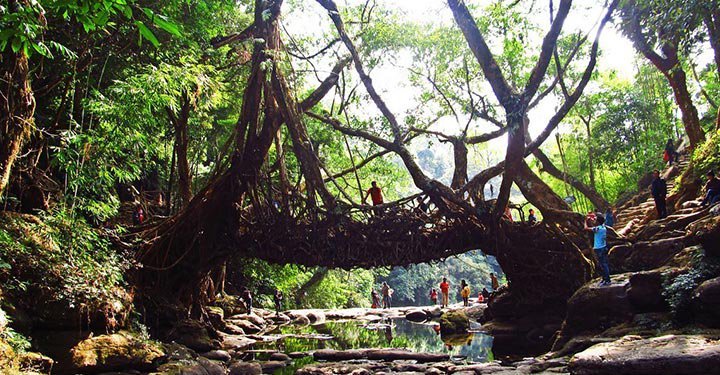 Where: Meghalaya
How to get there:
Flights are available from all metros to Guwahati. From Guwahati, Mawlynnong is about 190km. One can always take a break at Shillong which falls midway, or around 118km, into the journey.
About the place:
Mawlynnong is famous for having been awarded the title of the 'Cleanest village in Asia'. This eco-friendly village re-defines the phrase 'spick and span'! Yes, the village is slowly gaining in popularity and today, tourists have begun to increasingly throng this village to experience for themselves its scenic bliss.
Situated in the northeast region of India, this place is slowly but steadily making its way to the list of must-see places in India. The good news is that it is still relatively unknown. The beautiful village is refreshing to the senses - surrounded by misty mountains and lush greenery. The village has banned plastic bags, smoking and any form of litter. Even dry leaves are disposed of in dustbin made from bamboo. The rules are stringent and defaulters are charged with a heavy fine.
Apart from the joy of witnessing life in the cleanest village in Asia, you can experience the way the Khasis (the tribe which inhabits the area) live, taste some unique local cuisine like Jadoh (a meat and rice-based dish), walk on the unique living roots bridge, have a picnic by the Mawlynnong waterfall. What's more, you can also explore a few nearby caves and visit the historic 100-year-old Church of Epiphany.
2. Sandakphu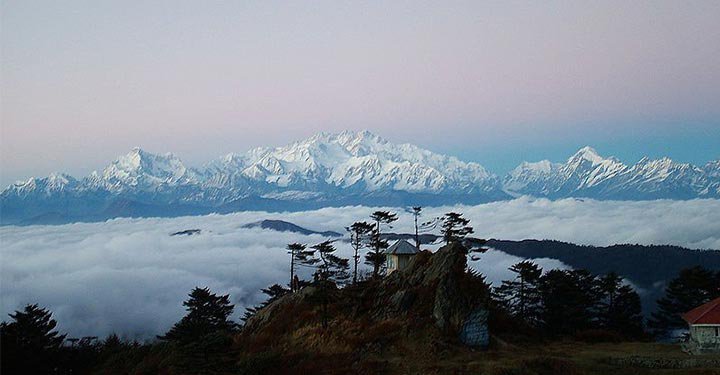 Where: Darjeeling, West Bengal
How to get there:
One must reach Darjeeling first. The nearest airport is Bagdogra in Siliguri, about 90km or three hours from Darjeeling, which is connected to most major cities in India. Once in Darjeeling, you can hire a jeep till Manebhanjan that is about an hour away. From Manebhanjan, Sandakphu can be reached by foot in about two hours. For those not so adventurous, jeeps for hire are easily available.
About the place:
Sandakphu, which means 'Peak of the poison plants' (due to the poisonous aconite plants that are abundant in the region), is popularly known as a trekker's paradise. Located at an altitude of 11, 929 feet, this is the highest point in the Singalila mountain range. It is favoured by tourist and trekkers alike for the stunning views of the surrounding mountain ranges that it provides. This is especially awe-inspiring at dawn when four of the five highest peaks of the world can be seen. If you and your family are an adventurous lot, this is the perfect destination for you.
The region is known for its rich flora and fauna along with a sizeable presence of wildlife. There are several trekkers' huts around that make for affordable accommodation. Provision stores are available nearby that sell tea, instant noodles, packaged water bottles and other essentials.
3. Kaas plateau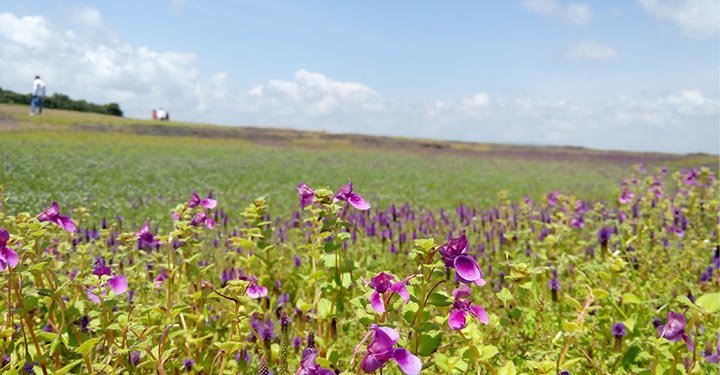 Where: Maharashtra
How to get there:
The plateau is located about 30km west of Satara city in Maharashtra. One can get to Kaas plateau from Mumbai in five hours via the Mumbai-Pune expressway and the NH4. From NH4, one needs to drive till Satara and then onto the Kaas plateau. Around five times a day, there is a train from Mumbai to the Kaas plateau with a stop at Satara railway station.
About the place:
The Kaas plateau has earned the title 'Valley of flowers of Maharashtra' and rightfully so, because of its stunning expanse of vividly-coloured flowers that bloom, for a brief period of three weeks during the monsoons (mid-August to end-September).
This is the time when the entire region transforms into a vibrant carpet of beautiful flowers. Kaas was recognised as a heritage site by the UNESCO World Heritage Committee in 2012 and is home to several species of flowering plants, including some exotic, rare ones like the Rotala, Ceropegias, Murdannia and Arisaemas.
If you are a first-time visitor, you are sure to be enchanted by the dramatic floral display. A stroll in the meadow is a must-do - trust us, it is an experience like none other.
4. Maravanthe beach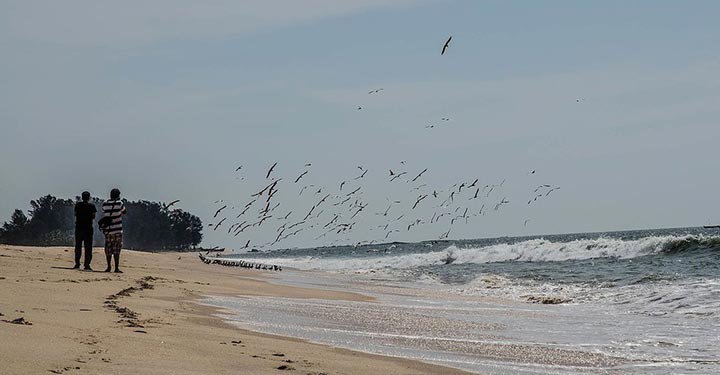 Where: Near Kundapura, Karnataka
How to get there:
One can take a car or bus and drive to the beach, which is about 50km from Udupi district and 105km north of Mangaluru. The closest airport is Mangaluru. Maravanthe is 450km from Bengaluru.
About the place:
A view of the Arabian sea on one side and the Souparnika river on the other - this wondrous combination of majestic sea and the meandering river is truly stunning. And it is one of the highlights of a trip to Maravanthe beach in coastal Karnataka.
This is the not the only beautiful spectacle on offer. A few resorts near the beach offer boating and water sports - popular activities with both locals and tourists alike. You can also choose to just take a stroll down the beach, dip your feet in the waters, meditate and maybe, do some rejuvenating yoga.
The ideal time to visit the beach is from October to March wherein you can enjoy the tranquil beauty and if you are lucky, spot aquatic turtles.
5. Borra caves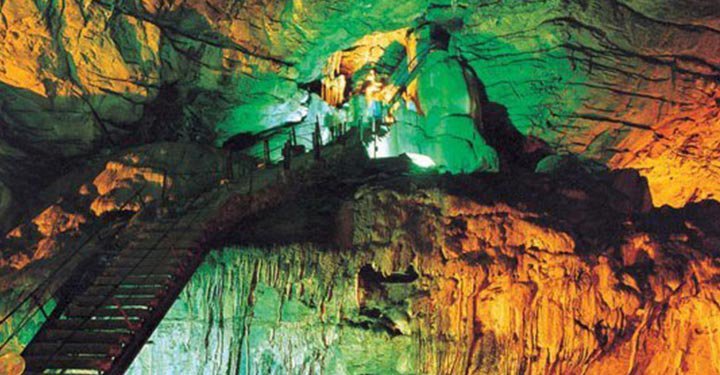 Where: Andhra Pradesh
How to get there:
The caves are situated in Araku valley, about 90km from Vishakhapatnam and well connected by rail and road.
About the place:
The Borra caves or the 'Borra Guhalu' located in the Ananthagiri hills of the Araku valley of Vishakhapatnam district in Andhra Pradesh are the deepest and considered some of the longest caves in the country.
The caves are lit by halogen lamps to show the way. Inside, there are several rocky structures that mysteriously resemble a monkey, a crocodile, a mother and child, and so on. Interesting, isn't it? There is a scientific explanation behind these rock formations. Apparently, water percolating from the roof of the caves, reacts with the minerals in the rock, forming structures on the ground called stalagmites and also forming spear-like structures on the roof and pointing downwards, known as stalactites. A wonderful opportunity to show your child the power of water and how it shapes the world we live in.
Further, there is also a small temple with naturally-formed Shiva Linga structure, thereby lending a sacred air to the caves.
So, what are you waiting for? The next time you plan a family holiday, why not head down to these offbeat destinations? They may not be as well-known as other touristy places but they are no less beautiful and promise you a wonder-filled and exceptional travel experience! adventurous. After all, it is not every day that one happens to get the opportunity to visit a village feted for its immaculate cleanliness or walk to a beach where there is a sea on one side and a river on the other. Enjoy your trip!
Looking for expert tips and interesting articles on parenting? Subscribe now to our magazine. Connect with us on Facebook | Twitter | Instagram | YouTube