A teen's bedroom is an expression of her interest and style. Want new ideas to help upgrade your teenager's personal space? Read on for some cool room decor ideas
For a teenager, a bedroom is a place where he can have his privacy, be alone with his thoughts, relax or just spend time with his friends. A teen has a different view of a room than an adult and most parents have a tough time decorating their teen's room. A teens bedroom reflects his personality, so, it should be vibrant, positive and motivating. Today teenagers are design-conscious, and they know what is required to add a personal touch to their space.
Teens are specific about the decor they want for their room. These days, teens have a lot of exposure with accessibility to the Internet and they come up with unique ideas to beautify their room.

It's not like the old days when we used to decorate the room with a poster. Teens are hands-on in terms of their choice and they use apps and even 3D printers to develop their own showpiece, says Komal Porecha, an interior designer.
Here are some cool decor ideas to make every teen's bedroom dream come true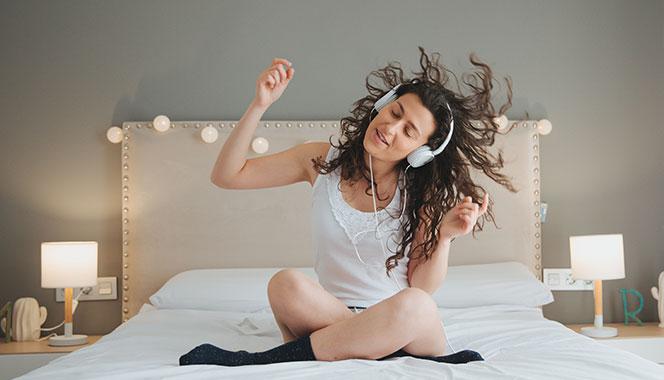 Room decor ideas for teen girls have seen a transition from princess-style little girls rooms to more contemporary and edgy styles. Teens, especially girls, get inspired to change the look of their rooms regularly. They can use their own creativity and come up with DIY ideas such as photo collage, fabric chandelier, string art, monograms and fairy light photos. It will also be a proud moment for them when they decorate their space themselves.
Fairy light photo wall
Fairy lights have seen a surge in popularity in teen room decor. Teens love taking pictures, and their favourite snaps can be used to create wall decor. Fairy light photo wall is a fantastic piece of artwork to brighten up the dark corner of a room. Hang anything from photos to birthday cards to create a magical photo memory. Fairy lights can also be twined through drapes to brighten up space. Here is how you can make one
Materials needed

Fairy lights
Photos
Fancy clothespins
Hooks
Method 
Choose a wall in your bedroom that needs extra sparkle. Place the hooks to tie the fairy lights.
Drape the lights from side to side. Use fancy clothe pins to hang photos or cards onto the fairy lights.
Floral monograms
For a teenage girls room, flower-based art pieces are an effortless way to bring colour and vibrancy. Monograms can be made using wooden letters, plastic flowers and a hot glue gun. Monograms are easy to customise; multiple words can be made in different shades, hues and can be swapped depending on the mood and holiday. Apart from flowers, you can create colourful monograms with confetti, paint, glitter, yarn pompoms, ribbons and washi tapes.
String art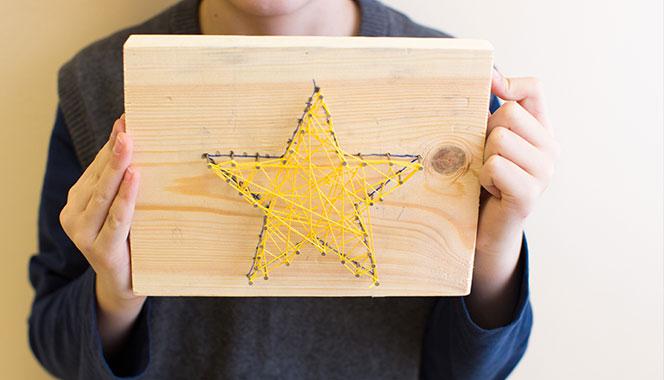 If your teen wants to make a bold statement in her private space, nothing can be more striking than a large, brightly coloured string-art piece. What's more, she can make it on her own. String art is an awesome idea for the teenage girl's room and it is easy enough for beginners. This can be a centrepiece of the room or will stand out even if you hang it on the wall behind the bed.
Materials needed
A piece of wood or corkboard
Nails
Yarns of multiple colours
White paint
Tape
Method
Paint the wooden piece and allow it to dry.
Print the number, letter or pattern big enough to fit the board. Fix the pattern on the board using tape.
Insert the nails on the board, following the outline of the template. Trace the entire template and remove the paper.
Weave the yarn between the nails in a zigzag manner. Use multiple colours to create a fantastic piece.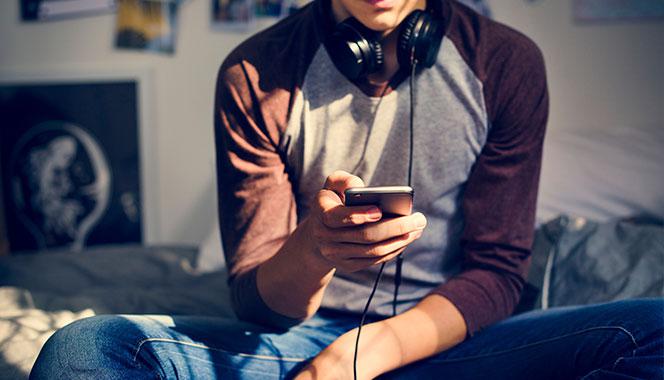 Though there are no rules when it comes to decorating a teenage boys bedroom, a few things should be taken into consideration. For example, the decor can be based on his personal preferences and favourite hobbies. Stripes are the most common pattern used in decorating a teenage boys bedroom. Colourful artworks and funky pin-ups can be used to decorate a teens bedroom wall. You can also mount the walls with retro-inspired motifs of old cars and bikes, musical instruments and so on. Check out these fun decor ideas for teenage boys:
Travel-inspired motifs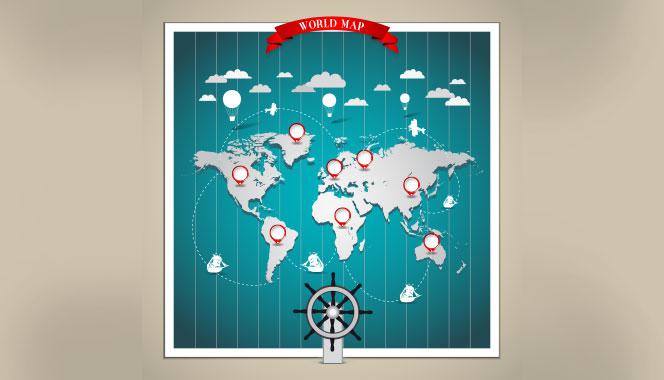 A travel-themed room for teens inspires them to widen their horizons, travel the world and experience different cultures and people. When you think of travel-inspired decor, maps are a perfect decor element. Teens can choose a map of their favourite place that they would like to visit and use it as wallpaper. World map wall stickers with a foam backing can be used as a centrepiece to which teens can add pins for dream destinations or places visited.
Recently, I designed a room belonging to a teen who likes to travel. We put a world map on the bedroom wall as the main decor element. We planned it in such a way that the teen can place a tag on the places she has visited, says Porecha.
Wall of fame
Teens can be encouraged to express themselves by turning their rooms into a canvas. Cover the wall behind the desk with cork tiles for an instant bulletin board, where they can affix posters, calendars and photos. Framed black and white photographs can be arranged in an artful way to make a personalised wall decoration. Make space to display trophies, medals, ribbons on the wall of fame. Teens favourite photos can be printed into a collage and framed to create eclectic wall art.
Graffiti mural
Graffiti is a great way to create an urban street effect in your teen's room. Graffiti is also a method of protest and teens love this idea to reflect their individuality in their personal space. For example, if your teen is interested in sports, throw a cool graffiti mural of his favourite sport on one of the bedroom walls to create a trendy effect.
Murals can be used to decorate the wall with a dramatic effect. The wall behind the bed can be the focal point; decorate it with a mural depicting sports arenas or tropical scenes spray painted into the walls. For a teenage boys room, murals give a definite theme and act as a basis for the rest of the bedroom decor.
Some quick tips
First ask your teen's specific interest, preference and then explore all the available ideas accordingly
Plan and divide the room based on the activities
If you are short on space, invest in multi-purpose furniture like a flexible bed or a cot that has storage space underneath
Use wall stickers or hand stencils to add vibrant designs to the room
Self-expression is part of a teens life, so allow them to hang their favourite photos and poster
Removable wallpaper or posters can be used for instant fun