Tips For Helping Your Child With School Projects
Ashwini Lobo
9 Mins Read
Ashwini Lobo
Follow
author parentcircle author parentcircle author parentcircle author parentcircle author parentcircle author parentcircle
Wondering how you can help your child excel at her school projects? The following tips will show you what you can do to pitch in.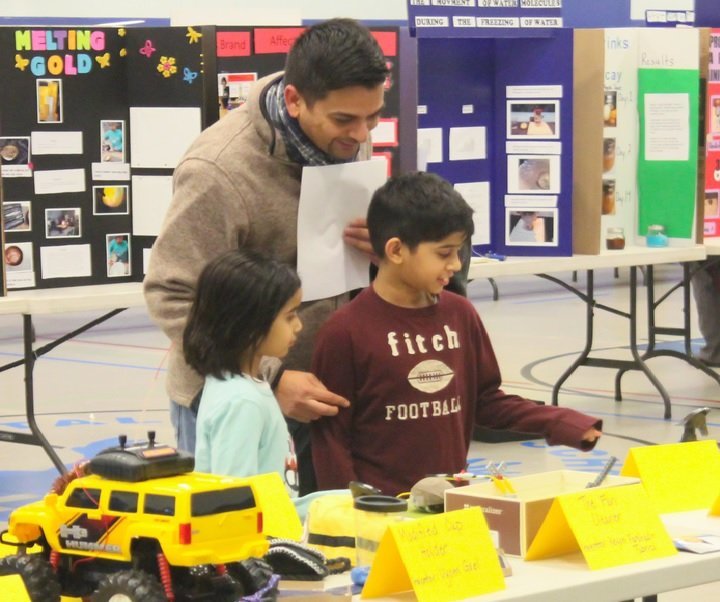 Working on projects can not only be informative for your child, but it can also be very exciting. It enables your child to display her creativity and learn a particular subject in a more hands-on manner. Several schools include projects in their curriculum and assign a certain percentage of a student's final grade to project work.
Although interesting, projects can still be a major source of stress for your child. This might be because she is unfamiliar with how to go about the project assigned to her or because the work load is such, she doesn't know where to start. When many projects are due around the same time, she may be confused about what to prioritise.
You can step in to guide your child on how she can work on different projects in a systematic and organised manner. Read through the following tips to know how you can help:
How to help your child with his school project
Preparation
Ensure that your child understands the instructions: Before your child starts work on the project, make sure that he reads and understands his teacher's instructions thoroughly. If there is anything that is unclear in the instructions, ask him to clarify his doubts with the teacher. Having a clear idea of what exactly the teacher expects will ensure that he does not waste time on unnecessary research.

Gather necessary materials: Make a list of all the materials your child will likely require while doing the project and get them in advance. This may include chart paper, sketch pens, scissors and other relevant stationery. Having all the materials ready before starting the project ensures that the work can go on uninterrupted.

Start early: Once your child is clear about the teacher's instructions and the necessary materials have been gathered, advise her to start working on the project as soon as she can. The reason she has been given a long time to complete the project is because complex projects at times, take that much time to finish. Putting aside even half an hour a day to work on the project can go a long way in ensuring it is finished well in time. This way there are less chances of her starting work late and getting stressed as the deadline approaches.

Divide the work into small segments: A project and all that goes into it, can sometimes intimidate your child. Help him divide the work into small chunks, so that he can work on them one by one. Each time he finishes a portion of work, reward him with some extra time of free play or a little outing. This will keep him motivated and help him complete the project in time.

Research
Use credible sources: Make sure that all the information your child gathers is valid. The Internet, though a valuable treasure trove of information, can also be the source of data that is factually incorrect. Ask her to use only reliable websites and books while doing research. Also, ask her to avoid using information that is outdated.

Prepare a list: Make a list of all the sources that have been used in completing the project. Your child's teacher may want to know where a particular piece of information was acquired from. So, it is important to have a list of sources to support what has been written in the project. The list will be of help while making citations and it will also need to be incorporated in the project's bibliography.

Execution
Avoid plagiarism: When your child finally gets down to writing the project, tell her to make sure that none of her work has been simply copied and pasted from the Internet or from a book. Even if such information is included in the project, it is necessary to give credit to the author of the piece. Plagiarism is severely frowned upon in most academic circles and if she is caught doing it she may face a penalty. There are several free software programmes available online which you can use to detect plagiarism in her work.

Make it visually appealing: Remember that your child's teacher has to go through projects done by the entire class and this can get quite monotonous for her. Making sure that your child's project work is visually appealing will help make it stand out. This will ensure that the teacher takes an interest in carefully reading through the work.

Check the language: When the writing is done, go over the project to ensure that it is grammatically correct. Again, there is free software online which you can run the text through to ensure that there are no grammatical errors.

Review the project: Read through the information to make sure that all of it is relevant. Return to the instructions that were initially given by the teacher and ensure that the project adheres to them. Certain points may not be relevant. You can ask a neighbour or a family member to read through the project and see if any changes need to be made.

Presentation
It is possible that your child may be asked to make a presentation of his work in the class for certain projects. Usually a certain percentage of the grade is allotted for the presentation of projects, so she must be prepared to make a good impression.
Make pointers: The time given for in-class presentations is usually brief; so make some pointers for your child so that she can highlight the most important parts of the project.

Practise: Once the pointers have been made, ask your child to practise the presentation in front of you. Time him while he presents, to ensure that he finishes his presentation within the given period. Having him practise the presentation a few times in front of you and other family members will also give him the confidence to present it in front of his class.

Being actively involved in your child's school projects can go a long way in helping her score good marks and get less stressed while doing it. Follow the above tips to help her excel at school.
Looking for expert tips and interesting articles on parenting? Subscribe now to our magazine. Connect with us on Facebook | Twitter | Instagram | YouTube