Creativity and imagination can help your child's motor skills, social interactions and even his problem-solving skills. Want to encourage your child to be more creative? Read on to know how
Every invention we are thankful for today was someone's imagination once. Every new development of these inventions is the result of someone's creativity. As your child plays with his toys, his whole world shapeshifts to another dimension in his imagination. The bed becomes a vast sea and the cushions his ship. The sheets become his fort and the teddy bear a mighty steed in your kid's creativity. All this might sound like child's play, but would you believe that he actually develops his social, behavioral, and decision-making skills while he plays?
Sally Goddard Blythe, director of The Institute for Neuro-Physiological Psychology at Chester, and author of The Genius of Natural Childhood: Secrets of Thriving Children says, "This kind of play allows children to tap into their creativity and really run with it, without any boundaries, (and) in a way that's very freeing."
When children imagine, they visualize a world without its physical limits. This helps them see things in a new light and look for solutions using a different approach. It also helps them express themselves and urges them to question the working of things around them. And this is just the tip of the iceberg of learning! Wondering how your child's creative world will shape his future? If so, how can you nurture his imagination? Fevicreate is here to expand creativity in children! From simple DIYs to exciting science projects, it is the one-stop-shop to help your child's imagination grow without bounds, while also helping him learn! Read on to know more.
Importance of creativity
Creativity is important in the early years of development of your child. Let us see how it can help her learn and grow.
Promotes social interactions and emotional development
Imagining herself in others' shoes promotes social and emotional development in your child. She learns to be more empathetic and cooperative to others, while also being confident of who she is. Pretend play and crafts also help your child test her boundaries by helping her imagine and experiment.
Aids creative and cognitive development
Being creative helps children build the foundation for life skills which they will acquire later on in life. For example, reading can help your child visualize the plot, give a face to the characters and even extend the narrative in his own imagination. This aids creative learning and cognitive development in children by improving their memory and also helps them creatively process situations by looking at them like the plot of a story.
Helps in the development of motor skills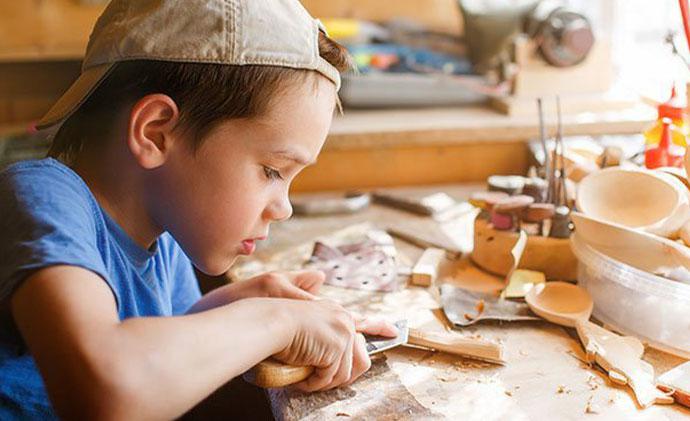 Art and craft, pretend play, or simply playing outdoors prove to be fine motor activities for kids. Whether your child is dancing to her own beat or jumping over bushes outdoors, it improves her hand-eye coordination and muscle memory. Dressing up dolls, playing with small cars and figurines help your child self-regulate her movements and behavior.
Check out Fevicreate's wide range of creative crafts, DIYs with different difficulty levels to suit your child, and more here.
Builds communication skills
Imaginative play or creative play allows children to act out scenes from books, movies, or even from interaction with peers. This builds communication skills as they try to experiment with language and conversations with peers. It also improves their listening skills as they try to listen, learn, adapt and imagine.
Develops critical thinking and problem-solving skills
As children play, they imagine the world without its physical limits. They create visual images, helping them explore ideas without any constraints. This promotes critical thinking in the early years and develops problem-solving skills, thus helping them come up with new possibilities and solutions.
Encouraging creativity and imagination in your child
"You can't use up creativity. The more you use, the more you have" - Maya Angelou, Poet

Invent scenarios and encourage pretend play

When your child plays, he usually pretends to be a character he has seen or heard about. Help him widen his imagination by inventing scenarios for his play. Play doctor, house, astronaut, superhero, school, or whatever you can think of. Pick a role for yourself and answer questions he may have.
Choose simple, open-ended toys
If your kids tend to lose interest in toys in a day or two, it's time to switch to open-ended toys which can be used in multiple ways, yet do not require your intervention much. Building blocks, toy animals, plain wooden blocks, whiteboards, and play dough offer unending possibilities of play for your child.
Listen to your child's ideas
As your child develops a story around his toys or playthings, listen keenly and learn how he builds his imaginary world. Allow him to choose what to play when he wants to stop and brainstorm with him about random ideas of play. Hold family brainstorming sessions and encourage your kids to participate, showing them that sharing ideas is not scary.
Indulge in art and craft

Nothing initiates one's imagination better than art and craft. Crafting acts as a channel to help children with creativity, self-expression, concentration, learning, planning skills, and dexterity. Fevicreate offers customized art projects and DIYs to help your child develop his creativity and work on his imagination. This is also a beautiful opportunity to promote your child's interaction with your family.
Ask questions about their ideas and creations
Ask questions that will provoke your child's imagination and creativity. This will help her envision her ideas and share her thoughts. Use questions like 'What if?' or 'What is the difference between this and that?' or 'What are other ways you can do this?' to spark your child's creativity.
Give encouraging feedback
Take on the role of a cheerleader as you play with your child and avoid being a judge. Your child's creation may not be perfect or realistic, but it is the outcome of his imagination, so give positive feedback to encourage him. You can also let them imagine and create by giving them space and time for unstructured play.
Craft, learn and create with Fevicreate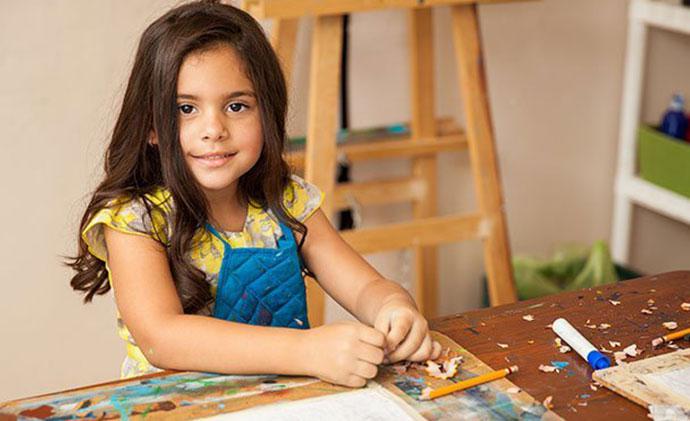 How would you like if we told you that all your child's creative needs can be met with a single click? Fevicreate is the place to be! With a plethora of DIY projects, art out of waste ideas, creative crafts for kids, school projects, lesson plans, videos, and more, Fevicreate helps your child widen his creative world in more ways than one.
If you are stuck at home and need a quick fix for your child's playtime, try one of their DIY ideas. All you need to do is choose a theme and difficulty level for your child and you have umpteen ideas varying from tea light holders and Diwali lanterns to Halloween masks and fridge magnets. Want all-inclusive kid's craft kits? They have those too! Neon slime, a kit to make your own birdhouse, a Ganesha mold, and many exciting craft kits to bring your child's imagination to life! Shop now at Fevicreate.
Next time your child picks up a building block and looks up at you, leave your chores and settle down for a fun time with him. The chores can wait, his creativity is the one that needs to be worked on. His imagination and creativity can change the world.