Creativity is at the heart of sand sculpting. This art doesn't just need sand – it requires skill, hard work, patience, and dedication. Meet Sudarsan Pattnaik who has all these qualities and more
From a little boy who used to build sandcastles on the seashore near his house, to a world-renowned artist who makes beautiful, larger-than-life sand sculptures, Sudarsan Pattnaik has come a long way. Hailing from Odisha, Pattnaik rose from humble beginnings to become one of the best sand artists in the world.
His notable creations include a model of the Taj Mahal, a sculpture of Lord Ganesh that won him a gold medal at the 10th Moscow Sand Art Championship, and the world's tallest sandcastle on Puri beach, which earned him a place in the Guinness Book of World Records.
"The most important thing is to never give up on your dreams when you face hardships and obstacles."Perseverance and dedication are the two qualities that have helped him reach such great heights. In an exclusive chat with ParentCircle, Sudarsan Pattnaik talks about his passion and what children can learn from his life story.
Q: What motivated you to take up sand sculpting full-time?
A: When I was growing up, I faced many difficulties – financial and otherwise. I still remember that my grandmother's pension was just Rs 200 then. I used to work at my neighbor's house to make ends meet.
I was interested in drawing and painting but did not have the money to buy the required materials. As the beach was quite near to my house, I used to sculpt in the sand, and people used to appreciate them. This inspired me to start sand sculpting, even though it was uncommon at that time.
Q: What were the challenges you faced when you decided to pursue this art?
A: As an artist, I have struggled a lot to reach where I am today. For about 16 to 17 years, I worked hard to make sand sculpting popular because this was an art form that was hardly known in those days. People only thought of sand sculptures as art forms that could be easily destroyed.
However, I persevered and after a few years, I received an invitation to go abroad and demonstrate my skill. It was not an easy journey though. I could not get a visa to visit many countries due to my financial condition. Slowly, the international media began showcasing my work and the people started recognizing me.
Q: Recently, you created the world's biggest sand sculpture of Lord Jagannath. What was the reason behind this choice?
A: The idea behind the sand sculpture of Lord Jagannath was to celebrate the arrival of the New Year. But over the years, I have managed to set almost 25 records in total, including a place in the Limca Book of Records. Last year, I won a place in the Guinness Book of World Records for creating the tallest sandcastle.
Q: Sand sculpting takes hard work and patience. How can children learn such qualities? 
A: The most important thing is to never give up on your dreams when you face hardships and obstacles. You must learn to be patient even if things don't work out. I have opened an institute called the Sudarsan Sand Art Institute in Puri, where students learn the values of hard work and patience through everyday activities.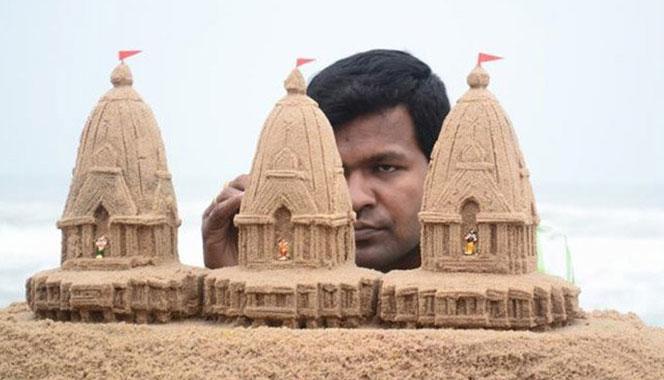 Q: What lesson from your parents helped you on the road to success?
A: Although my parents are no more, my mother remains my biggest inspiration. She always encouraged me to pursue my dreams and never give up. She made immense sacrifices to see me succeed. For everything I have achieved today, I definitely owe her.
Q: Which of your artworks is your favorite?
A: I do not have any favorites as I love all of my creations. Usually, I try to make sculptures based on events from across the world that have had a deep impact on the public. For instance, when the former President of India, Dr. APJ Abdul Kalam passed away, I made a sculpture of his face. Another event that affected me profoundly was the tragic death of the little Syrian boy (Alan Kurdi), which I also depicted as a sand sculpture.
Q: You were awarded the Young Indian Leadership Award in 2010. How do you think children can learn to be leaders?
A: I believe that children are the future of the world. At the same time, being a leader is an important and challenging task. Parents can try to instill leadership qualities in children from an early age by encouraging them to be independent.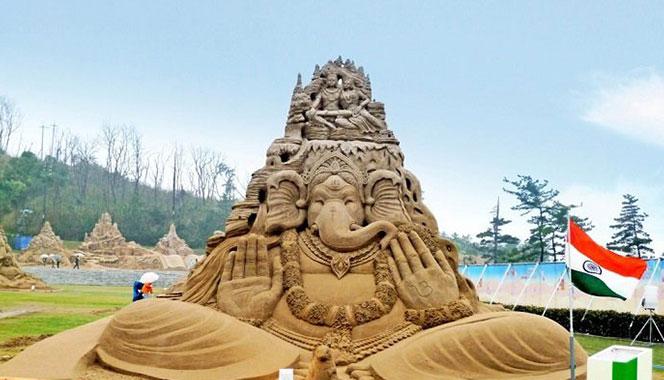 Q: What do you want children to learn from your sculptures?
A: My message to children is simple: whatever you do in life, do it with passion and dedication. Never underestimate yourselves or what you can achieve if you set your heart to it. For example, I never imagined that one day, I would receive the Padma Shri award for my work. So, never stop believing in yourself and in what you do.
Q: Can you tell us about the Sudarshan Institute of Art?
A: It is an open-air institute, which operates from 4 pm to 6 pm every day. Students come here to practice and improve their skills in sand sculpting.
Q: Your sculpture on Mahatma Gandhi received recognition. Can you tell us the idea behind it?
A: There was only one message behind the sculpture on the revered father of our nation - peace must always prevail in life.
Q: Would you like to convey any message to our readers?
A: Remember that hard work and effort always pave the way to success. Try to be supportive. It doesn't matter what field or profession your child chooses - sincere dedication in that field will yield results.