"My journey as a parent to a special child was going fine till an incident shook my soul"
Sumita Ghosh
2 Mins Read
Sumita Ghosh
Follow
Sumita Ghosh is a ParentCircle Author has knowledge about parenting.
Sumita Ghosh shares her parenting journey as a working mother of a special child. Read about the challenges she faced and the support she received from her family and colleagues to help her balance work and home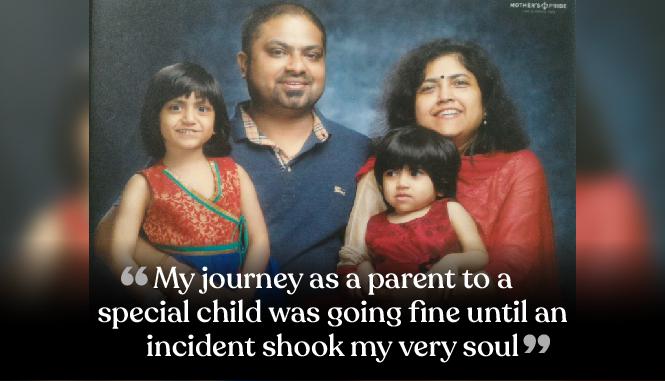 "I am a mom to a special child, and my parenting journey has been nothing short of a roller coaster ride. When my elder daughter was born, her speech development was delayed. When she started speaking, we were relieved. My younger daughter was verbal, and we were happy about it. Little did we know that our joy would be short-lived, for one day she stopped speaking completely. She was diagnosed with moderate-level autism spectrum disorder (ASD).
After staying at home for a few years to look after my daughters, I decided to go back to work. So, when my younger daughter turned 2 years old, I started going to office regularly. When she was 2.5 years old, we decided to put her in a daycare center, so we began searching. We rejected a lot of them and finally decided on a reputed one near our home.
But then, an incident made us rethink our decision. One day, a parent of another child going to the same daycare center informed me that the staff was making my daughter all day – and she was strapped to it with a belt in front of her so she couldn't get out. As she was confined to that chair the whole day, she became aggressive and started biting people. I was devastated. We immediately escalated the matter to the authorities and submitted a complaint against the staff.
That incident shook me from the inside and I decided to take some concrete steps to be at home with my kids. My mother-in-law stood like a pillar beside me and was my constant source of support during those difficult days. She always encouraged me to balance my time between career and family. I started working from home more frequently, which gave me more time with my daughters. With support from my husband and mother-in-law, I was able to juggle home and work.
I was also lucky to work for an organization that was sensitive to the challenges faced by working moms. My bosses were very supportive regarding this matter. Both my children were very happy as they got to spend more time with me. As I spent more time with them, I became their friend and confidant. I realized that more than any toys or gadgets, our children need us the most, and we should always be with them in their joys and sorrows.
I advise all working parents to regularly check the CCTV coverage of the daycare centers their children are enrolled in. It is also advisable to often talk to the caregivers of the daycare center and other parents separately to know the real picture."
By Sumita Ghosh
(As told to Monali Bordoloi)