Worried about the chemicals and additives your baby is consuming through packaged baby food? Here are some healthy, home-made options that your little one will love.
Your baby deserves complete nutrition with every morsel you feed her. As your baby grows, you may want to introduce her to different varieties of food that will provide her with essential vitamins and minerals. Packaged baby foods are convenient, but may not be nutritious for your baby. The chemicals and additives found in processed baby foods and infant formulas, including white or processed sugar, artificial sweeteners, preservatives, food colouring, etc., could damage the tender digestive system of babies. Also, children grow at a rapid rate during the first three years of their lives; so, they require varied nutrients during this stage.
Also Read: Knowing when to start your baby on solids
Home-made baby foods are a better alternative as they provide all the nutrients required for your baby. Every household has some age-old recipes of baby food, which are passed down from generation to generation. We present a few such recipes you can try for your baby.
Before you start preparing baby food at home, keep these points in mind:
Always wash your hands before handling baby food. Keep the kitchen area neat and clean.

Wash all the utensils and spoons used in making baby food, properly. Sterilise the bowls and spoons before feeding the infant.

Before preparing baby food, clean all the ingredients properly.

Avoid salt and sugar/sweeteners in your baby's food for the first year of life.

Use fruits and dried fruits to provide sweetness, if required.

Spices such as cumin, cinnamon and turmeric can be used to add flavour.

Use moderate amounts of ghee and butter.

After the first year, pink salt or any unprocessed salt without additives or synthetic iodine can be used.

Preferably, use steel utensils to cook baby food.

Feed your baby small quantities. Remember, her digestive system is still evolving.
Here are five recipes for home-made baby food:
1. Coconut milk with malted kanji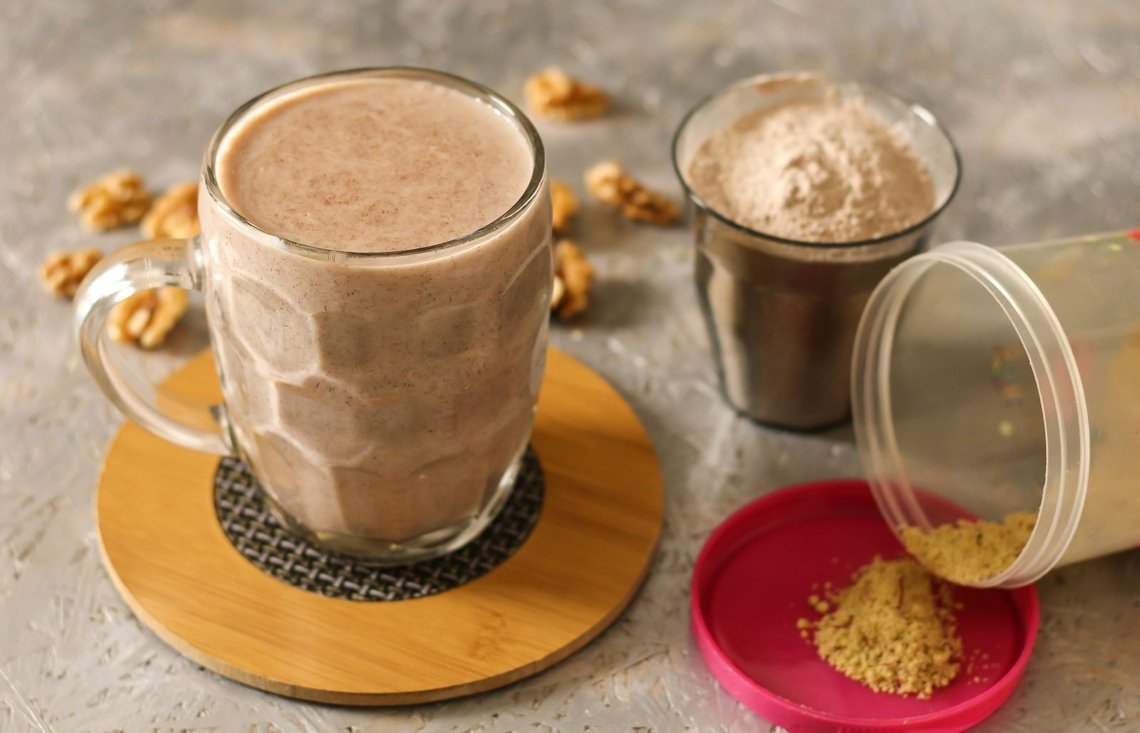 Ingredients:
500 g ragi

500 g Bengal gram or green gram

50 g sprouted fenugreek seeds

200 ml water

1 coconut

Method:
For the kanji powder
Soak half a kilo of ragi for a couple of hours and spread on a clean towel to dry. Leave it overnight to sprout.

Sprout half a kilo of either whole Bengal gram or green gram.

If you choose, you can also use 50gm of sprouted fenugreek seeds.

Dry all three in the shade and roast separately, till all the moisture is gone, and they turn a nice brown colour. This process may take up to twenty minutes for each different ingredient.

Mix the roasted grains and grind into a fine flour.

To prepare the kanji, mix two teaspoons of this flour in about 100ml of water and boil till it bubbles over. Keep stirring to prevent lumps.

For the coconut milk
Remove a quarter of the flesh of one coconut and grind finely.

Add around 100ml of water, grind again and strain to remove the coconut chaff.

You will now have the first batch of milk. Repeat this process two more times to extract more milk from the coconut.

The quantity of water added is the quantity of milk obtained. So, make as much as you need for your baby.

You can make up to half a litre and store it in an airtight bottle in the fridge.
For the mix
Add 50ml of coconut milk to the same quantity of boiled kanji and serve.
Also Read:
Sample Menu For A One-Year-Old

Benefits of Coconut Milk for Kids
2. Steamed vegetables with roasted/soaked flax seed powder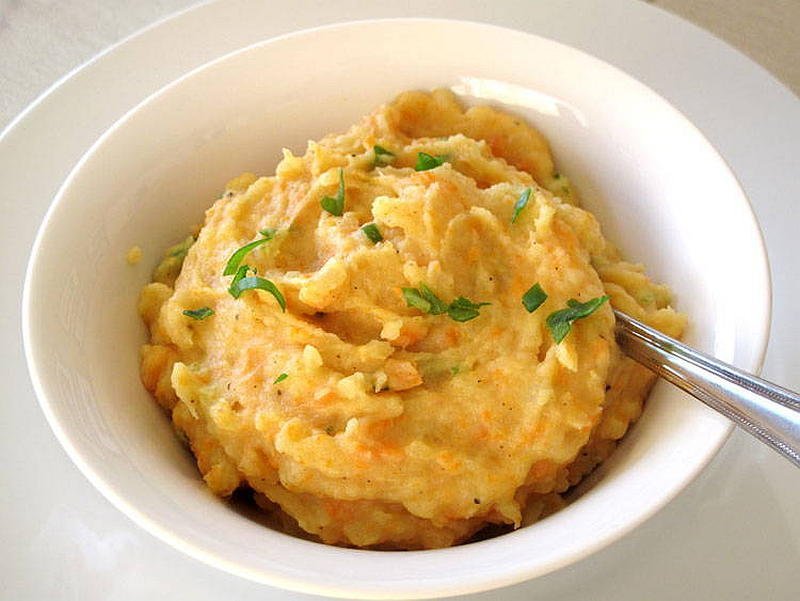 Ingredients:
6 tbsp flax seeds

A bowl of mixed vegetables

Method:
Select three different vegetables like carrot, peas and potato. You can include green leaves like spinach too. Try to change the combination of vegetables each day. This way your baby gets a range of plant nutrients, including vitamins and minerals, and most importantly, the numerous phytochemicals needed.

Clean the vegetables thoroughly and steam them.

For infants, make a pure out of these steamed vegetables. For slightly older children, mash these vegetables with a spatula.

Roast six tablespoons of flax seeds for a couple of minutes on a medium flame. Powder and store in an airtight glass jar and use for one week. Grind freshly each week as flax seeds lose their effectiveness over time.

Sprinkle a teaspoon or two over the pured steamed vegetables and feed your child.
Also Read: Solid Foods That Help Toddlers Gain Weight
3. Soft-cooked moong sprouts with little millet and vegetables
Ingredients:
1 cup little millet

1 cup green gram

1 vegetable of your choice

1 tsp coconut/sesame oil

1/2 tsp turmeric powder

1/2 tsp cumin powder

Few mustard seeds

Method:
Soak green gram (moong) in the afternoon and drain the water before you go to bed at night. Leave it overnight in a vessel with a lid or tie it up with a thin cloth. By morning you will have sprouts.

Cook little millet (saamai) using two cups of water for one cup of millet.

Steam cook a vegetable of your choice together with sprouts till just soft enough for chewing. (Depending on the child's age and ability to chew, sprouts can be left raw too.)
In a pan, add one spoon of coconut or sesame oil, mustard seeds, turmeric and cumin powder. Mix in the vegetables, millet and sprouts, and fold well.

Mash well before feeding.

This is a complete meal in itself. Curd can also be added at the end if you want to feed probiotics.

4. Green leaves and sprouts soup with powdered almond: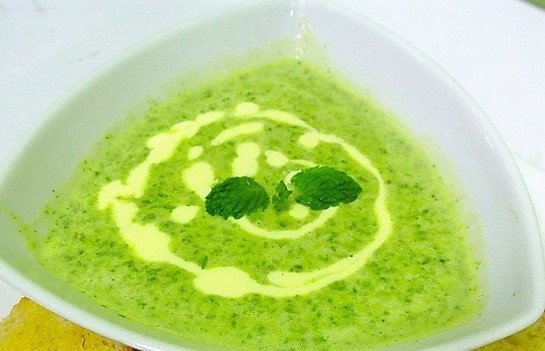 Ingredients:
1 small bunch spinach

100 ml water

1 tomato

1 diced carrot

1 pod of garlic

Handful of mixed sprouts

A pinch of spice powder
1 tbsp powdered almond
Method:
Select a green, leafy vegetable, preferably spinach. You will need one small bunch.

Remove the roots and wash thoroughly under running water to remove any traces of dirt.

If you are not sure of the source, soak the leaves in water with a few drops of vinegar added, to remove potential germs.

In a pan, add 100ml of water, a tomato cut into large pieces, diced carrot and chopped garlic. Bring to a boil and add the leaves. Cook only until the leaves turn deep or dark green, usually 5-7 minutes, three minutes in the case of spinach.

Drain the water into a cup and add some raw sprouts to the vegetable mixture. Grind well into a smooth paste, add in the remaining stock and grind again. Sprinkle a pinch of spice powder if you want.

Pour into a cup and sprinkle one tablespoon of almond powder before feeding.

5. Fruits, soaked nuts and coconut milkshake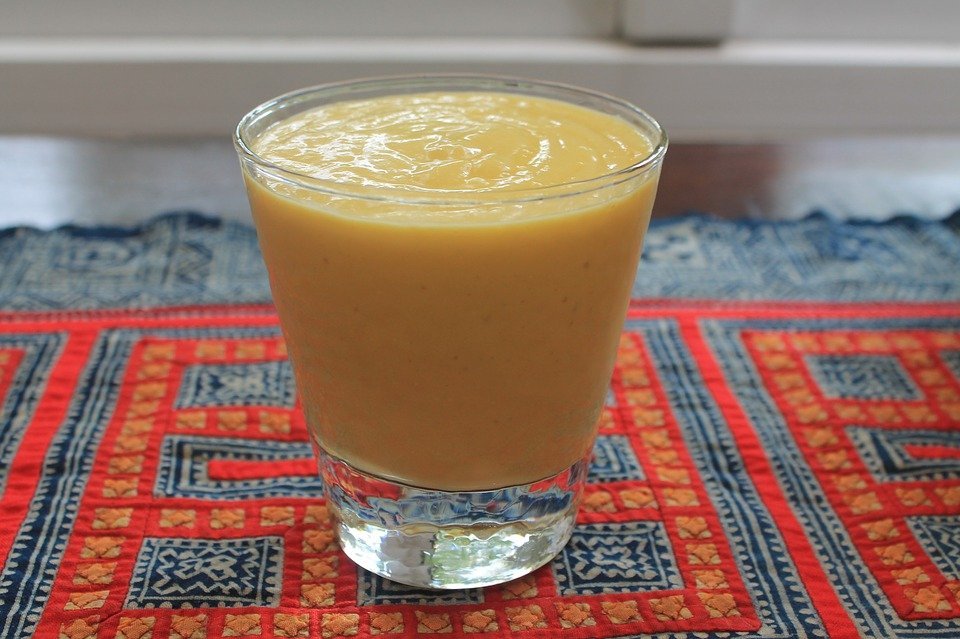 Ingredients:
2 tbsp almond

2 tbsp cashews

2 tbsp walnuts

100 ml coconut milk

A bowl of diced banana and mango

Method:
Take some almonds, cashews or walnuts.

Soak them overnight to unlock their nutrients and drain any excess water in the morning. You will need two tablespoons for one serving.

Prepare coconut milk - you will need approximately 100ml. (Check Recipe 1 for steps)

To a juice-maker, add banana and mango pieces, and the soaked seeds. Grind till smooth. Add in the coconut milk and blend one last time. The fruit shake is now ready.

All the five recipes include superfoods and are hence very nutrient-dense. There are no refined and processed ingredients used. Use a variety of grains, pulses, vegetables, fruits, nuts and seeds to make food for your child. Introducing your child to a varied nutritious food early on gives her a powerful head start.

About the expert:
Written by Smitha Suresh on 16 July 2018; updated on 25 September 2019.
Smitha Suresh is a nutritionist based in Chennai.
Join our Circles to share, discuss and learn from fellow parents and experts!

Looking for expert tips and interesting articles on parenting? Subscribe now to our magazine. Connect with us on Facebook | Twitter | Instagram | YouTube