Parents dread aggressive and shooting-based games that are very popular with youngsters these days. But gaming can also be creative. Here is a list of ingenious games that do not promote violence
In an ideal scenario, all parents would like their children to spend time outdoors, running and playing instead of being cooped indoors in front of a screen. It's true that physical games and sports are better for the overall development of children than online games. But the right kind of gaming, when played during specified time frames and under the unobtrusive supervision of parents, can boost creativity and imagination in children.
A study by researchers at Oxford University, which was published in the journal Pediatrics, revealed that children who played video games for less than an hour a day displayed good behavior both at school and at home, and their level of happiness was also high. Their overall performance and happiness index was better compared to children who played video games for more than an hour and those who did not do any gaming at all.
Positive effects video games can have on children
Improves focus, especially in children with a short attention span
Helps develop better eye-hand coordination
Boosts imagination
Builds a spirit of healthy competition
"Minecraft and FIFA are imaginative games that don't have gory violence or shooting. They encourage creative skills in the children and also teach them strategy, analytical thinking and are also very entertaining," says Aparna Rao, mother of a teenager and an avid video gamer herself.
Below are a few interesting, non-violent video games that you can encourage your teenager to play.
1. Minecraft
This particular video game is extremely popular with both children and adults alike and has been praised for its ability to educate children. Being an open-ended choice game, it helps children hone their decision-making skills. It was created by Swedish game designer Markus Persson and was later developed further and published by Mojang.
In this game, players build and create things in a 3D environment, involving many other activities such as exploration, resource gathering, crafting and combat. The award-winning game takes players into a fascinating world where they discover new terrains and habitats, encounter animals, go from one adventure to the other and learn to survive, based on the mode of play they choose. It could be a fun and creative experience for your child.
2. FIFA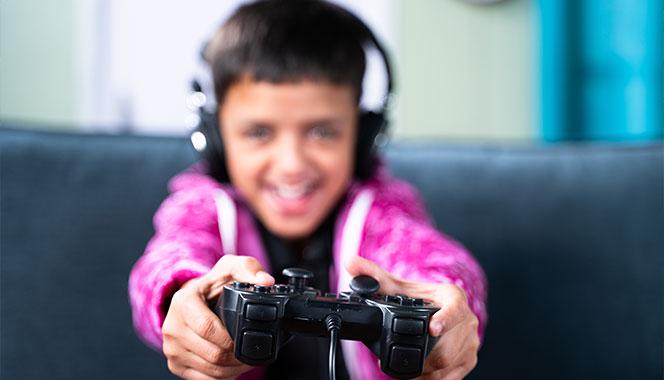 This popular sports video game is based on the soccer World Cup series. It gives players the same adrenaline rush and excitement as physically playing a football match. It's as real as it can get, with the gamer being able to choose which Premier League he wants to be part of and the featured characters looking like real soccer stars.
Other video games in this genre include Skate and NBA Street among others. Your teenager can actually enjoy the thrill of being part of a soccer match and experience the triumph of a winner. Sports video games teach us important life lessons such as how to overcome difficult situations, how to be a good loser, how to face adversity while staying calm and so on.
3. Dear Esther
This landmark game, which has bagged a plethora of awards, is about adventure and exploration, with a supernatural twist. It's based on first-person gaming technologies and has an experience unlike the usual game-play employed by regular video games. A lone person is marooned on an island and the player has to unravel the mystery of this island. As you go from one beautiful location on the island to the other, you learn bits of the story. More facts are revealed to you as you explore further. Teenagers will love the adventure and mystery element of this game, which is sure to jog their imagination.
4. Dirt Rally
This is a car racing game that has the potential to keep your teenager on the edge of her seat. Gamers who despise the shooting and violence genre will embrace this game for its thrills and its stunning visuals. Designed by Codemasters, this racing video game will make the players feel that they are really driving in a rally on a slippery dirt track and teach them to be sharp in their moves, to avoid any mishaps. Teenagers will enjoy the speed quotient while getting the feel of an endurance sport. This game helps children learn quick thinking, decision making and strategy.
5. Firewatch
This stunning game is nostalgia-inducing and makes for a very surreal and engaging play for teenagers and adults. The game is set in the year 1989, in the wilderness of Wyoming, USA. All players will be drawn to the mystery and suspense of the game. In this first-person, adventure video game, the gamer plays Henry, an individual who leaves his busy life in the city to lead a quiet, isolated existence in the forests, working as a fire lookout. With a hand-held radio, the protagonist's only contact with the world is his supervisor, Delilah. Firewatch is extremely engaging because of the twists and turns involved and will help your teenager learn how to make intelligent choices in difficult situations.
Both parents and their teenage children can enjoy playing these unique video games and spend time bonding over it.