Diwali favorites: These new-age Diwali desserts feature a twist to the traditional recipes
Priyanka G Mehta
5 Mins Read
Traditional recipes are the norm every festival. This Diwali, give a contemporary twist to conventional sweets, transforming them from simple into simply sumptuous. Here are delicious dessert ideas!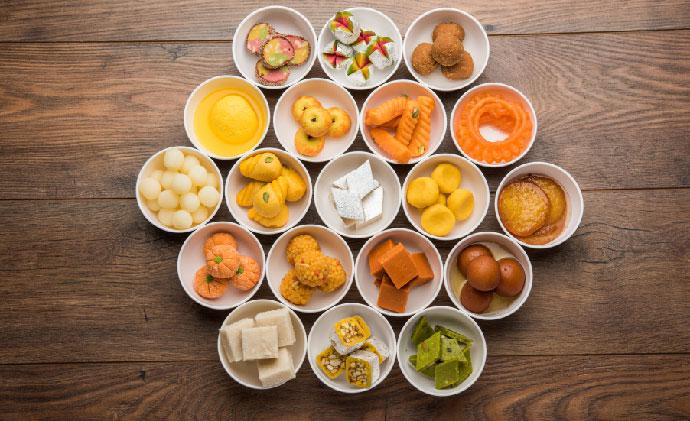 When the festival season comes, most families get busy sprucing up the house, buying new clothes, and of course, preparing delicious sweets and savories. Since most urban parents juggle work and home, they tend to stick to making simple yet delicious items that children will love.
So, this Diwali why not give our age-old sweets a trendy twist? You may have been making these authentic and beloved items the same way, every year. Now is the time to innovate, add some ingenious ingredients, and transform these desserts from delicious to divine.
Here, we present to you some traditional sweets in a new avatar - easy to make and melt-in-the-mouth!
Sago pudding with berry compote
Ingredients
½ cup small sago (tapioca pearls)
3 cups full cream milk
½ cup sugar/grated jaggery
¼ cup mixed dried berries (or use fresh)
2 tbsp sugar
Method
Soak sago in water for about an hour and drain.
Boil milk in a thick-bottomed pan, add soaked sago, and stir well.
Let it cook for about 10 to 15 minutes on a low flame. Stir frequently so that the sago pearls remain separated from each other and do not stick to the bottom of the pan.
Add sugar and stir well. Let it cook till the pudding attains a thick consistency.
In another pan, add the berries with half a cup of water and 2 tbsp of sugar.
Let it cook on a slow flame for five minutes, till all the water is absorbed and the berries become mushy.
Once everything cools down completely, the dessert is ready.
Pour the pudding into glasses and then layer the berry compote over it. Sprinkle chopped nuts on top.
Baked sweet mathri with salted caramel drizzle
Ingredients
1 cup whole-wheat flour

2 tbsp semolina
¼ cup sugar
¼ cup ghee
1 cup granulated sugar for salted caramel
100g butter

½ cup cream
1 tsp salt
Method
Combine whole-wheat flour, sugar, and ghee in a bowl and mix well.
Add a little water and knead into a soft dough. For deep frying, the dough needs to be tight, while for baking, it needs enough moisture. This gives a nice texture to the mathris.
Roll the dough into a ¼-inch thick disc and cut out mathris in diamond and round shapes.
Preheat the oven to 170°C.
Line up the mathris in rows on a baking tray. Bake in the oven for 15 minutes, until they are golden.
In the meantime, take a thick-bottomed pan and add one cup of granulated sugar, and let it simmer while you stir.
The sugar will heat and start melting to a golden brown color. At this point, add the butter and stir well.
Add cream to the caramelized sugar and stir again; the mixture will bubble.
Take it off the flame, sprinkle some salt, and drizzle this over the prepared mathris. Your modern dessert is ready!
Badam halwa in cookie cups
Ingredients

150g almonds
½ cup sugar

½ cup wheat flour
½ cup jowar flour

½ cup butter (soft)
A pinch of salt
50g dark chocolate chips
Method
Whisk butter, a pinch of salt, and half a cup of sugar in a bowl, till the butter is pale and fluffy.
Add both the wheat flour and the jowar flour to this mixture and prepare the cookie dough.
Let the dough rest in the fridge for half an hour.
Take a bit of the dough and spread it on a muffin cup. Repeat till you use up all the dough.
Bake the cookie cups at 160°C for 15 to 18 minutes or until they look golden and crisp.
After you take them out of the oven, make a dent in the center with the back of a small spoon while they are still hot.
Once they cool down to room temperature, de-mold them from the muffin cups and cool completely.
In the meantime, roast almonds in a pan till brown in color. Powder the roasted almonds, add 3 tbsp of sugar, and blend in a food processor.
Melt the dark chocolate chips in a microwave-safe bowl for short spurts of 30 seconds. Smear this melted chocolate inside the chocolate cups and cover all sides.
Prepare small balls of the almond mixture and place them inside the cookie cups.
Drizzle melted chocolate over the cups and enjoy!
Coconut laddoo truffles
Ingredients
¼ cup mixed chopped nuts

2 tbsp chocolate chips
1 cup desiccated coconut
½ cup milk
¼ cup milk powder
1 tbsp ghee
100g dark chocolate

¼ cup sugar
Method
In a hot pan, take ghee and roast the chopped nuts until golden brown.
To the same pan, add desiccated coconut and roast. Add milk, milk powder, and sugar and stir well.
Stir continuously till it all comes together like a dough.
Take it off the flame and let it cool to room temperature.
Add chocolate chips and roll them into small round balls.
In a microwave-safe bowl, melt the chopped dark chocolate in short spurts of 30 seconds.
Dip the prepared laddoo in chocolate and cover completely. Remove any excess chocolate.
Keep the laddoos in the fridge for some time and let the chocolate set well before serving.
Rice kheer in almond tarts
Ingredients
1 cup wheat flour

½ cup almond meal (or finely powdered almonds)
¼ cup butter

½ cup sugar

A pinch of salt

1 tsp vanilla extract

½ cup soaked rice

3½ cups full cream milk
Sugar or jaggery to taste for the kheer

Chopped nuts for topping
Method
In a mixing bowl, combine wheat flour, almond meal, cup sugar, a pinch of salt. Combine well.
To this, add soft butter and vanilla extract. Mix till the mixture looks like breadcrumbs.
Add some water and knead into a dough. Take a small quantity of the dough and fill in the mini tart pans. Make small holes with a fork.
Let rest in the fridge for an hour and then bake in a preheated oven at 180°C for about 10 to 12 minutes until the sides turn golden.
Meanwhile, in a pan boil milk, add soaked rice, and stir well.
Cook on medium flame and stir continuously till it becomes half the original volume, then add sugar to taste and give a good mix.
Let cook till the kheer is thick and creamy. Add chopped nuts of your choice and let the kheer cool.
Add a spoonful of kheer to the prepared tarts just before serving and top with some chopped nuts.
So, what are you waiting for? This festive season, get your family into the kitchen and let them help you make these ingeniously innovative sweets. We promise you that these new-age versions of beloved traditional sweets will add joy and excitement to the festival!