Bhavana N Sivadas' mobile phone rings continuously as soon as the CBSE Class 10 board exam results are out. And why not, as she is one among the 'lucky' thirteen who topped the all-important exam this year. The young girl from Palghat Lions School, Palakkad, Kerala is on cloud nine and extremely pleased with her performance!
We catch up with the elated national topper to know more about her and how she kept herself motivated to tackle the exams. Despite all the buzz around her, she takes some time out to speak with ParentCircle. Here are excerpts from this special interview:
Congratulations on your achievement! How are you feeling right now? Take us through how you heard and reacted to the phenomenal news.
Yes, I am extremely happy as I really didn't expect this at all. When I saw my result, I could not believe it!
My entire family was with me - my dad, my mom, and both my paternal and maternal grandparents. We were all at home together, when my dad called me from his clinic (he is a doctor) and informed me that the results were expected to be out soon. So, I asked him to come home soon and only after he came, we all sat together and checked my results online. I could not believe that I scored those marks.
I kept pestering my parents to check again and again, and make sure that the results were really mine. Then I called the school to double-check, and they too confirmed that I was indeed the topper. That's when the news really sunk in. And to tell you the truth, I was shocked and actually started crying as I just could not believe it. I really didn't expect this. It is too good to be true! I am truly grateful to my family and teachers, who supported me through everything. I am glad I had my entire family with me to celebrate this news together.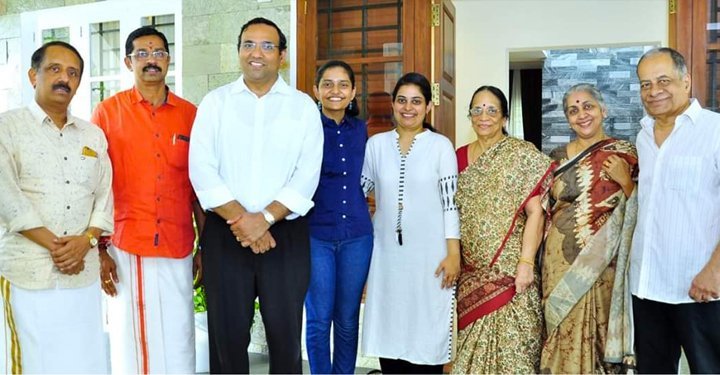 Is there someone in specific you would like to credit for your achievement?
There is no one person. So many people are involved. My entire family, my school teachers, my tuition class teachers - have all played an integral part in my life and academics. Together they have helped me achieve this. So, I would like to thank each one of them for this little success of mine.
What was your parents' approach to your Class 10 studies and exams?
My parents have been immensely supportive. They have been with me through everything. They gave me the much-needed confidence that I needed to tackle my class 10 exams. Whatever I needed for my studies or exam preparation, was given to me by them.
Even when I didn't do well in some of my class exams, they never scolded or pressurised me. Instead, they were very supportive and always motivated me to give my best. They would comfort me by saying that there is always a next time and you can try to do better. That kept me going. I can't imagine this achievement without the support of my parents. They are the prime reason for my performance. I wanted to really make them happy and I am thrilled that I made it happen!
Were you stressed when the exams were getting closer? How did you handle the tension?
Honestly speaking, yes, I was really getting tensed about the exams when the dates were approaching. I would sweat a lot thinking about it. I was really worried. But my parents got me through it and they told me to calm down. Seriously, their support really helped me through Class 10.
How did you manage your time between studies and fun?
I made time for both studies and fun. It was not like I was always with my books and studying. I kept time for other things that I enjoy. Reading books and listening to music are my favorite hobbies. Yes, I love music and I have been learning to sing. I go out to the movies and spend time with my friends. I give equal importance to everything in my life.
What next for you?
I would like to eventually take up engineering. Hence, I will mostly opt for science subjects for classes 11 and 12.
What tips do you have for the next batch of students gearing up for Class 12? 
I am not sure if I am the right person to give tips. But, yes, I would like to tell them to be confident in whatever they do. Work hard and give considerable time for everything that you love to do.
With regards to preparing for exams, I had reached out to my elder cousins and seniors. They gave me the earlier years' question papers which helped me immensely. It gave me a broad idea of the kind of questions I could expect. My teachers were also very helpful and gave us plenty of sample question papers to work on. So, solving these CBSE sample papers and practice worksheets helps a lot before the exams. So, I would recommend students to definitely practice solving previous years' papers.
I would also like to tell the students that family, friends, and teachers are the main reason for your success. So be grateful to them!
It was a pleasure catching up with Bhavana. Best wishes from ParentCircle!