The sight of lush green trees uplifts our spirits naturally and enriches the environment. But the rampant cutting of trees will lead to the destruction of our biodiversity and harm future generations.
It was the year 2011. When residents of East Abhiramapuram in Chennai returned home from work one day in the month of January, an unexpected shock awaited them. The huge old trees with dense foliage that used to stand proudly on one side of the road, had disappeared.
The area used to be cool and green. Children would play there, revelling in the shady environment, mischievous squirrels would scamper into various kitchens and the chirping of birds used to provide a harmonious melody, uplifting everyone's moods. Sadly, one by one, each of the 50-year-old trees were cut down by the Chennai Corporation to re-lay a storm water drain. The unfortunate felling of trees happened during the day when most residents were out and those left at home did not know what to do or whom to call.
"Our house now looks bare and uninspiring from outside", says 47-year-old Lakshmi Vishwanath, long-time resident and a textile business owner.
According to her, her home had an innate grace given by the erstwhile tree canopy. Their magnificence had lent the lane character and distinctive appeal. Now the street had lost that, and much more, besides.
Across the city, trees are today being chopped down for roads, houses, buildings and other development projects. Every tree cut, is an environmental disaster waiting to happen - from floods, soil erosion or even, droughts.

Industrial development and the rise of a concrete jungle
Talk to senior citizens and they will vouch that Chennai had a green face twenty years ago. Industrial development and a burgeoning population has since then eaten into the verdant foliage. Instead of lush greenery, the city is now left with a concrete jungle. And this is the case with every city, today.
"Bring back the trees, bring back the biodiversity", says G Dattatri, former Chief Urban Planner, CMDA and Adviser to Nizhal, a trust to promote concern for trees in Chennai city.
According to him, if we work collectively to bring trees back in our surroundings, the natural biodiversity will automatically come with it. The chirping of birds and the glowing brilliance of the colourful flora and fauna will once again become a part of our daily lives.
Tree abuse is becoming a common phenomenon. This can involve hacking, sawing or tearing down branches; jabbing, scratching and stabbing on trees are also crimes committed on trees, every day.
"Trees need to be respected and cared for and children should be taught this from an early age. They bring us many benefits; they are also revered in many cultures", says Shobha Menon, Managing Trustee of Nizhal.
'Free the tree' campaign is Nizhal's answer to the ill-treatment of trees. With student volunteers, local residents and environmentalist groups, the non governmental organisation (NGO) works to remove banners, advertisements and notices nailed to the trees.
"Nizhal speaks for the voiceless trees that are hurt and abused", says Dattatri.
Ten trees should be planted to replace one felled tree
Instead of cutting trees, Nizhal advocates transplanting them to a safer location. If cutting cannot be avoided, ten trees should be planted to replace the one chopped down. Emphasis is laid on planting of indigenous trees like Palacumaram (Butea monosperma), Sarakonnai (Cassia fistula), Azhinji (Alangium salvifolium), Iluppai (Madhuca indica), Punnai (Calophyllum inophyllum). These varieties thrive well locally.
A couple of years ago, Nizhal drafted a Tree Act which was submitted to the office of the Chief Minister, Tamil Nadu. The Tree Act calls for setting up a Tree Authority in every local body to protect existing trees in the area and assist residents in planting more of them. The Act is still waiting for the Environment and Forest Department's sanction and subsequent implementation.
To address the state's receding green cover, the Tamil Nadu Forest Department decided to launch a project to conserve biodiversity. According to the Former Principal Chief Conservator (Forest), Dr S Balaji, the Tamil Nadu Biodiversity Conservation and Greening project was launched to extend tree cover to private lands outside the forest area.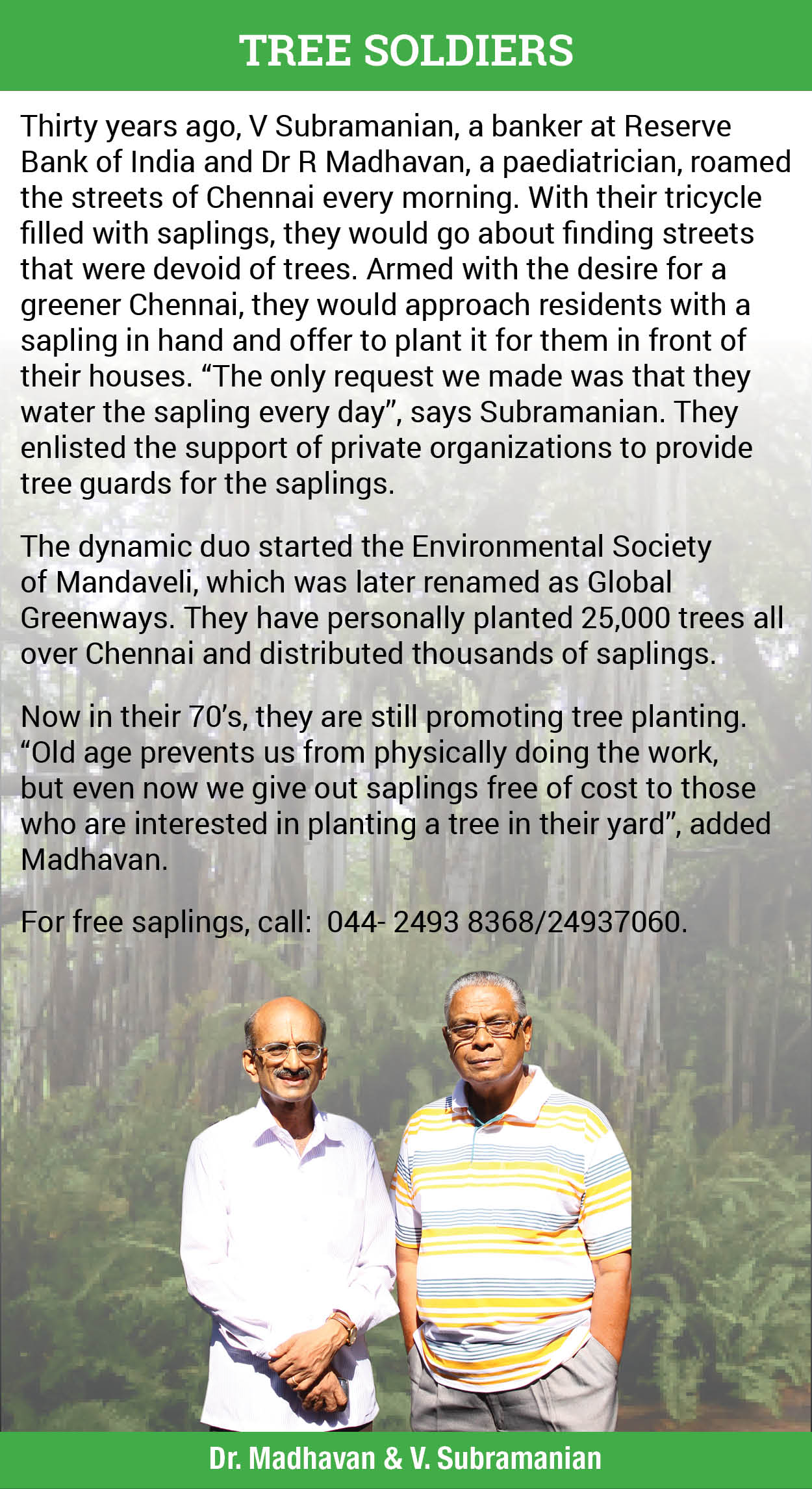 Trees and climate change
"Trees absorb carbon dioxide (CO2), the primary greenhouse gas causing global climate change. When trees are cut, the excessive presence of CO2 in the atmosphere leads to an increase in temperature," says Arivudai Nambi Appadurai, former Director of the Climate Change Programme at the M S Swaminathan Research Foundation, Chennai.
Trees and rainfall go together. A forest system is a self-perpetuating one; water vapour from trees energises rainstorms. By default, destroyed tree cover, implies less water vapour and rainfall.
"Planting new trees remains one of the cheapest and most effective means of reducing the atmospheric temperature and ensuring good rainfall," he adds.
Trees are the lifeline to a greener and cleaner earth. Rampant destruction of our green cover will not only impact human beings but also, harm our entire biodiversity. Adding an organic garden to your home, reducing use of pesticides, reusing and recycling are some ways through which you can protect biodiversity. Teach your children to respect and preserve the environment from an early age not only for them but for future generations as well.
Know your trees
Get to know your trees! Read about trees, discuss them with your child, go for tree walks and tree appreciation tours. These activities will create awareness and knowledge about trees and how to care for them. Learn to appreciate nature along with your child. As a bonus, you bond better and also, get some exercise!
There are several books to help parents know and understand the importance of trees in their neighbourhood. 'The Sacred Trees of India' by Nanditha Krishna and M Amirthalingam talks about the cultural significance of trees while the 'Forest Trees of South India' by S G Neginhal talks about the environmental and health benefits of the trees around us.
Further, Nizhal also conducts tree walks in partnership with various educational institutions and private organisations. If you wish to plan one for your community, Nizhal can help. Send an email to: nizhaltreewalks@gmail.com
Children can also volunteer for other Nizhal activities by sending an email to: nizhalvolunteers@gmail.com
Looking for expert tips and interesting articles on parenting? Subscribe now to our magazine. Connect with us on Facebook | Twitter | Instagram | YouTube