#GadgetFreeHour day is here. Scroll below for LIVE updates, celebrity video messages, exciting downloadables, useful tips, and more as we disconnect to reconnect
9:00 p.m. - Thank you for being part of GFH. It has been a wonderful day for us, and we hope it has been the same for you as well. Amid the hustle-bustle of life, we are glad you took an hour to spend with your family today.

A BIG thank you to all those who participated, our sponsors, and everyone who worked to make this initiative a success. Remember, every uninterrupted minute spent with your child counts.
8:30 p.m. - Well, hello there! We are back to sneak a peek at how your #GadgetFreeHour went. Share pictures, stories, videos, and more so we can know that you had as much fun as we did! Will you be doing this more often? Let us know here!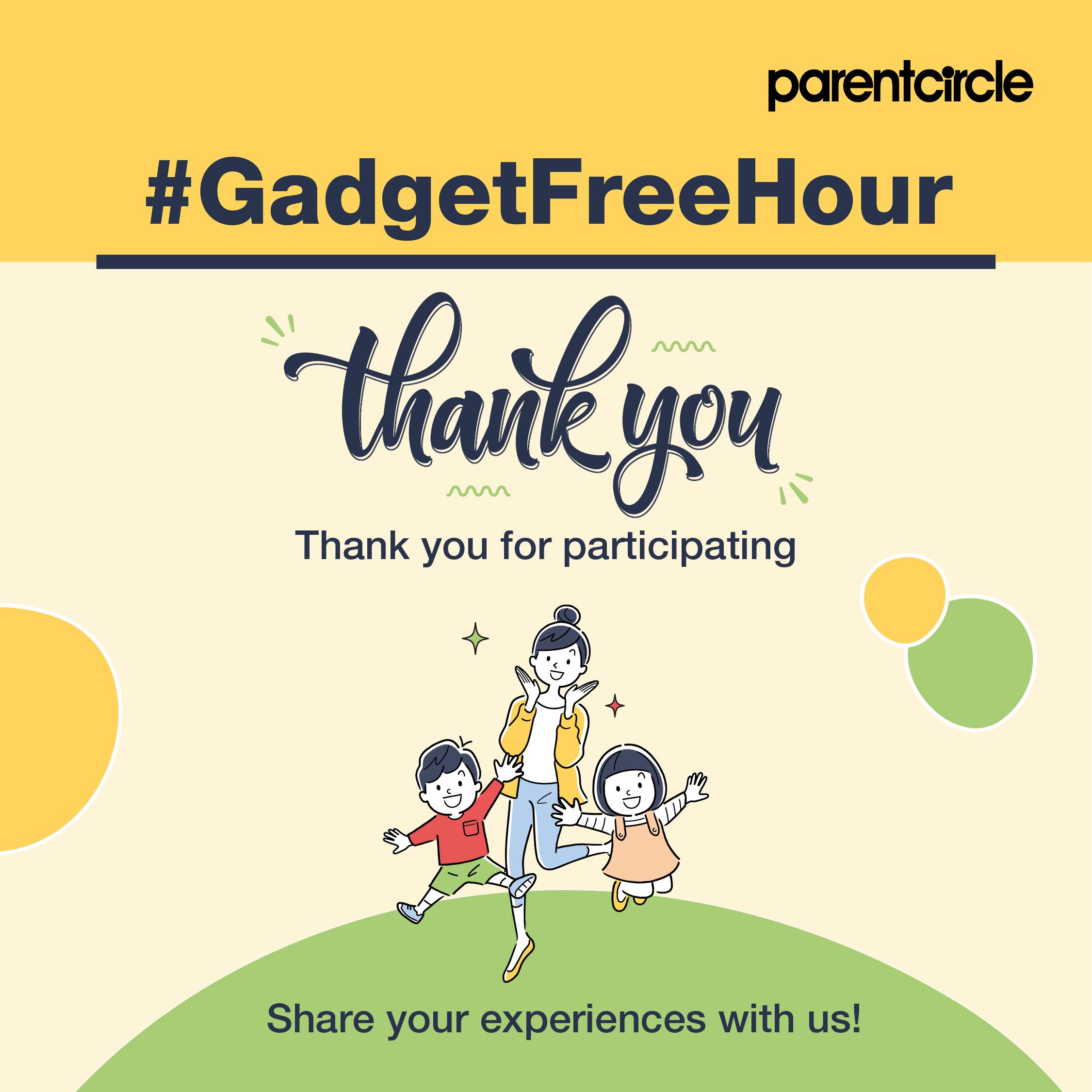 7:25 p.m. - 5 minutes to go, and we can't contain our excitement! To all of those who have participated in this campaign in the last two years, you know what to do. For those of you are new to #GadgetFreeHour, it's time to switch off devices and keep them away for an hour. One uninterrupted hour with your family is life-changing.
Let us know how you spent your time, when we catch you at the other end of the #GadgetFreeHour! Ciao!
7:00 p.m.- If you are looking for ways to take your children off gadgets, music can be one engaging and effective way. A view that celebrated Indian Carnatic vocalist, writer, activist, and author TM Krishna advocates strongly. Check out this exclusive interview where he discusses life under lockdown, his relationship with his children, the impact of gadgets on our lives and much more.
6:30 p.m. - One hour to go for the most awaited time with your family. Finish up your work, shut down your laptops and put your heads together to plan what you can do together.
6:00 p.m. - Gadgets are part and parcel of our children's lives today, be it for online classes, playing video games, or watching videos. While gadgets have their own set of benefits, excessive screentime can negatively affect your child's physical, mental and emotional health. So, what can we do as parents?

We can start by talking to children about screen time and how it impacts them. The next step is to encourage them to be mindful of their screen time. Mindfulness helps them be aware of how much digital media they are consuming and its benefits and risks. It helps them build healthy screen habits and balance their day with off-screen activities. However, getting children to keep track of their screen time can be challenging.

That's why we have created a fun and interactive DIY daily activity tracker. Using this downloadable, they can create their own activity tracker and understand how they spend their time every day. It will encourage them to develop healthy habits and plan their day better.

Download the Daily Activity Tracker here.
5:30 p.m. - Two more hours to go! We hope you are looking forward to bonding with your family this evening - gadget-free of course! What is your favorite way to spend time with your kids?

While you are thinking about going gadget-free, watch this video of renowned musician TM Krishna talking about the need to balance screen time with other activities. He talks about how he and his family find ways to be mindful of their gadget usage.
5:00 p.m. - #GadgetFreeHour is making waves in the press around the country. Here are a few snippets from the news channels covering #GadgetFreeHour.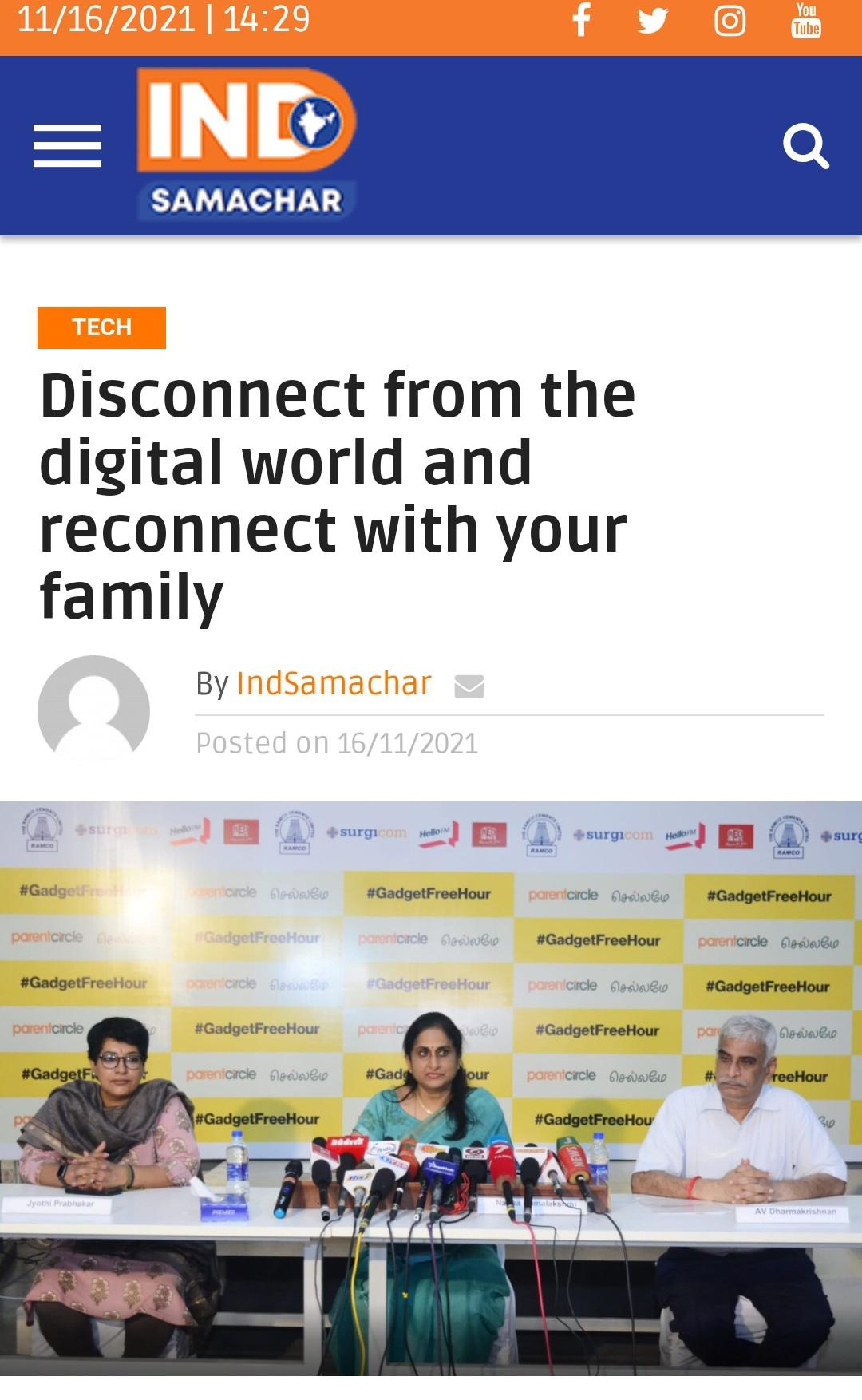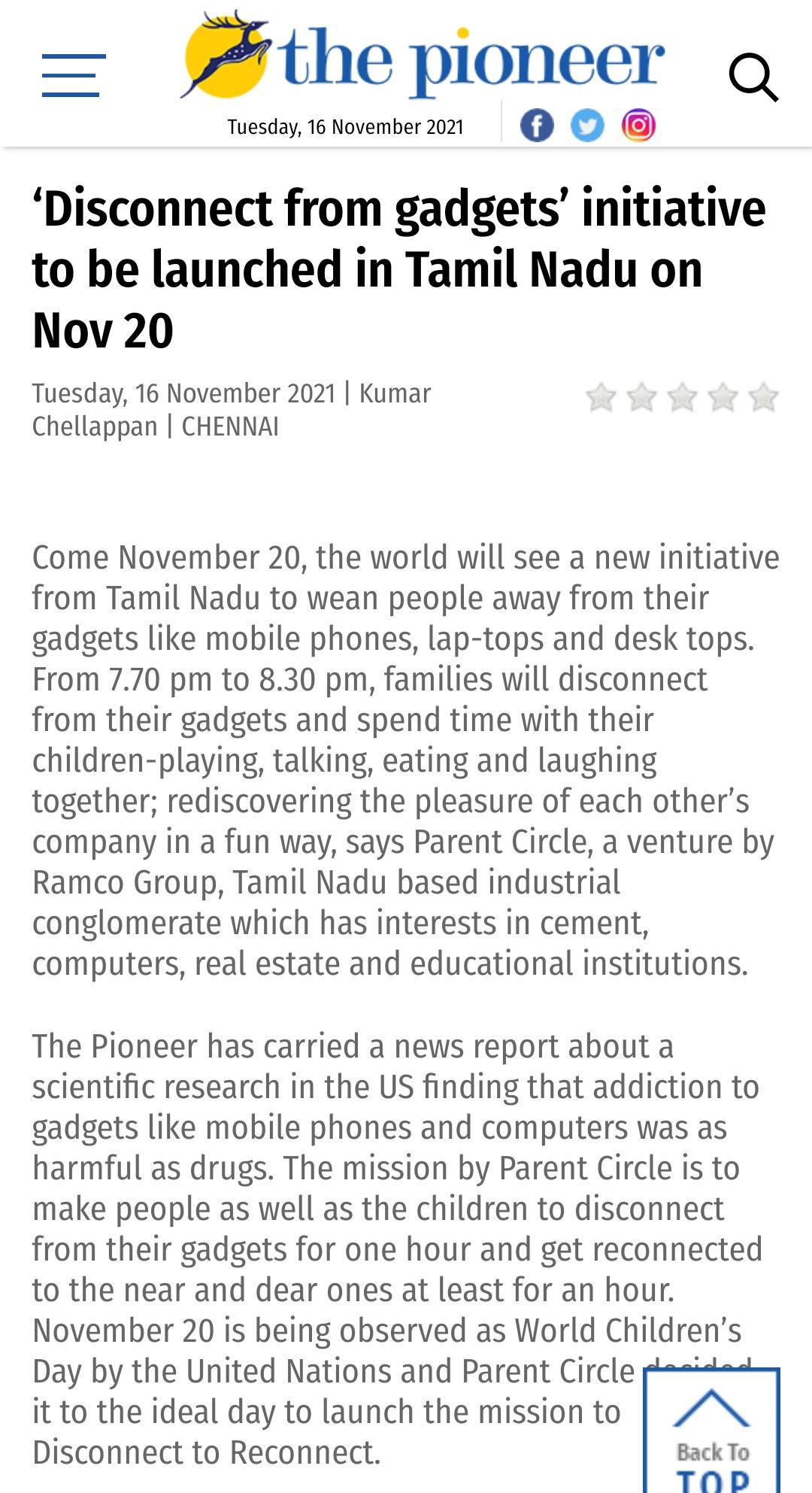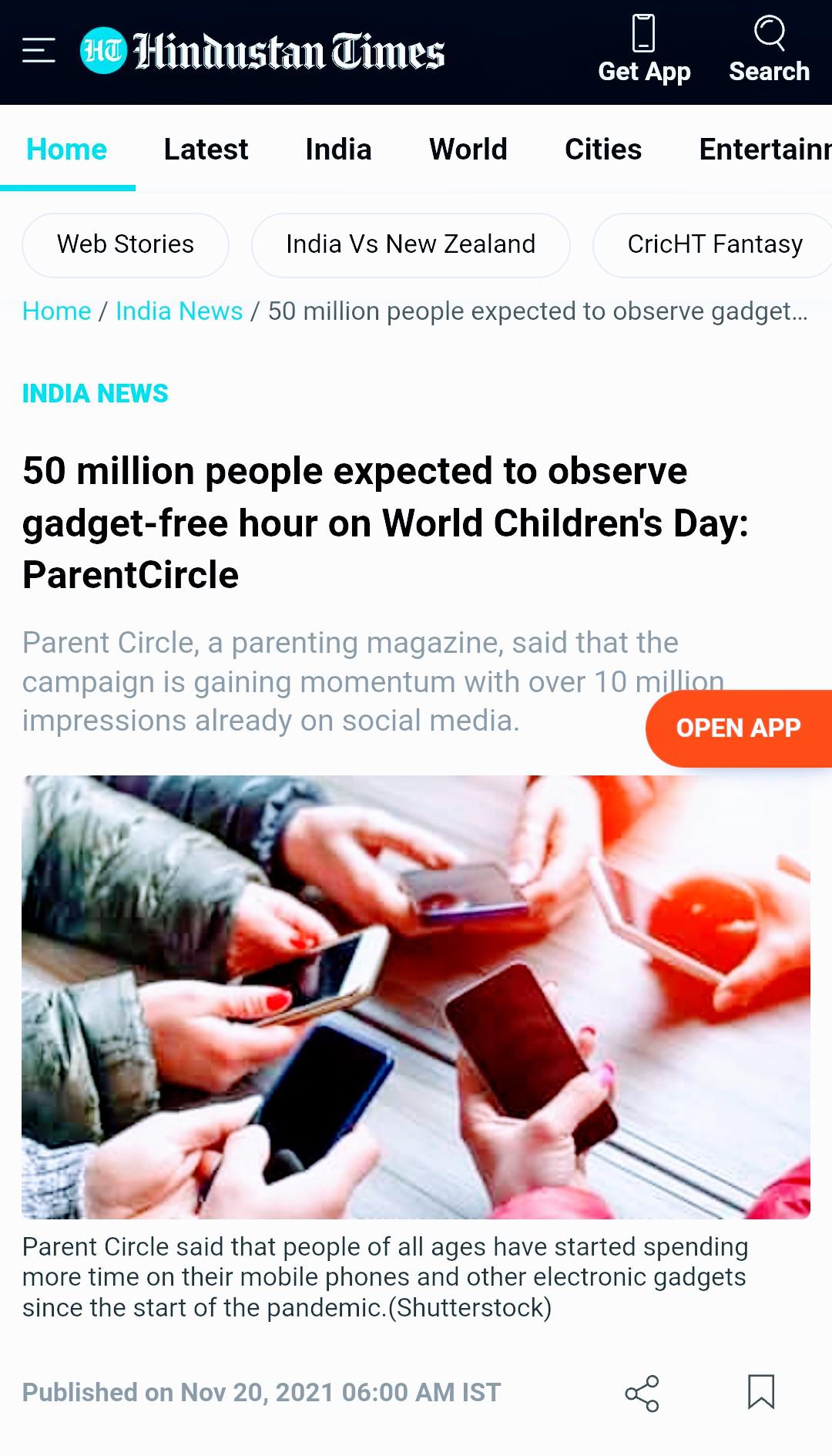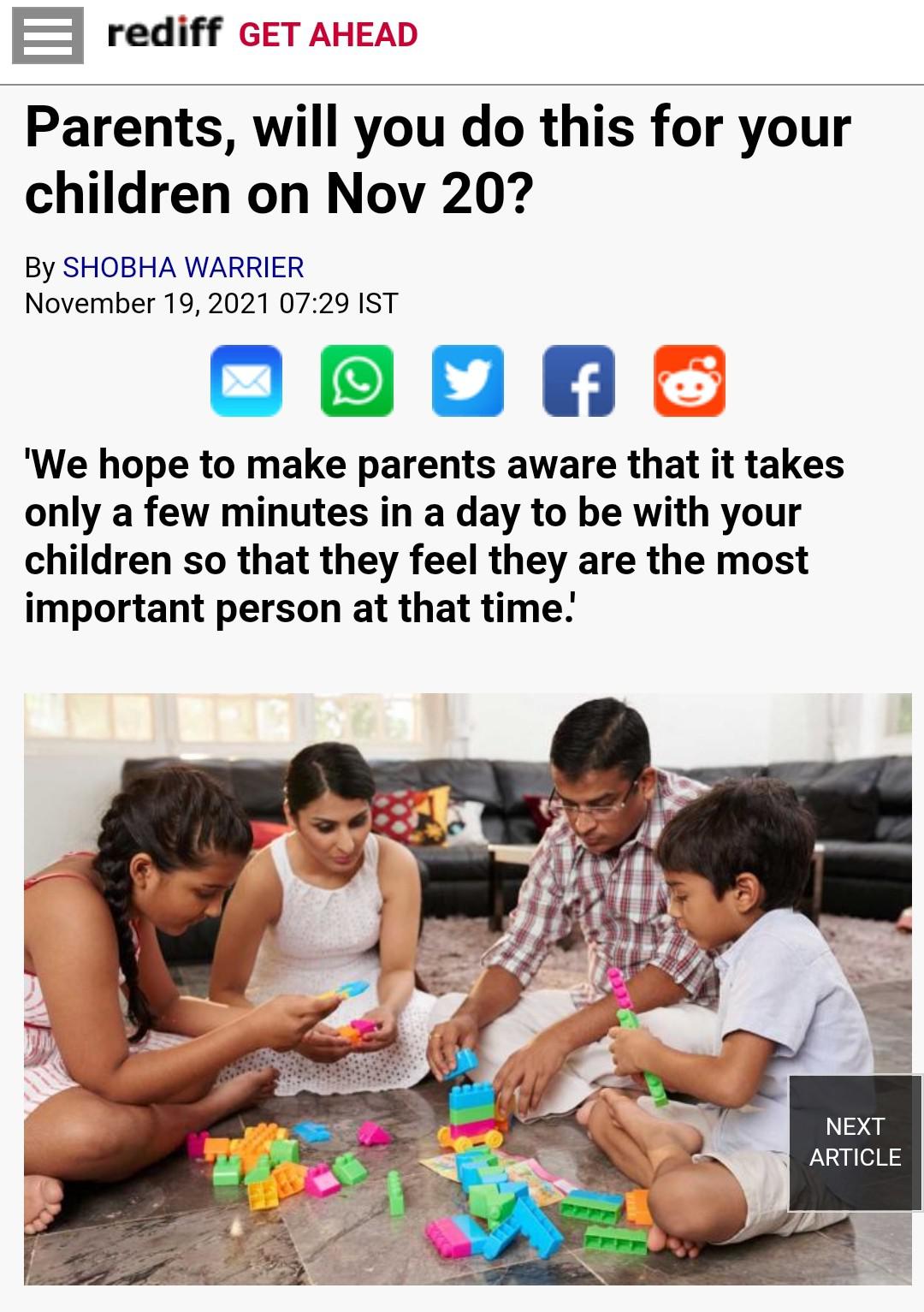 4:30 p.m. - Did you know that gadgets can have an impact on the parent-child bond?
In this video, Keira Merkovsky, clinical social worker, talks about how technology impacts the parent-child bond. She stresses the importance of connecting with children and spending gadget-free time with them. She also shares simples tips on how parents can bond with children without gadgets.
4:00 p.m. - We're thrilled to announce the launch of ParentCircle very own podcast, Holistic Parenting with ParentCircle. Follow us for interesting conversations with parents, experts, and celebrities on various topics to help you breeze through parenthood.
In our first episode, we talk to Mina Dilip, consultant psychologist at the British High Commission in Chennai. Listen as she talks about the importance of reducing screen time for the whole family, and not just for the kids!
Listen to the episode here.
3:30 p.m. - When was the last time you laughed out loud? We live in an age where laughing out loud means sending 'LOL' or 'ROFL' text messages.
In an attempt to remind everyone about the joy of laughter, we created the #hahahehe challenge. The challenge was simple. We asked people to capture a short video of them laughing with their families and send it to us. Many families took up the challenge and we received a host of heartwarming videos of parents and children sharing a hearty laugh.
Watch this wonderful video of little Pritam and Himashri Mahanta sharing a moment of joy.
3:00 p.m. - The message of #GadgetFreeHour is simple and universal. It stems from the need to build strong parent-child bonds. It is something that resonates with parents everywhere. With the #GadgetFreeHour campaign, we're taking this message to different parts of India and beyond.
Watch renowned Assamese actress Nishita Goswami take the #GadgetFreeHour pledge.
2:30 p.m. - Parents, be prepared to listen to a lot of 'I am bored' talks from your children as you join the #GadgetFreeHour initiative today evening. Before you tackle those situations with some fun activity, why not read about the benefits of boredom for your child? Yes, boredom is good for your child. Click here to know more. 'I'm bored!': Here's why boredom is good for your child
2:00 p.m. - As we are inching closer to the #GadgetFreeHour, more people are joining and taking the pledge. Famous mother-daughter Odissi dancer duo, Sonalika and Srinika light up the stage whenever they perform. Let's see what they have to say about #GadgetFreeHour.
01:30 p.m. - As we start a countdown for #GadgetFreeHour, we have come up with innovative activities families can do together as they take time off from screens. Here, we would like to extend thanks to our activity partner, Totto Learning. These activities can keep everyone at home excited about the quality time you are spending without gadgets. Have you taken our #14DayChallenge? Let the family fun challenge begin!
01:00 p.m. - Do you know that just being there physically with your child is not enough to build a trusting relationship? Read this article by Nalina Ramalakshmi, founder of ParentCircle on tips to be present and connect with your child.
Your Child Needs Your Presence
12:30 p.m. - As you are planning to turn off gadgets and spend some time with your children playing, why not listen to what experts from the field of parenting have to say about the role of play in your child's growth and development? Watch the panel discussion on the topic, 'Playful parents raise confident children'.
12:00 p.m. - We are slowly inching towards the halfway mark and the response has been overwhelming. From extensive press coverage about the campaign to parents sending in appreciation messages for the initiative, it only goes to show that #GadgetFreeHour is indeed the need of the hour!

Well-known photographer Dabboo Ratnani endorses the campaign and says he tries to limit his children's exposure to screens as much as he can. Check out the video below
11:30 a.m. - Now that you have taken the all-important pledge to go off gadgets for a full hour today, the question arises - What can one do in these 60 minutes?

How about some pure fun with your kids and family? Our list that takes into consideration different age groups might help you make the most of #GadgetFreeHour. Read the article below
11:00 a.m. – Here's an activity, devoid of gadgets, for kids that will also bring back memories for you - letter writing. Introduce your child to the lost art of letter writing with this fun activity during the #GadgetFreeHour. All you need to do is...
Download one of the letter templates by clicking on this link
✍️ Print it and ask your child to write a letter to you
✍️ Take your child to the post office and show her how to post it
✍️ Share the excitement with your child when you receive the letter in a few days!
10:30 a.m. -  Such is the popularity of the campaign that even Goddess Sita herself has taken the #GadgetFreeHour pledge. Confused? Well, we are talking about Dipika Chikhlia Topiwala, an Indian actress best known for essaying the role of Goddess Sita in the immensely popular television series Ramayan. She states that, as parents, we need to draw a line on gadget use. We completely agree!

10:00 a.m. -  If you are wondering how you can make #GadgetFreeHour a daily routine, we bring some expert tips to help you do just that.
Tips to disconnect from gadgets
Schedule gadget-free time every day for you and your family.
Set aside gadget-free zones in the house.
Have gadget-free meals together at home.
When spending time with children, turn off your notifications and phones.
Turn off Wi-Fi at a fixed time, every night.
9:30 a.m. - Internationally recognized coach, author, speaker, and educator Carrie Contey endorses the #GadgetFreeHour! She offers a new perspective on parenting, human development, and family life through her work.
Join Carrie and take the pledge to go gadget-free today, from 7:30 pm to 8:30 pm. Spend quality time with your family, without the interruption of gadgets.

9:00 a.m. - A very good morning to all! We are thrilled that you are joining us as we kickstart #GadgetFreeHour. And what better occasion than World Children's Day to take a break from gadgets. Before we start, let us all wish the wonderful, small heroes in our lives - the kids, without whom it is impossible to imagine a world.
Over the course of the day, ParentCircle is all set to bring the whole of the country together with the third edition of the #GadgetFreeHour from 7:30 pm to 8:30 pm.
What's in store? From video pledges from celebrities and experts urging one to #disconnect2reconnect, noteworthy tweets, the #14daychallenge, responses from parents, and interesting tidbits related to the campaign, the lineup is an exciting one that is sure to make you eagerly wait for each update.
We would also like to extend heartfelt gratitude to our sponsors The Ramco Cements Limited, Surgicom, Red FM 93.5, and Hello FM for helping us reach out to more people for #GadgetFreeHour.
More importantly, don't forget to take the pledge, if you haven't yet. Just visit our page www.gadgetfreehour.com and pledge to be part of this one-of-a-kind campaign!

Let us all #Disconnect2Reconnect with our families.