Say goodbye to boredom and get ready to rejuvenate and reconnect with your tweens and teens. Here are 20 fun 'teen'tastic activities tailor-made to breathe life into a parent-teen relationship
Stuck at home? Looking for ideas to reconnect with your teens, without gadgets disconnecting your conversations? Time to connect with your tweens and teens. Enter the world of your children the way they like it fun activities, chatting aloud and probably doing nothing. Pick from these 20 super fun ideas and make the most of family time! Watch time fly by as you create memories of a lifetime!
Presenting 20 'teen'-tastic activities for you and your teen to simply talk, laugh and connect with each other. On your mark, get set, go:
1. News reporter: Teenage is the phase when children love to discuss, opine and uncover the truth. Be a news reporter and interview one of your family members in true journalist style and dig out interesting stories and exciting titbits of their lives!
2. Pin-up board: Get a cool family pin-up board or make one if you want. During your family hour, spend some time together pinning up letters, inspiring quotes, things to do, your child's achievements and others. Let your child creatively design the board, while you follow the lead.
3. Makeover: Have you ever been told by your teen, "Dad, you need a grooming session!"? Well, most times! Here's your chance for a makeover. Ask your teen to give you a complete makeover from head to toe and a refresher course in fashion. Watch your young stylist get into the role and transform you into a new you!
4. Teaching moment: Well, your child has heard enough lessons and lectures from you. Time for you to be at the receiving end. Let your teen teach you something you do not know. It could be a cool way to flaunt a scarf or an easy way to fix a wooden cabinet or how to perfect smoky eyes. Let them show you what they know!
5. Never have I ever: Each family member gets a turn to complete the sentence 'Never have I ever...". For example, "Never have I ever stolen something in my life" and the ones who have done this must raise their hand. An interesting game indeed and an opportunity to talk about bullying or peer pressure.
6. Over a cuppa: Teenage is the perfect coffee and chocolate age. Brew a hot cup of coffee or drinking chocolate, curl up on the sofa and just talk! A lot can indeed happen over a cup of coffee!
7. Childhood stories: Reminisce the days when your lanky teen was once a wobbly toddler. Share the mischievous things your teen once did when he was little. A trip down memory lane and a good laugh can bring any family closer.
8. 20 questions: In this fun family game, one person thinks of an object and the other players can ask 20 questions to guess what it is. The response to the questions can only be a 'yes' or a 'no'. A nice tricky, laid-back game.
9. Family poem/song: As all of you laze in your balcony or veranda, start a poem that wittily describes your family quirks. Each family member comes up with a line, and the next person should create a rhyming sentence to it. Once the lyrics are done, add a tune if you can! The uniqueness of your family is bound to shine through in these words.
10. Tie-dye tee: Funky tie-dyed T-shirts are fun to make and wear, and so much in trend. Ask your teen if you don't trust us. Your children can express their creativity through their choice of color and design, or just have fun with lots of different colors. A great family project indeed! Make one for yourself too!
11. Karaoke night: Have a fun family karaoke night. Play some music, follow the lyrics and sing away to glory. As for the mic? Use your fist or a toy mike, and of course, the broom or spoon never lets you down. You will unlock the great talent in your child, which otherwise comes out only when friends are around.
12. Family mealtime: Eat at your dining table together as a family. Come up with a random 'topic of the night' to talk about. It could be 'butterflies' or 'politics in the 90s' or 'yesteryear music' – anything at all! Make this a dinnertime tradition talking about a different topic every night. Even if the food is not hot and spicy, the conversations sure will be.
13. Sky high: From your balcony or terrace, stargaze together or find shapes in the clouds together. Take the moment to just chat up! The conversation will surely veer into the solar system.
14. Pebble painting: If you are bored of painting on paper and on cloth, how about on a nice big pebble? A global trend is to paint pebbles, write a sweet message or quote on it and leave it around for strangers to find. A kind deed indeed!
15. Art from waste: Teens and their love for art is well known. And when it is about art from waste, it makes them feel that much more responsible. Art from waste is an interesting way to recycle and reuse items that end up in a bin. Look around your house and find things you are throwing away and together transform it into something beautiful or useful! You'll be stunned at your child's artistic ideas.
16. Sing along: We all have our favorite songs. Take turns to sing or how about singing a popular number that everyone knows together? If someone knows to play a musical instrument, even better! Let's serenade!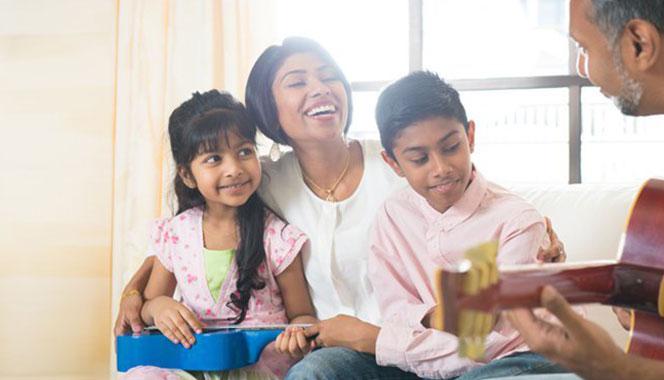 17. State date: Cook a meal of an Indian state together and play a quiz based on that state. For example, you could choose Goan cuisine for dinner, followed by a quiz on Goa. You can make this a weekly event by trying Kerala cuisine the following week and adding some trivia around God's own country! By the time you cover the length and breadth of India, there's so much bonding happening throughout the year.
18. Jams and pickles: Instead of the usual cakes and cookies, how about making some delicious jams and pickles? Your teen will, at least, start believing in homemade jams!
19. Ad-venture: Make a list of popular taglines from advertisements and place them in a jar. Everyone gets a turn to pick one and enact the tagline, while the others guess the brand.
20. Build using recyclable materials: Get your child's creative juices flowing with this fun activity that she can do alone, or with you. Take out the recyclable junk from your home and build placeholders or pieces of art or jewelry. This will also teach your child the importance of recycling and how every item in the house has its value.
It doesn't take much, just a promise that we commit to a gadget-free hour to spend quality time together. Go ahead and experience the joy of connecting with your family!