Do you worry that your child is not getting enough nutrition because of his picky food habits? Here are some simple ideas to make food look appetizing so that mealtimes are fun for your little one
Does your dining table resemble a mini battlefield every time the family sits down for a meal, only because your toddler starts throwing tantrums? You may find it exasperating that your child refuses to eat specific food groups or is finicky about certain vegetables put on the plate. Yet, it is not an uncommon scene in many households — mealtimes can be a stressful affair for this very reason.
But, there is no cause for panic — a 2011-study published in the journal Acta Paediatrica revealed that children prefer colors and lots of choices on their plates. Researchers at Cornell University found that the way children and parents perceive food is very different: children are tempted by plates featuring a variety of food that is colorful and arranged in an appealing way.
So, with a little ingenuity and a lot of patience, you can get your little one to slowly consume various fruits, vegetables and other foods. And, have fun while doing it too!
Some tips on feeding finicky toddlers and preschoolers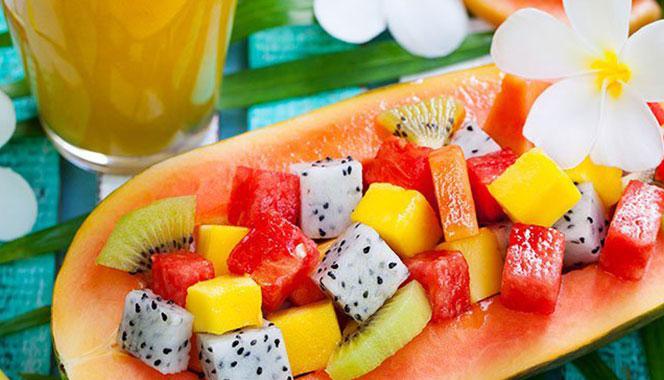 Be creative and make it fun: Fashioning food into different shapes; using colorful vegetables cleverly; arranging them in designs or in their favorite crockery, could do the trick!
Do not force feed: Let your child make a choice; forcefully feeding the little one can make matters worse as she might develop a complicated relationship with her food.
Give time to try new foods: Whenever you introduce a new food to your finicky toddler, give him a little time to open up to the new food. If he refuses it the first time, re-introduce it after a few days.
Use your imagination: Make noodles out of zucchini and cucumber; make wraps with dosas and whip up a delicious smoothie with a medley of fruits. Be imaginative when giving food to a fussy child.
Involve your kids in the preparation and plating of food: When children are involved in selecting the different ingredients for a dish, they are likely to taste what they prepare and therefore take a step towards eating the dish too.
Here are some amazing ideas to present vegetables, fruits and food to children.
1. Fruits in a variety of shapes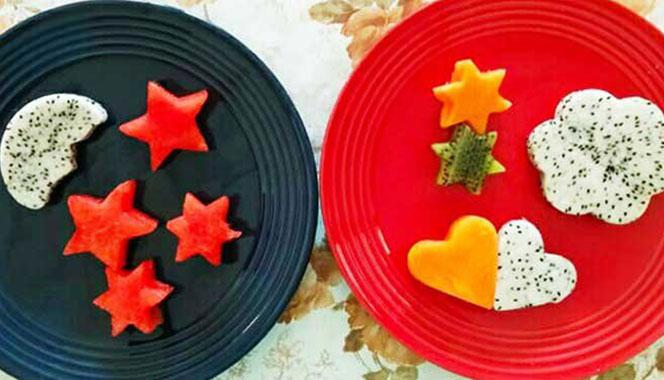 Many toddlers are fussy about eating fruits when mixed together and given in a bowl. But fruits are an essential part of our diet, as they are packed with loads of nutrients. Why not use cookie cutters to cut them in different shapes and make them look attractive?
Ingredients
A few whole fruits like apple, papaya, dragon fruit, watermelon and any other of your choice
Method
1. Wash and peel the fruits.
2. Cut them in thick slices in such a way that you would be able to cut out different shapes from them.
3. You can use cookie cutters in star, moon, house, flower, heart and other different shapes.
4. Once you have got an assortment of fruits in different shapes, arrange them neatly on a serving dish or plate.
5. Your little one will finish them up in a jiffy.
2. Whole wheat dosa/pancake with a smiley face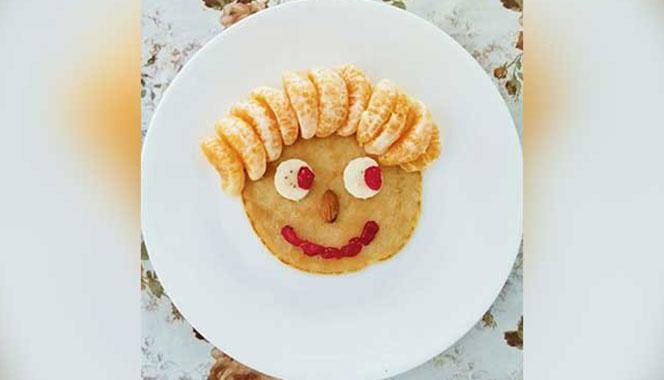 Does your four-year-old turn up her nose at the mention of dosa or idli at breakfast time? Making the dosa/pancake look pretty may entice her into trying some.
Ingredients
1 cup whole wheat flour
2 tbsp honey
A pinch of cinnamon powder
Salt to taste
1/2 cup curd
Water as needed
For decorating
1 orange (peeled)
2 slices of banana
A few cherries
Method
1. In a large bowl, take the whole wheat flour, cinnamon powder and honey.
2. Add the curd and water as needed to make a thick batter of pouring consistency. Alternatively, you can skip the curd and instead, add a couple of eggs and a little milk to make a pancake batter.
3. Put a griddle on medium heat and pour a ladleful of batter to make a small, round pancake. Repeat to make a few more.
4. Place the pancake on a plate. Layer the orange segments on the upper part of the pancake to represent the hair. Place the banana slices to show the eyes and put a cherry each on top of the banana.
5. Use the rest of the cherries to make the mouth.
6. Your little one might be excited to see the pancake with a smiling face!
3. Sandwiches shaped like animals, birds or flowers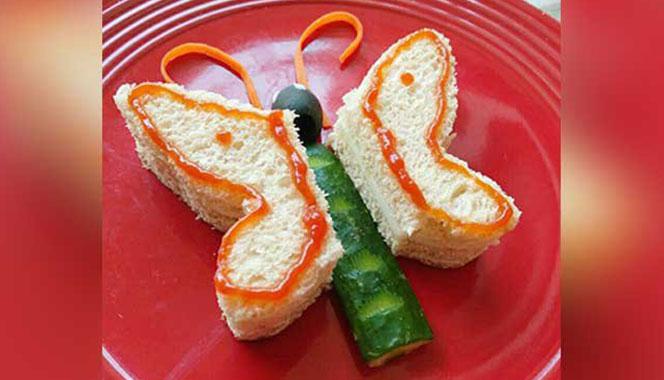 Little children are fascinated by animals, birds and flowers, and love to explore their surroundings. So, a butterfly-shaped cheese sandwich is not just healthy, but also visually appealing for your toddler.
Ingredients
2 slices whole-wheat bread
1 slice of cheese
Filling of your choice
For decorating
1 cucumber, cleaned and cut into 2-inch batons
1 olive
2 thin strips of carrot
Method
1. Toast the whole-wheat bread slices and put the cheese slice in between the two slices.
2. Put the filling of your choice between the two slices. Ensure you put a thin layer otherwise cutting into shapes will be difficult.
3. Neatly cut the prepared sandwich in the shape of a butterfly. With a sharp knife, cut the sandwich right in the middle.
4. Place these two pieces on a plate, in such a way that there is a 1/2 inch gap in the middle. In this gap, place a small baton of cucumber to represent the butterfly's body.
5. Place an olive on top for the butterfly's head.
6. Use the carrot strips to make the antennae.
7. Your beautiful sandwich is ready to eat.
4. Grilled veggies on skewers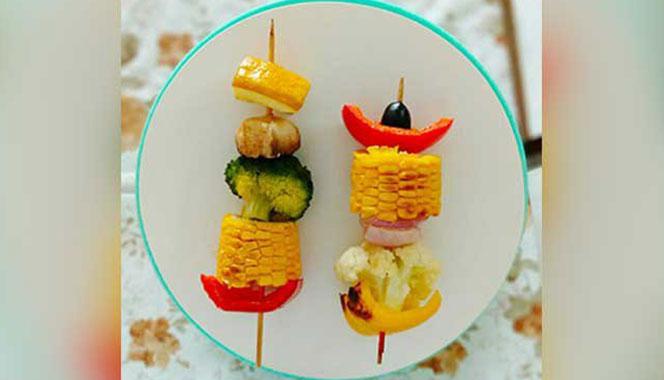 This is a simple but sure-fire way of getting your child to eat vegetables. You will need wooden skewer sticks for this recipe.
Ingredients
100g assorted vegetables (yellow and red capsicum, mushroom, corn, cauliflower, cherry tomato, broccoli) cut into square chunks
Salt to taste
Pepper to taste
A little oil for coating
Method
1. Coat the veggies lightly with a little butter or oil. Sprinkle salt and pepper on them.
2. Arrange the veggies neatly on the skewer sticks.
3. Grill the veggies in the oven at 200°C for about 6-8 minutes.
4. Take them out and arrange them on a colorful serving plate.
5. Alternatively, you could place the vegetables on a tawa and roast them on medium heat.
5. Favourite food with a twist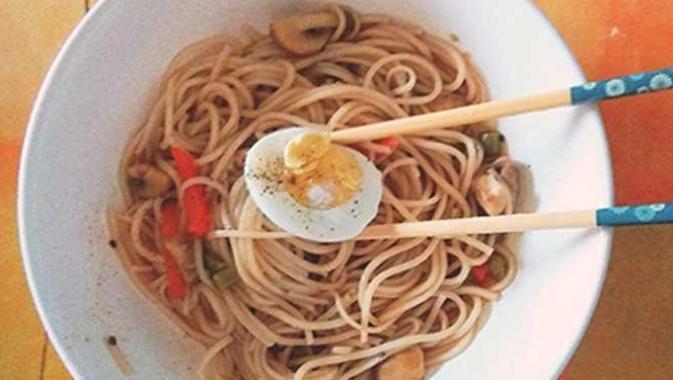 Does your picky eater only crave noodles and burgers? Well, serve her favorite food, but with a healthy twist. We show you how.
Ingredients
100g whole-wheat or soba (buckwheat) noodles, cooked
75g mixed vegetables, finely chopped
1 tbsp tomato sauce
1 tbsp soya sauce
1 tsp vinegar
1tsp honey
1 tbsp cooking oil
2 garlic pods, finely chopped
1-inch ginger, finely chopped
2 tbsp peanuts, roasted and crushed (optional)
1 boiled egg, peeled
Salt and pepper to taste
Method
1. In a bowl, mix the tomato sauce, soya sauce, honey, vinegar, ginger, garlic, salt and pepper to make the sauce.
2. Put a large wok on medium heat and add the cooking oil.
3. Saute all the vegetables in the oil, till they are cooked but crunchy.
4. Add the cooked noodles and mix well.
5. Add the prepared sauce and saute for about two minutes. Combine all the ingredients well, so that the noodles are coated properly.
6. Place it in a serving bowl and top with roasted peanuts.
7. Cut the boiled egg into halves and place it on the noodles.
6. Banana bread with sprinkles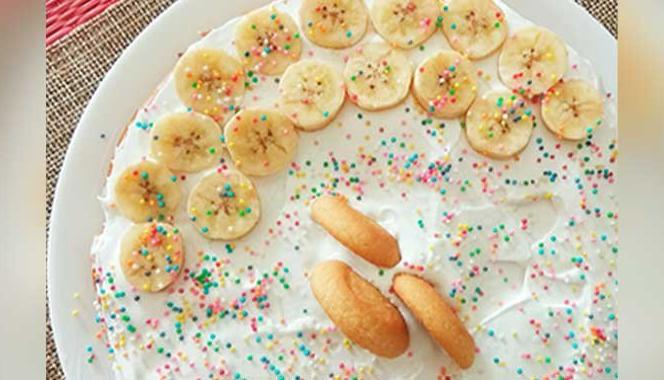 Does your child say that your banana bread is boring and gobbles up a pastry instead? Here is what you can do to make it look appealing.
Ingredients
1 cup oatmeal
cup refined flour
1/2 cup palm sugar
2 eggs
2 ripe bananas, mashed
75g butter
For decorating
1 banana, sliced
1/2 cup fresh cream
Multi-colored sprinkles
Method
1. Preheat the oven to 180°C.
2. In a large bowl, mix all the ingredients for the banana bread with a whisk, till you get a smooth batter.
3. Instead of a regular loaf tin, pour the batter into a heart, round or any pretty-shaped tin to make it look like a cake.
4. Bake at 180°C for 30 minutes.
5. Once cool, cover with fresh cream and arrange the banana pieces on top.
6. Add the sprinkles to transform the simple banana bread to a fancy one.
7. Make your own dish game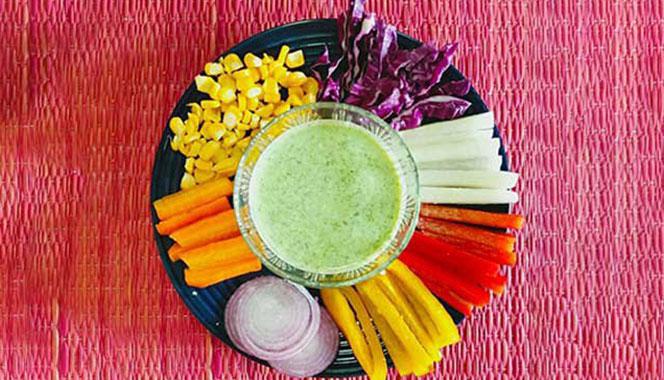 This is one of the easiest ways to get your finicky child to eat fruits and veggies. Ask them to play a game by making their own dish with ingredients provided by you.
Ingredients
2 cups assorted veggies (carrot, red and yellow capsicum, cucumber, red cabbage, onion, etc.)
1/2 cup corn kernels, cooked
1 cup homemade mint chutney/spiced yogurt/mayonnaise
Salt and pepper to taste
Method
1. Wash, peel and thoroughly clean the veggies. Cut them into long strips.
2. Soak the red cabbage in salted hot water for a minute to remove germs.
3. Cut onions into round slices.
4. Take any dressing of your choice such as mint chutney, yogurt, sauce or homemade mayonnaise and put it in a small bowl.
5. Place this in the middle of a plate and arrange the veggies around it neatly.
6. Give this to your little one and ask him to make his own dishes, such as salad, sandwich or stir-fry.
7. You could add other ingredients like nuts and seeds, peanut butter and anything of your choice.
8. Fruit and nut cream/custard bowl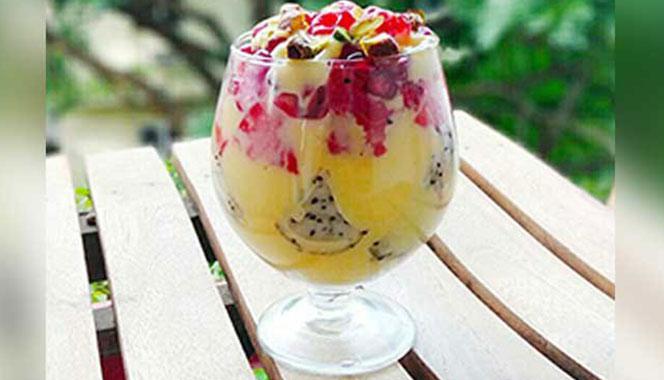 Getting some children to eat fruits is difficult. The idea of this recipe is to layer the ingredients in an appealing glass bowl or tumbler so that it looks colorful and irresistible.
Ingredients
1 cup homemade custard/saffron-infused thick cream
1 cup mixed fruits
1 tbsp fresh/dried cherries
1 tbsp mixed nuts
Method
1. Layer the custard/cream and the fruits alternately inside the serving bowl so that there is a play of different colors.
2. Top with the cherries and the mixed nuts.
Getting your finicky toddlers or preschoolers to finish what is put on their plate may sometimes seem like an uphill task. But, how you present the food to them can make a huge difference. Try our ideas and say hello to peaceful mealtimes.