Do you want to wean your child off gadgets? Try circle games — these can be played by the whole family and are a fun way to imbibe life lessons. Here are 10 fabulous games everyone can take part in
As a parent, do you think about how different your child's life is from your own childhood? You probably would have spent most of your days outside playing with your friends. Now, your child spends his time on video games — unfortunately, that means there is very little physical activity involved.
So, to get your child out of her comfort zone, engage her in something that does not require a device or gadget. Try circle games. As the name suggests, these are activities involving groups sitting around in a circle. These games can be played indoors or outdoors. They are not only fun but can help your child develop her vocabulary and learn teamwork and how to take turns. What's more, these will enable your child to hone her critical thinking, problem-solving and communication abilities, too.
Most importantly, these games are a great way to teach your child how to cope with frustration and encourage him to be a good sport. So, the next time your child complains of boredom or wants gadget time, get his neighborhood friends together and organize circle games. In fact, on weekends, you can even make this is a fun family activity. Getting everyone to play will be a wonderful way to bond and connect!
Here are ten great games for you to try:
1. Buzz game
Age: 8+
Number of players: 2 or more
Here, players sit in a circle and start saying numbers out loud. The rule here is that players must remember to substitute the sound 'buzz' for multiples of seven. When a player forgets and utters the number instead, she is out. The last player to remain in the game is the winner.
2. Group art
Age: 6+
Things needed: Papers, crayons, a timer or a stop-watch
Number of players: 4 or more
Divide players into two groups. Each group gets a sheet of paper and some crayons. A player from each group has to draw something on their respective sheet of paper. Then, the other players must take turns to continue drawing on the same sheet but without discussing or disclosing what they are drawing. Each player gets 30 seconds. The group that has created the most legible picture wins.
3. Musical chairs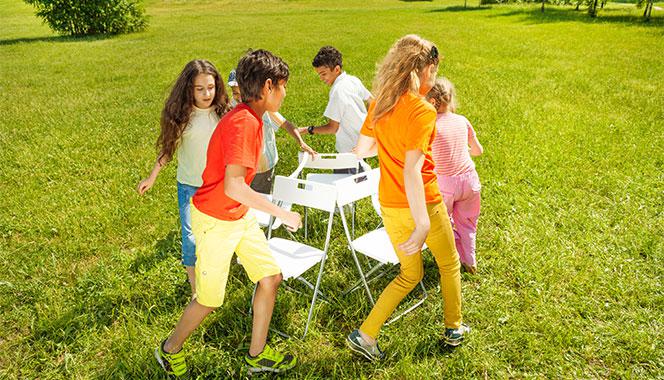 Age: 5+
Things needed: Chairs, a music player
Number of players: 4 or more
This classic game is a hit with all ages for its sheer fun. Arrange chairs for the players in a circle. But before they begin, remove one chair — so there are fewer chairs than players. Now, switch on some catchy music and ask the players to walk around the chairs. As soon as you switch off the music, the players must find a chair to sit on. The player who cannot find a chair is out of the game. Continue till only one player remains. That is the winner.
4. Touch and feel
Age: 8+
Things needed: Rice, lentils, noodles, sago, cloth bags, strings, papers, pencils
Number of players: 3 or more
Pack the above-listed items in small cloth bags and secure them with strings. Let the players sit in a circle. Give each a sheet of paper and a pencil. Pass the bags to each player. Each has to guess what the items are through touch, and then write down the name of the item on their respective sheets of paper. The player with the greatest number of correct guesses wins the game.
5. Duck, duck, goose
Age: 5+
Number of players: 4 or more
This game is suitable for children of all ages and variations of this traditional game continue to be popular in schools. Here, players sit in a circle, and one of the groups is chosen to be 'It'. This player goes around the circle and calls each player 'Duck'. When 'It' calls someone 'Goose', that player must then try to catch 'It' before 'It' takes her place. If the player fails to do so, she, in turn, becomes 'It'.
6. The secret message
Age: 8+
Number of players: 4 or more
All the players sit in a circle. The first player has to tell a secret word to the second player. He must then use his fingers to 'write' that word on the next player's forearm. The rule of the game is that the player can write the word only once. The second player writes it on the third player's arms, and so on, till the last player gets a chance. Check if the secret word has gone around the circle intact. Sometimes, the end result is a completely different word!
7. Guess the voice
Age: 5+
Things needed: A handkerchief for blindfolding
Number of players: 4 or more
Here, players stand in a circle, with one in the middle. Blindfold that player with a handkerchief. Ask one of the other players to mimic the sound of an animal. The blindfolded person has to correctly guess who made the noise.
8. Who am I
Age: 8+
Things needed: A cap, strips of paper, adhesive tape
Number of players: 2 or more
Write the name of a famous character on a strip of paper and tape it to the cap. Pick one of the players to wear the cap. Make sure he does not see the name printed on it. Now, the other players can give him clues to help him guess who he is supposed to be. Give each player a chance to wear the cap and play the guessing game.
9. Two truths and a lie
Age: 8+
Number of players: 2 or more
Players take turns to tell three things about themselves. Out of the three, two things are true, and one is a lie. The other players have to correctly guess what facts are true and figure out what is untrue.
10. Wave of movements
Age: 5+
Number of players: 2 or more
Ask the first player to do something, like waving his right hand. The next player must repeat this movement and add another, like wriggling his nose. The third has to add another movement like stomping his left leg. The wave of movements will thus continue through the circle. If a player misses a movement, he has to leave the game, and you start all over again.
It is a good idea for your child to disconnect totally from gadgets once in a while and re-connect with friends and family. What's more, these are wonderful ways to teach her how to communicate with and respect other players. Also, circle games are perfect for family outings, picnics and similar occasions. Happy gaming!