Exotic Valentine's Day Recipes to Make for Loved Ones
Priyanka G Mehta
8 Mins Read
Priyanka G Mehta
Follow
Written by Priyanka G Mehta and published on 17 July 2021.
What's the best ingredient you can add to a dish made for the special people in your life? Love, of course! Try these delectable recipes to make your Valentine's Day memorable and special.
It is said that family is where life begins and love never ends. So, isn't Valentine's Day the best occasion to celebrate your family? And when the expression of love is accompanied by good food and easy banter, there will be many memorable moments to cherish. This Valentine's Day surprise your spouse and children with these unique and fun recipes that are sure to win over their hearts.
Mini spinach heart pies
These pretty pies will steal everyone's heart. It is perfect starter for the Valentine's Day dinner.
Ingredients
250g spinach, cleaned and washed

75g crumbled paneer

Salt to taste

Fresh crushed black pepper to taste

3-4 sheets of shop-bought puff pastry

1 tbsp cream

2 tbsp milk

1 tsp olive oil

1 medium onion, chopped

2-3 cloves garlic, finely chopped

Method
For the filling:
In a pan, heat oil and add chopped garlic, cook for a few seconds and then add chopped onion and saute till it becomes translucent.

Add spinach and cook it till the water evaporates. Mix in the crumbled paneer and cook for a minute.

Add cream, salt and pepper and mix well. Cook until the mixture is dry.

For the pie:
Take the puff pastry sheets and cut them in heart shapes with a cookie cutter. In half of the hearts, cut out a tiny little heart or circle at one end, this will serve as a steam vent for the pies and will look cute.

Put a teaspoon of filling into the hearts and cover these with the hearts that have cut-out holes. Seal the pies with a fork and line them on a baking sheet

Bake in a pre-heated oven at 200 degrees Celsius for 20-25 minutes or until golden

Red velvet breakfast waffles
Start the day of love with these mildly sweet all-natural breakfast waffles served with flavourful coconut sugar syrup and nuts.
Ingredients
1 and 1/4 cup whole wheat flour

3/4 cup beetroot puree

1/4 cup + 1/4 cup coconut sugar

3/4 cup curd

1/4 cup melted butter

2 tbsp cocoa powder

1 tsp baking powder

1/2 tsp baking soda

1/2 tsp vanilla essence

A pinch of salt

A pinch of nutmeg powder

Few chopped nuts

1 tbsp milk

2 tbsp shredded toasted coconut

Method
Mix the curd and sugar in a bowl and keep aside.

In another bowl, sieve together flour, salt, cocoa powder, baking powder and baking soda. Keep aside.

Into the bowl of curd and sugar, add butter and vanilla and mix well. Then add the beetroot puree and mix.

Now, add this wet mixture to the dry mixture and combine everything to form a nice lump free batter

Pour the batter into a waffle maker and cook for 15-20 minutes or until done. If you do not have a waffle maker, use the same batter to make pancakes.

For making the syrup, combine 1 tbsp milk with cup of coconut sugar and mix well, it will form a thick syrup.

For serving arrange the waffles and drizzle some syrup over them, then sprinkle chopped nuts and toasted coconut.

Baked avocado fries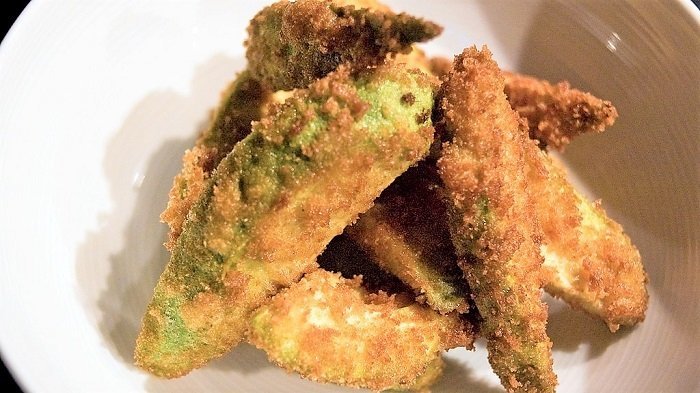 A quick but exotic appetizer is what you need before the special V-day dinner.
Ingredients
2 ripe avocados, peeled and sliced

cup plain flour

Juice of one lemon

2 tbsp olive oil

Salt to taste

Freshly crushed black pepper to taste

1 cup bread crumbs

Cocktail sauce for dipping

Method
Cover the avocado slices with lemon juice, this will help retain their colour and give them a nice tangy flavour.

Season the avocado slices with salt and pepper

Mix the flour with some water to make a thick slurry and add salt and pepper to it

Dip avocado slices in the flour slurry. Then, coat generously with bread crumbs.

Line them in a greased baking tray and drizzle some olive oil on them.

Bake in a pre-heated oven at 200 degrees for 12-15 minutes or until golden.

For cocktail sauce, mix mayonnaise with ketchup and add herbs of your choice.

Serve together and relish

Salted caramel fondue
Who doesn't love salted caramel? This dish can be prepared a day in advance and served to your loved ones.
Ingredients
1 cup granulated sugar

cup salted butter

cup heavy cream

1 tsp salt

Some crackers for serving

Method
In a heavy-bottomed pan, heat sugar, stirring continuously until it melts and becomes light brown in colour. Be careful not to burn the sugar, as it will taste bitter.

Add butter and whisk well, take care not to splash the liquid.

Add cream to this mixture and whisk again. Let it simmer for a minute, then take it off the heat

Add salt and mix, caramel is ready

Serve it warm with crackers, fruits or bread sticks

Chocolate cheesecake shots with strawberry swirls
What's Valentine's Day without chocolate and strawberry? Here we give you a super combination of the two.
Ingredients
7-8 biscuits of your choice

2 tbsp melted butter

50g white chocolate chopped and melted

100g cream cheese

100ml cream

50ml condensed milk

5-6 strawberries, chopped

cup sugar

1 tsp lemon juice

Method
Crush the biscuits to a sand-like consistency and mix with melted butter.

Layer a spoonful of this in each shot glass

Mix cream cheese, cream, condensed milk and melted chocolate and whisk with a hand mixer till everything is well incorporated.

Layer this cream and chocolate mix in the shot glasses next

To prepare strawberry sauce, puree the fruits in a blender and sieve, discard the seeds

Heat the strawberry puree in a pan with sugar and juice of one lemon, cook till it is thickened and reduced to half. Let this cool

Put small dollops of strawberry sauce in the glasses over cheese layer and swirl it with the help of a toothpick. Enjoy after dinner.

So, there you go some scrumptious dishes to make your Valentine's Day extra special! Enjoy your day with your precious family.
The author blogs at Flavored With Love by Priyanka
Looking for expert tips and interesting articles on parenting? Subscribe now to our magazine. Connect with us on Facebook | Twitter | Instagram | YouTube