Are you a busy mom trying to get back to a simple yet effective beauty routine? How about using aloe vera, the wonder plant that offers amazing benefits?
Shalini Gupta loved pampering herself with regular visits to spas and salons. But now, with two children and a job, Shalini hardly finds time for her beauty routines.
If you, like Shalini, are wondering where to start with your beauty routine, grow an aloe vera plant! Yes, this easy-to-grow plant, known for its numerous medicinal properties can be your best bet. We all know that the amazing aloe vera nourishes the body from within aiding in digestion, providing beneficial nutrients, and boosting immune function.
But did you know it also enhances the health and beauty of your skin and hair, when applied topically? Here are some tips on how to use aloe vera for skincare, haircare and its benefits in treating various conditions.
We spoke to Rashmi Prithviraj, founder of Skinsense Natural Luxury, to learn about the many uses of natural aloe vera gel for skin and hair care.
Here are a few tips from her:
All-purpose cream
Freshly extracted aloe vera gel can be your all-purpose skin care cream. Use the gel to treat skin issues like minor cuts, burns, bruises and chapped or dry skin.
For sunburn
If you are spending a lot your time outdoor, you can't avoid getting sunburnt. But all you need is some fresh aloe vera gel to apply on the sunburnt skin to get some relief.
As a moisturizer
Aloe vera gel is an excellent moisturizer as it softens the skin without clogging the pores. If you have oily or combination skin, it is best to use the gel as is. If your skin is normal to dry, use it by mixing the fresh gel with a little almond oil or jojoba oil. Use this mixture generously on your skin and see the improvement within a few weeks.
For acne outbreaks
Aloe vera has antibacterial, antiseptic and anti-inflammatory properties. Here are two effective ways to treat acne using aloe vera:
Use the freshly extracted gel directly on the acne and leave it on overnight. Wash your face the next morning.
Mix the gel with a few drops of honey and a pinch of turmeric. Apply it over acnes and leave it on overnight. Rinse with cold water in the morning.
As an anti-ageing agent
Aloe vera is known for its anti-ageing properties, too. It improves skin elasticity and thereby makes you look younger. Blend the aloe vera gel to a liquid. Apply this liquid on your face and massage gently. For best results, do this before bedtime and leave it on overnight.
For hair and scalp
Aloe vera promotes healthy hair growth and also prevents itchiness and dandruff. Mix the gel with mashed bananas and use as a hair pack for beautifully nourished hair.
Grow your own aloe vera plant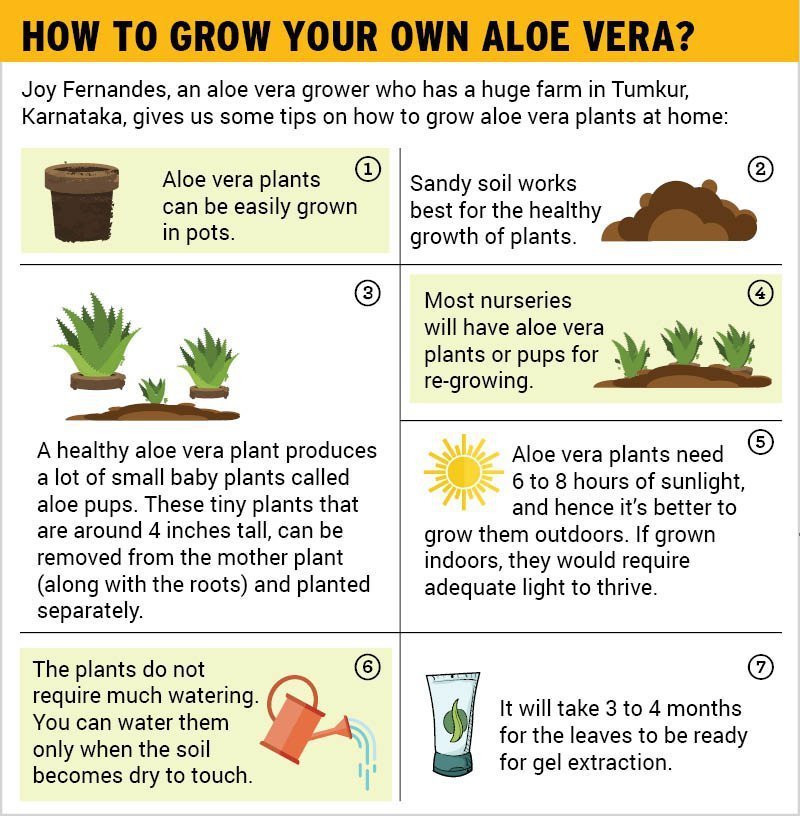 Extracting aloe vera gel
The most attractive feature of fresh aloe vera gel is the ease of extracting it from the plant all by yourself. Rashmi explains the right way to extract the gel from an aloe vera plant:
Using a sharp, clean knife cut off a succulent leaf from the base of the plant.
Wash the leaf well and leave it standing on a tissue paper for a few hours. A yellow sap will flow out. It is important to get this sap out, as it will irritate the skin.
Then split the leaf into two and scoop out the gel from inside, using a spoon.
Store the gel in an airtight container in the refrigerator and use within two weeks. The shelf life of the fresh aloe vera gel is just two days without refrigeration.
Aloe Vera gel dries quickly. So, it is always better to apply it while it is still fresh. You can wash your face after 15 to 20 minutes with regular tap water. For better results, leave it on overnight and wash your face in the morning.
How to use aloe vera on children
Are you wondering if this nature's gift can be used on your child?
"You can use aloe vera gel for your child, too. However, when it comes to babies, even natural products may react with their skin. So, always do a patch test before applying. To do that, apply a little aloe vera gel on a small area on your baby's arm and wait for some time. If the patch on the arm is not itchy and there is no redness, it is safe to apply the gel on your baby. Aloe vera gel can be used to treat sunburn in children, to moisturize their skin, or to treat acne in teens the same way you'd use it for yourself," clarifies Rashmi Prithviraj.
So, what are you waiting for? Go on and plant aloe vera at home to look your best always. After all, its the easiest and safest way to get a flawless skin and healthy hair.