Tired of your house looking like a battlefield with toys under every cushion and corner? Wondering why every cupboard seems to be cluttered with toys and more toys? Read on!
"In every job that must be done
There is an element of fun
You find the fun and snap!
The job's a game
And every task you undertake
Becomes a piece of cake
A lark! A spree! It's very clear to see that
A spoon full of sugar helps the medicine go down"
So go the lyrics of this song from Mary Poppins, when she gets the kids to clean up the nursery strewn with toys all over the room in a fun manner. "This has to be one of my favourite songs and scenes from the movie," says Vidyuth Subramanyam, mom of a 10-year-old. "If only we could only snap our fingers, sing songs and the toys would go back into their respective places! Every day is a struggle to keep the toys back where they belong and also to find a way to organise everything so that the pile does not fall when looking for one toy or board game!"
We have all been there, and the struggle is real.
Marie Kondo, the Japanese de-cluttering consultant, advises to keep only items that 'spark joy' in your life. Now, if you ask your little ones what sparks joy for them, everything from sand, gooey candy, a caterpillar (a live one) to a pile of broken and old toys may get added to the list. But there are many advantages to having an organised space. The KonMari philosophy states this - "A tidy space for kids and teens to focus on schoolwork is essential to learning joyfully. A dedicated and organised spot will enhance productivity and decrease stress - for kids and parents alike." Now, that makes a lot of sense.
So, let's figure out how to get a bit organised and channelise our inner Marie Kondo.
Let your child choose a designated play area in the house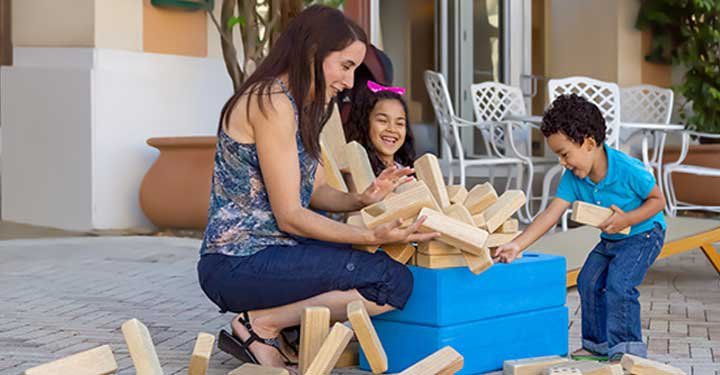 This way, the toys are restricted to only one area in the house. Fewer chances of finding toys in strange places!
Help him choose toys which occupy lesser space
Be realistic of the space at home and the size of toy he asks for. Space is a premium in apartments and if you know for sure that the life size kitchen set in dazzling pink will take up most of the living room space, use the Vitamin 'No' and buy something else. No impulsive decisions my parents and child!
Make a game out of sorting the toys and storing them according to size or type
Place sketch pens and crayons and other stationery in transparent pouches and place them vertically in boxes. Put all soft toys in one bin. Marie Kondo has a great video for sorting out toys based on usage, size and loose items. Check out the video here.
Shop together for storage boxes and bins and label them together
Involve your child in shopping for storage items (not just the toys). They will feel important while labelling boxes and trying to figure out how to organise the toys. Look for colourful boxes. Be open to ideas even if you are not sure whether they might work.
If you can, build a toy shelf with your child
This will help your child be more involved and urge him to keep his toys in order. Bear in mind to keep the toy shelf at the child's eye level so that your kid can pull out and put back (more important) toys independently. Try and recycle old cartons. See a video here for some ideas to get started.
Keep a quick or easy clean-up hack
When your child does not have enough time to put away all his toys, ask family members to help him, keep a countdown and see who cleans up fast. The speedy Gonzales of the family gets an extra scoop of ice cream after dinner. Always works!

Make a set of rules
Help your child choose what toys he needs to play with, teach him to put it back before taking out another different toy. Taking a leaf out of the Montessori philosophy, tell your child that unless he is finished playing with the toy and has placed it back in its original condition, he is not to take the next toy. If you are wondering if this really works, just walk into a Montessori classroom and see children as young as three rolling out mats, doing their activity and keeping things back before getting the next activity. What bliss!
Be an example
This is very important as your child sees what you do, so keep your things organised and put them in their designated places. You cannot have a cluttered house and expect a decluttered toy corner.
Make safety a priority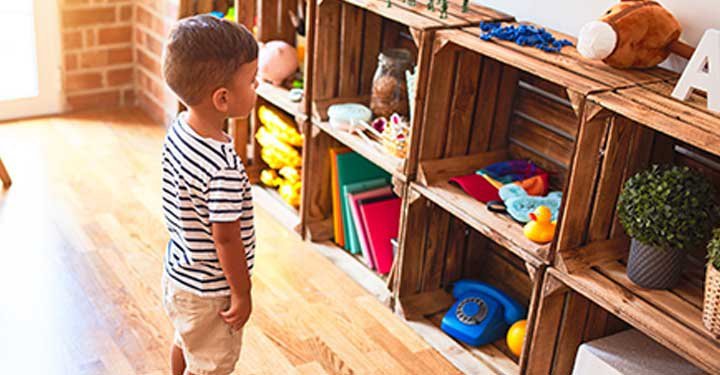 Help your child understand that toys strewn over the floor or stacked one above the other can result in an accident. There have been many accidents of people tripping, slipping or sliding after placing their foot on a toy sometimes leading to fatal injuries especially if there are senior citizens in the house. Safety comes first always.
Reduce the number of toys
There may be well meaning friends and relatives who shower your child with toys, or you may be an overindulgent parent who simply buys too many toys, but research has revealed that fewer toys may be better for your child. According to this study, an abundance of toys reduce the quality of toddlers' play and fewer toys may help them focus better and play more creatively. Read about it here.
The influence of the number of toys in the environment on toddlers' play
Put toys on rotation
Have you noticed how children get hooked to one game or toy and then abandon it after a while? Pack away toys that the child is not playing into boxes or cupboards and keep fewer toys to play with. Re-introduce the packed toys after a couple of weeks or months. As your child grows and develops, he may play with the same set of toys in a different way. This could also lessen the number of toy purchases required and help in managing the toy space more effectively.

Give away toys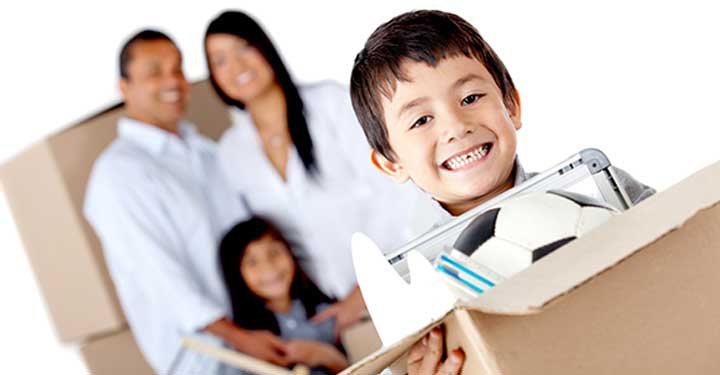 Unless there is sentimental reason for holding on to an old toy, give away toys that your child no longer plays with. Throw away broken toys. Keep doing this once every six months to reduce clutter.
Keep some toys out of reach
500-piece jigsaw puzzles, complicated dinosaur models and train sets with small pieces - You get the idea. Keep a few games and toys that need time to set up or keep back for a relaxed occasion. You don't want to have just finished tidying up the whole house, only to hear the 1000-piece Lego set being opened on the carpet by your enthusiastic kid. Keep the hidden from view for everyone's sanity!
In the end, it is all about, "Everything in its place and a place for everything." And despite your best efforts, if things don't always pile up as you expected, don't fret. There will always be good days and bad days. Keep going over the ground rules regularly, try different things and keep having fun. Remember, as Marie Kondo says, - "It's all about living a life that sparks joy."
Also Read:
5 Tips to Choose Educational Toys for Preschoolers (3-5 years old)
Amazon Great Indian Sale 2019: 7 Brain-Boosting Toys For Toddlers
Best Building Block Toys for Toddlers
Exciting Role-play Ideas For Pre-schoolers
About the author:
Written by Vidya Nesarikar on 21 September 2020.
Join our Circles to share, discuss and learn from fellow parents and experts!
Looking for expert tips and interesting articles on parenting? Subscribe now to our magazine. Connect with us on Facebook | Twitter | Instagram | YouTube