Meet the first female amputee to have scaled the Mt Everest. Her story of courage and grit is bound to leave you inspired! Here is Arunima Sinha in her own words
We, at ParentCircle bring to light inspiring stories of the women of today for the women of tomorrow! Read, be inspired and share these incredible stories with your children. Let your little girls look upto these real-life role models as they grow up to become the strong women of tomorrow.
This #IAmWoman story relates to #IAmCourage.
A tragedy can change your life. It can pull you down to its depths of despair. But not if you are Arunima Sinha. She met with a tragic train accident and lost her leg but this didn't pull her down, instead, it made her go up!
That accident became the turning point in her life—to do something worthwhile with her life and make a name for herself. Like the phoenix that rises from its ashes, Arunima rose to the occasion and began climbing mountains as an amputee.
She is the first female amputee to climb the highest peak in the world, Mount Everest. She has also scaled other high peaks across the world like Mount Kilimanjaro (Tanzania), Mount Kosciusko (Australia), Mount Elbrus (Russia), Carstensz Pyramid (Indonesia), Mount Aconcagua (South America) and Mount Vinson (Antartica).
It was incredibly inspiring talking to this brave woman!
Excerpts from the interview:
Q. How hard was it to come to terms with the reality of your disability?
A. Like any person would, I too went through a lot of trauma, both physically and mentally. It was especially disheartening and discouraging when society looked at you with pity like you cannot do anything in life now. That life is over for you. Things are already difficult for us, women and having a disability only made it worse. But there are many women like me, who have managed to turn their greatest weakness into their greatest strength.
Q. How did that accident change you as a person?
A. I was traveling from Lucknow to Delhi on a train when a group of thugs tried to snatch my gold chain. But I was determined to not let it go so I put up a good fight. They then pushed me out of the moving train. I fell onto the railway track, semi-conscious. I lay there for more than seven hours. Rodents had a feast nibbling on my bleeding wound while I kept screaming in pain. The next morning some locals spotted me. I was taken to the nearest hospital where they had run out of anesthesia. Unable to take any more pain, I instructed them to just cut off my leg. I was fully conscious when they amputated me. I went through a lot of mental stress and it was not easy to come to terms with losing a leg. Around the same time, there were rumors that I had attempted suicide. This just made things worse for me.
Q. How did your family support you through this?
A. My mother has been my greatest support system. Apart from her, I did not have much support from my family. In fact, my older sister called me a limp and a mess. I'm sharing this because it might help people mentally prepare themselves in case they endure such tragedies. Even your closest family might not support you. But my mother stood beside me through it all.
In fact, when the opportunity to climb Mount Everest came along, my mom was ready to sell our house to make ends meet. But extended relatives and people in the neighborhood discouraged my mother. They said, why do you want to do all this for someone like her.
I want to tell people who go through such tough situations, to not let it pull you down. Make your problems into your strongest weapon.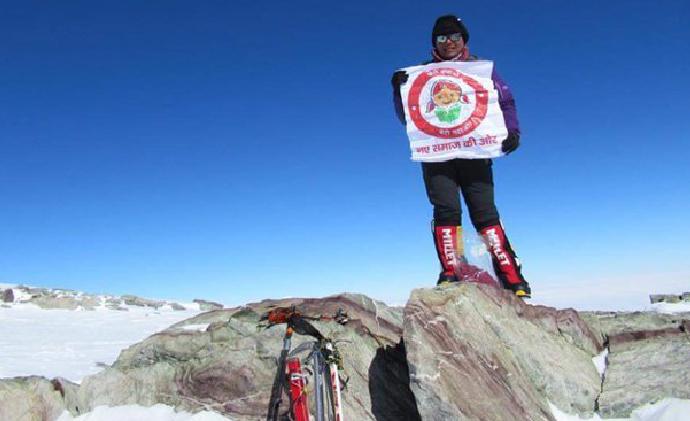 Q. Take us through your journey of conquering Mount Everest...
A. This urge to climb mountains started when I was lying on the hospital bed trying to find meaning in life and seeking inspiration to rise up again. I read an article in the newspaper on mountain climbing and it got me motivated to try. However, when I started showing interest to climb Mt Everest the responses from everyone were very discouraging. I heard things like, "You are a woman and adventure is a man's sport." Or like, "mountain climbing is not easy even for people with two legs." Whoever I approached for guidance used to turn me down saying I was crazy, and that my mission was impossible.
Then I went to Bachendri Mam (the first Indian woman to climb Mount Everest) for help and she immediately agreed to train me. She has been a great support ever since.
Regular people struggle and breathe heavily to climb a set of stairs. For an amputee, it is twice the difficulty. But I went ahead to scale Everest. During the climb, there were several instances when we felt like we cannot go on. Even our Sherpa felt we wouldn't make it. When the mountain peak came into view, we even ran out of oxygen. Our Sherpa asked us to stop, but I was determined not to step back. He kept talking to me about how risky it was to move further and that I could die. I heard everything he said, but my eyes and mind were set on the peak. In that freezing weather, I was arguing with him, "No. I have come this far, and I will not go back."
I got up with full confidence and started walking ahead. After 10 to 20 steps, he too joined. And eventually, we made it to the top!
Q. One of your friends wanted to join you on the Mt Everest climb, but her father was not pleased about it. How did it make you feel?
A. Yes, my friend came over to see me and she was very curious when I told her about mountain climbing. She wanted to come with me. But the next day her father came home, and he brought the roof down. He told me, "You are done with your life, nothing can happen with you, why are you preaching wrong things to my daughter."
The day I got back home after scaling Mount Everest, my entire neighborhood welcomed me with flowers and garlands. I spotted that uncle standing outside his house but he was hesitant to come and talk to me. However, after two days he came to visit me and said, "I was wrong, you were right."
Q. Tell us about your latest climb to Mt. Vinson in Antarctica...
A. Every mountain is different. The snow, the wind, the weather, the altitude everything differs from one mountain to another. And Antarctica is the coldest place on earth, so everything felt twice as much.
In mountaineering, there is a process to follow. We must first draft a mail with all our details. So, when they knew about my leg, they were shocked. They were like, "How can you do it?" The first step for people like me is to always prove ourselves. That's exactly what I did, I showed them all my previous accomplishments. Seeing that, they didn't have any choice but to allow me.
So, I managed to get permission and we set out to climb Mount Vinson. Half the way we had to climb over a rift and get to the plane. Once we reached there, we had a spindrift. The snow was all over my jacket, my boots and my ears. I had my glove on in one hand and the other bare hand started to freeze. I started to shiver so I sat down for a bit. My Sherpa came to me and said: "We can go back if you want to." I said No! I want to go up, I want to go further. We then started walking and within a kilometer or so, my body started warming up, and we kept going until we reached the top.
Q. How did the book Born again on the Mountain come about?
A. Apart from bringing my story out to the world, I wanted to bring a change to many lives. The book covers a lot of my struggles and how I overcame all of them. Some chapters of the book have made it to school textbooks now. I hope to inspire many children as they grow to never give up and to overcome challenges in life.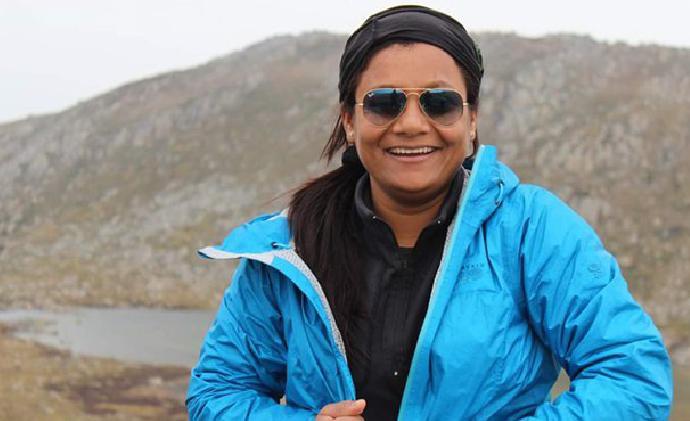 Q. What are the unique traits that set you apart from the rest?
If anyone wants to do something different from the norm, they've got to be crazy, right? So, I would say there is a lot of craziness in what I do. I'm quite reckless. But yes, this craziness is what has brought me all the way here. It has made me who I am today.
Q. Tell us about your childhood...
A. I am the youngest child in my family. My father was in the army and my mother was employed in the health department. Life was all good and relaxed until they were around. Now they have passed away and nothing is the same.
As a little girl, when I was around 7 to 8 years of age, I loved getting awards. Let me narrate one incident from my childhood. My neighborhood once had a competition for cows, and we happened to have a cow at home. As soon as I heard the announcement, I washed the cow neat and clean. I decked it up with ribbons of bright colors and took it for the competition. And you know what? I won, and my prize was a bucket (laughs).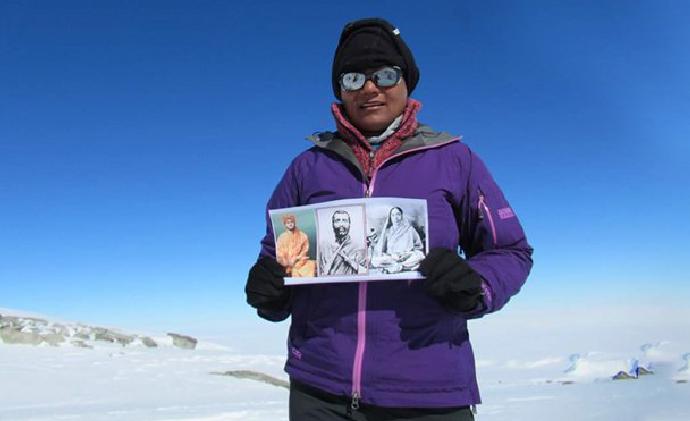 Q. Any empowering moment or incident in your life that made you feel proud to be a woman?
A. Every time a woman achieves something, I feel proud. I was proud when the Prime Minister once said, "The women of this country are not weak, and if you don't believe my words, look at Arunima Sinha."
Q. Who is that one woman who inspires you and why?
A. I respect everyone, but I am not in awe of anyone except for one. That is Bachendari Pal maam. Training under her means that even the weakest of the weak can stand up and start climbing a mountain. She is one of the strongest women I have met. I admire her and inspired by her. Now I know why people call her mountain goat. She is 65 and she doesn't just climb mountains, she runs.
Q. What is your message for children who look up to you as a role model?
A. The problem usually is not that you didn't reach your goal. The problem is that you don't have a goal. The basic thing is to always set a goal for yourself, and work towards it. There will be many hurdles and struggles but never give up. There will be extreme pain, but only when you come out of that pain, will you achieve success.
Q. What is next in line for you?
A. My only aim is to inspire more people. I wish to spread the fire in me and create many Arunima Sinhas in our country.
Q. Your message to women on women's day!
A. They said women cannot be journalists, today we are. They said women cannot be photographers, today we are. So, my only wish is that women should keep going forward and keep achieving newer heights.
Hall of fame:
2019: Climbed Mount Vinson completing all the highest peaks of the seven continents
2018: Awarded with an honorary doctorate by the University of Strathclyde
2015: Presented with the Padma Shri
2015: Honored with the Tenzing Norgay National Adventure Award
2014: Honorable Prime Minister launched her autobiography Born again on the mountains
2013: The first female amputee to climb Mount Everest.