FEATURED
Celebrating Diwali with a newborn? Here is how you can safeguard your baby
Ashwin Dewan
5 Mins Read
A baby's first Diwali is a special occasion for the family and new parents always put in a lot of effort to make it memorable. Amidst the preparations, do ensure that safety is not overlooked. Here's is how you can go about it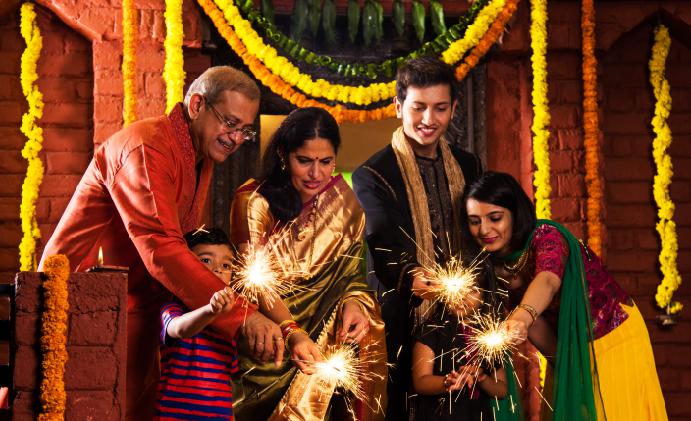 Is it not a special feeling to enjoy the Diwali festivities with the light of your life, your newborn child? Celebrating the festival of lights for the first time with your baby is of great significance for new parents. Firecrackers are lit and a variety of delicacies prepared to make the event truly special. However, you as parents must also remember that the celebrations, noise and excitement can be overwhelming for the little one. In fact, it can even take a toll on your baby's health.
"One of the things we did was to make sure that our baby was always within our eyesight. We did not burst crackers, but decided to light only sparklers so that she would not be disturbed by the loud noise," - Deepika, mom to a newborn
Even though a newborn cannot actively participate in the festivities, it does not mean this keeps your little one safe from injuries or disturbances. That is also an important reason why extra care should be taken never to leave babies unattended during celebrations at home.
Deepika Shetty, mother to a one-year-old girl, says that while she eagerly looked forward to her baby's first Diwali, her family also put in measures to protect the little one. "One of the things we did was to make sure that our baby was always within our eyesight. We did not burst crackers, but decided to light only sparklers so that she would not be disturbed by the loud noise," says Deepika.
So, how can you make sure that baby's first Diwali is a memorable one? Find out what steps you can take to safeguard your newborn during the festival.
Parentcircle talked to Dr Rahul Nagpal, a leading consultant pediatrician about the safety precautions to be taken. Here are some tips based on his inputs to make your newborn's first Diwali a safe one:
Visiting relatives and entertaining visitors is a common practice during Diwali. But, with too many new faces around, your newborn may get uncomfortable and cranky. So, ensure she is never left alone with people she is not familiar with. Ideally, one of the parents should always be near her. Do keep in mind that babies may feel frightened by new faces and need a familiar face or touch to reassure them and keep them content.
During the festivities, we all decorate our homes with flower garlands or create designs out of petals in bowls filled with water. You may be unaware that some flowers can trigger allergic reactions and lead to conditions like hay fever and asthma. Always spray flowers with water before bringing them indoors.
Babies are attracted to bright lights and may try to move towards a light source. It is a good idea to ensure there are no lighted diyas or agarbattis in your child's room because these can be potential safety hazards.
Before you start your celebrations, do not forget to babyproof your house, especially keeping in mind electrical sockets. Make sure there are no loose or exposed wires.
Avoid firecrackers when you have a newborn at home. If you still decide to celebrate with crackers, ensure you light them outdoors, at a safe distance from the baby.
It is better not to hold or carry the baby while lighting diyas or firecrackers. If your baby is less than a year old, it is advisable to keep her away from the Diwali celebrations.
Of course, the arrival of a newborn is a cause for great excitement in the family. But do make sure that you teach relatives and older children how to properly handle the baby.
Keep windows and doors to the baby's room closed. A stray firecracker or sparks from one, could fall or land in the room and cause unwanted injury to the baby.
Don't expose your baby to smoke or ash from the firecrackers. Air pollution is a major problem during Diwali celebrations and you need to be careful about not keeping your little one safe from poisonous fumes. Remember, babies are extremely vulnerable and may develop respiratory problems because of the smoke.
Be alert and ready for a health emergency. Have a first-aid kit on hand to tackle burns or injuries and always keep a bucket filled with water to put out sudden fires.
Do not disturb your baby's normal routine, as doing so can make him cranky and restless. Dress him in comfortable clothes and do not let too many people handle him.
Maintain the baby's feeding schedule and remember not to give her sweets or savories. Even if your baby is already eating solid food, you must keep her food intake in check.
Dry fruits are a strict no-no for babies younger than one year. If unsupervised, babies can even choke on these food items.
Always keep your baby's age in mind while giving juice or other food items.
Do ensure that your baby gets to see the fireworks and sparklers, but only from a window or even, from behind a closed glass door.
The festival of diyas is a wonderful and joyful time. This is when you get to create memories with your baby that will last a lifetime. There is no need to avoid Diwali celebrations just because you are worried about your child's safety. With a little bit of precaution and preparedness on your part, your baby's first Diwali can be a truly sparkling and special one.