China recently passed a rule that restricts children and teens from playing video games for more than three hours a week. Our online survey shows most Indian parents want the same
In today's day and age, video games have become an integral part of a child's daily life even though many parents try to limit their child's screen time. With many outdoor and indoor games that contribute to the overall development, both physical and mental, in children increasingly being sidelined by video games, parents are at their wit's end.
Parents world over are concerned about the adverse effects of video games - in terms of violence, minimal physical activity, sedentary lifestyle, and so on - among children. In fact, the World Health Organization (WHO) updated its guidelines to include "gaming disorder" as a mental health condition in 2018.
China puts a cap on video game usage
And now, cognizant of how video games are affecting our young ones, China has brought in new rules that limit the amount of time children can spend playing video games.
There were already strict limits on how long those under 18 could access online games in China. This new rule, published by the National Press and Publication Administration, states that under-18 gamers can play online only from 8 p.m. to 9 p.m., on Fridays, weekends, and on public holidays.
Authorities stated that these new rules were created to prevent children and teens from becoming addicted to video games.
Should India pass a similar law?
China is not the only country struggling with screen addiction among children - India too has banned many online games in the recent past, such as PUBG, to keep children away from playing video games for long hours.
But does India need a stringent rule such as the one in China?
We, at ParentCircle, ran a poll on our social media platforms (Facebook and Instagram) asking readers whether India needs to pass a law restricting video game usage in kids to three hours a week and the results favored a whopping YES.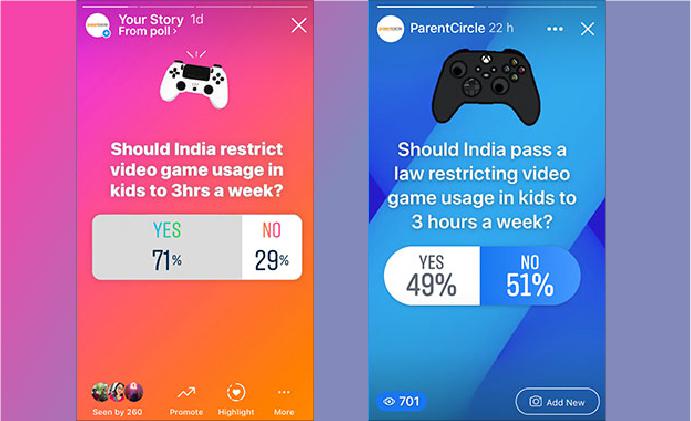 As per the poll results, 71% of Instagram users and overall 64% of online respondents voted in favor of restricting video game usage among children to three hours a week.
What do you feel as a parent? Do share your thoughts and opinion in the comments box below.
Video games: Positive and Negative effects
While we don't advocate a total ban on children playing any kind of video games, as limited exposure to video games can have a positive effect on children, we definitely do need to limit screen time access.
Positive effects of playing video games

Negative effects of playing video games

Can improve focus in children with a short attention span
Develops better eye-hand coordination
Aids imagination in children
Promotes healthy competition in children

Certain video games may promote violence
Hampers a child's ability to interact with the outside world
Long periods of inactivity can lead to health problems and affect eyesight.