Let your child adopt a new hobby—solving the Rubik's Cube. It's engaging and challenging, guaranteed to keep children focussed and determined.
"Go ahead, give it a shot!" says James Gonsalves, an 18-year-old Mumbai lad who spends most of his time twisting and rearranging the Rubik's cube. He holds the record for completing the 3x3 cube in 19.51 seconds and the 2x2 cube in 2.58 seconds. That's pretty impressive, isn't it?
Well, do you know who invented the Rubik cube? It was Professor Erno Rubik, of Hungary. He invented it in the year 1974, as an aid to teaching his students. Since then, the love for this game has only been increasing, especially among young children. It is estimated that over 350 million Rubik's cubes have been sold to date across the world. In India, going by the increase in the number of competitions for school children and college-goers, it is quite evident that the craze for the Rubik's cube is spreading fast.
How to solve the puzzle in a short time?
That's the question most of us would ask. "There is no secret trick. It's just a method that you need to learn and master. It's not that complicated and anyone can learn it," answers James, the Rubik's cube champ. Besides concentration and an inquisitive mind to learn, he attributes tons of patience to the success of his mastery over the cube.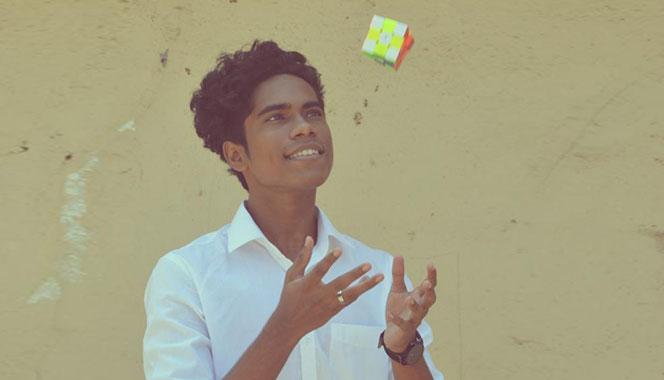 Benefits of the Cube for children
The benefits of this leisure game are plenty according to James: 
it helps think out of the box
it keeps all negative thoughts at bay
it increases the capacity to think in different situations
Says James, "The best part about the game is that it doesn't give you any clue to solve the quiz. There is no luck involved. It's purely your skills at play. You need to figure it out!"
According to child mental health experts, the Rubik cube has several benefits for children. The puzzle:
develops mental skills
sharpens memory
improves eye-hand coordination skills
improves mental reflexes
motivates towards careers in the engineering or technical fields
helps to stay focussed and determined
According to James, the cube engages his mind and keeps him occupied during his spare time. He takes out time each day, no matter how busy his day has been, to practice and try to beat his own record. "It can get addictive sometimes. But the time spent is still fruitful," he confesses. In this modern age, when children spend more time with their mobile phones than their school books, James prefers fiddling with the Rubik's cube. "It is better to solve the cube puzzle than to aimlessly surf on the Internet for hours and most of the time gain nothing," opines the young lad who owns 60 different types of cubes. "After initial naive attempts to solve the cube, one goes a step forward to look for variations. You never lose interest in playing such games. Each day I discover a new way to solve the game," says the Mumbai resident who fell in love with the cube at the age of ten.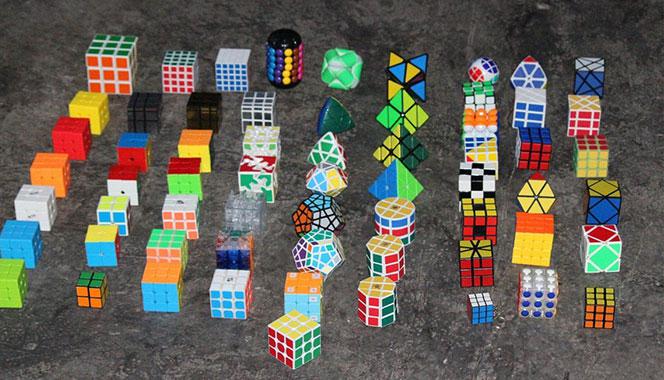 James' incredible collection
Wherever James goes - be it traveling to college or on his way to an event in the car, his cube keeps him engaged. 
Rubik's Cube for all
This can be a healthy hobby, not only for children but also for adults. It can even keep the elderly active in their old age. It is also beneficial for those suffering from short-term memory.
Phyllis McGinley, an award-winning American author of children's books and poetry, once said, "A hobby a day keeps the doldrums away." James echoes this very sentiment in his words: "Personally, I have found that I've become more creative after getting involved in this game. There is no place for stagnation in life when you have developed such an exciting hobby. I feel every student should adopt a healthy hobby such as this. This helps to keep your mind stress-free and healthy." 
So, how about keeping your smartphones aside for some time and taking up a challenge with the Rubik's Cube? It'll sure be fun and entertaining and enhance your mental health. It would be a wonderful stress-buster too!