Improve Your Child's Communication Skills With These Simple Activities
Aruna Raghuram
9 Mins Read
Aruna Raghuram
Follow
Written For ParentCircle Website new design update
Are you worried about your child not being able to express himself properly? Here are some exclusive tips on how you can help him.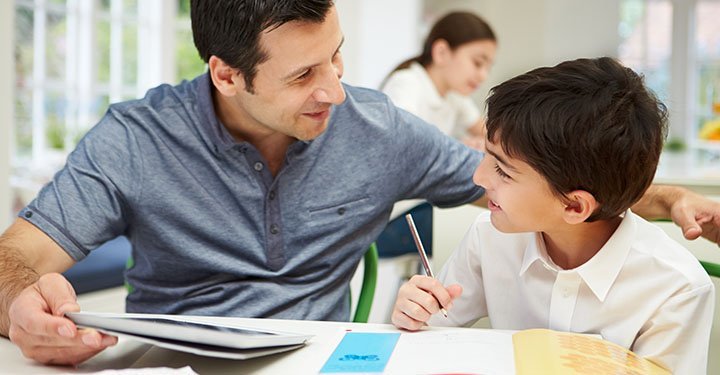 Good communication skills are a vital factor in a child's development. They are essential for effective learning as well as socialising. Enhanced language skills and speech help a child express himself better and share information with ease. So, it is important we nurture a child's communication skills so that he is able to express himself clearly and confidently.
A study titled 'The Importance of Communication Skills in Young Children' by Caroline Gooden and Jacqui Kearns was published by the Human Development Institute, University of Kentucky in 2013. The study states: 'Communication development for young children includes gaining skills to understand and to express thoughts, feelings and information'. The study also cited another report Bredekamp & Copple, 1997, which said, 'During the early childhood years, responsive families and teachers are critical for rich stimulation of children's communication skills. Appropriate stimulation helps all areas of children's development'.
Why communication skills are vital
Children with good communication skills:
Are less likely to have difficulties with reading, writing and spelling

Are less likely to have behavioural difficulties

Are able to easily make and keep friends

Are likely to have feelings of high self-esteem and confidence

Communication can be oral, visual, written or non-verbal (body language). It is important for children to acquire both oral and written communication skills to do well in school and life in general. Given below are a few suggestions for parents to help develop oral and written communication skills in children of different ages.
Activities you can do to improve your child's communication skills
For pre-schoolers
Oral skills
Talk: Give descriptions of objects, activities or events. Repeat words often. Use simple language, short sentences and make sure your child understands.

Listen: You may not always understand what your pre-schooler is saying but help her out and give her time to explain. It is important to always value what she says and respond to it.

Tell a story: Either recount a story from memory or read a book to your child. Use story books to engage his participation. Read the same book multiple times.

Sing: Musical activities captivate children and are a good way to enhance a child's language skills.

Play games: Play games that involve a lot of interaction between you and the child. One good game to play is 'Describe the picture'. Have your child tell you what she sees in a picture. Encourage her to describe the scenery, people, colours and anything else she notices.

Written skills
Give access to written material: Make writing tools such as paper, pencils, erasers, chalk and crayons accessible. Encourage your child to use drawing to express his ideas and tell stories.

Practise tracing: Get workbooks for your child where she can trace letters and words. You can also create a connect-the-dots game by having her trace along dotted lines and then tell you the letter or word she finds.

For primary schoolers
Oral skills
Ask open-ended questions: Ask questions that cannot be answered by just a yes or no. Asking questions like "Where did you go?" instead of "Did you go to the store?" prompts your child to answer in a more elaborate fashion, in turn, helping him to develop his communication skills. Remember not to correct your child too much when he answers.

Play word games: Play games like scrabble, that help build a child's vocabulary. Brain teasers, riddles and tongue twisters can also make learning and communicating fun.

Describe the day: Ask your child about her day at school and pay attention to what she is saying.

Written skills
Read regularly: This activity is crucial to be a better writer. Reading every day expands vocabulary and improves your child's command over the language.

Write letters: Encourage your child to write letters or emails to friends or family members. Having a pen-pal is also a fun idea.

Stock up on stationery: Give your child a collection of pens and attractive paper to write on. At this age, these tools act as great motivators.

Pre-teens
Oral skills:
Play a game based on storytelling: Children love stories. Start off a story and have your child finish it. This exercise is a great way of teaching verbal communication skills and will help develop his imagination.

Practise extempore speech: Pick a topic you child is familiar with and ask her to speak on it for about two minutes. After some practice, move on to tougher topics and ask her to speak on it for longer. Observe how frequently she utters words like "um" and "er" and appreciate her attempts to minimise them.

Do some role-play: Before attending a social event together, practise with your child what to say and when. Take turns 'playing' each person in the conversation so that he can think of different scenarios, conversation topics and responses.

Written skills
Practise creative writing: Urge your child to write poems and short stories. Not only will this hone her writing skills but also help her get in touch with her creative self.

Take notes: Encourage your child to take notes when he goes out on nature walks or visits the museum. This will also make him more observant.

Write a diary: Writing in a diary or journal about day-to-day activities and feelings will improve your child's writing skills.

Teens
Oral skills
Take part in debates at home: Organise debates on interesting topics among family members or friends of your children. This will motivate them to express themselves freely and with conviction.

Read up on current affairs: Ask your child her opinion on a current topic and value her inputs. Not only will this build her verbal communication skills but also make her more aware.

Listen attentively: Now more than ever, your child needs to pay attention to someone, when he is talking. Encourage your teen to politely ask questions if he hasn't heard or comprehended what the other person is saying.

Written skills
Write essays: Choose a topic that is current as well as significant for her age group and ask her to write an essay.

Blog frequently: Have your child create a blog. This will encourage and inculcate the writing habit in him.

Write scripts and reviews: Ask your teen to write reviews of movies, books, plays and TV shows that she has seen. Or, she could also try her hand at script writing.

At each stage, good communication skills play a major role in improving your child's quality of life. Good communication skills are the key to academic and career-related success. They are also vital in building and maintaining good relationships.
Looking for fun ways to keep your preschooler engaged at home during the pandemic? Check out Little Learners at Home, a home learning programme specifically designed for 3 to 5 year olds by our team of experts.

For expert tips and interesting articles on parenting, subscribe now to our magazine. Connect with us on Facebook | Twitter | Instagram | YouTube