There was a time when the entire family would get nostalgic, poring over an album of black-and-white photos. Families still do that, but over devices. How do we help children value those moments?
Malini and her family were moving house. So, she began to clear the loft. Packing was in full progress, and she handed two big cardboard boxes to her mom, who was standing below.
"What's in these boxes? Why are they so heavy?" Malini asks. Opening the boxes, she smiles. They were filled with photo albums of various sizes and thicknesses, big rectangular ones with hardcovers, small square ones, extravagantly printed ones, and even a few oval-shaped albums.
"My real treasure," says Malini's mom."Did you have to print every photograph to preserve them as memories back in those days? These days, I just upload them on social media and look at them whenever I want to. I don't need cartons for them!" quips Malini.
"But how can you recall a memory if you can't hold the photograph in your hand?" her mother asks. Two hours later, the duo was discovered by Malini's husband, packing all forgotten, laughing over a family pic clicked eons ago.
Their banter, however, leads to a very interesting question:
Do photo albums mean a different thing today than what they did 20 years ago?
Now, people create digital albums all the time, as they keep clicking pics far more frequently than our elders ever did. Remember the time when clicking one family photograph was an event in itself? Either the photographer would come home or the entire family would go en masse to the studio, powdered and all dressed up! And the day the photograph would be handed over was another big day, when even the neighbors came to see them. Ditto for pics of tiny tots commissioned by their doting parents and grandparents.
But now, albums are all on our smartphones or laptops, password protected and very private. They're not for sharing anymore. But one thing hasn't changed - everyone still loves to pore over a good memory. And that's possible even in this digital world, it's up to us parents to continue to create those memories for our children. The funny, the sad, the embarrassing pics can all go into digital albums that we can later just transfer to them with the click of a button. A much easier way to keep a tradition of sorts going, isn't it? In fact, we can even encourage our kids to do the same. Here's how.
Clicking a pic is much easier now
"It's all about candid shots and selfies now. Those days of the studio photographer saying chin up, a little to the left, a little to the right, till he got the perfect pose, are gone. I used to love going to the photo studio with my parents. I'd be all excited when the photographer would ask us to freshen up as he prepared the camera and lighting. There was a small place at the back with a mirror where one could adjust the hair and makeup before getting the photograph taken. It was an essential part of the trip to the studio for me! I miss that. Now, I just check myself in the front camera of my phone", reminisces Pavitra, mom of a teenager from Chennai.
From the time Kodak launched the Brownie box camera and roll films to the current time when millions of photographs are being uploaded on the internet every day, photography has moved on from a means to record a special moment or memory to a tool of self-expression and communication, from printing to saving. But what if you were to create two folders for your pics? One for printing and one for saving. Once every six months or so, the entire family can revisit the memories on the digital roll, and have some of them printed, too! This way, children can get a feel of a real album, even as they will have a treasure trove of saved pics to look at when they're all grown-up.
Photography, the smartphone way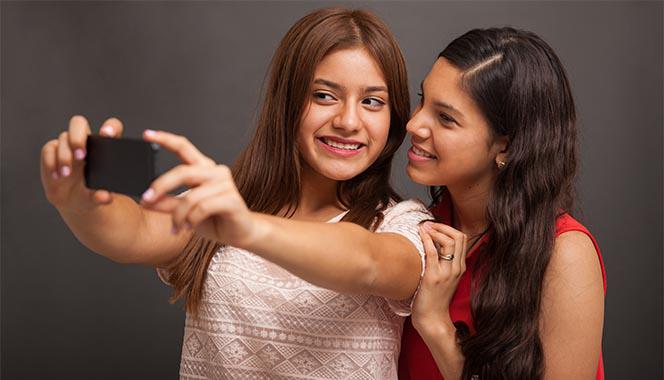 Smartphones have surely changed the way we look at photographs. Gone are the days when photographs were reserved for special occasions, like your child's first dance at school, first running race, a family vacation, or graduation. Now, we whip out our smartphones to photograph almost everything from the breakfast plate to our bedtime routine. One oft-debated topic among parents is how we all are so busy taking candid shots of what our children are doing that we don't actually enjoy the moment with them.
"I prefer using my smartphone to store my pictures. That way I get to keep all the goofy pictures I take. With photo albums, we can only choose the good ones and they don't always tell me about how much fun I had while taking the picture. Also, smartphones let me edit my photos and make them look better and clearer, even after many years", says Sushmitha, a young IT professional.
With smartphones, clicking a pic has become child's play, literally. Don't our children take a lot of pictures on our phones? Maybe we can create an album of pics clicked only by them. This simple gesture will make them feel loved and cherished. And how awesome it would be for them to learn one day that they have clicked so many photos of their parents and family members!
Also, the upside of the countless number of photographs we take is that we can create stunning photo albums with them, a photo album for every event you hold close to your heart. You don't have to print them all. You can open the folders on a laptop and spend a leisurely Sunday afternoon just recreating those experiences among yourselves, and bring back the old tradition of looking at a completed album! Family bonding time guaranteed!
Preserving memories in the social media era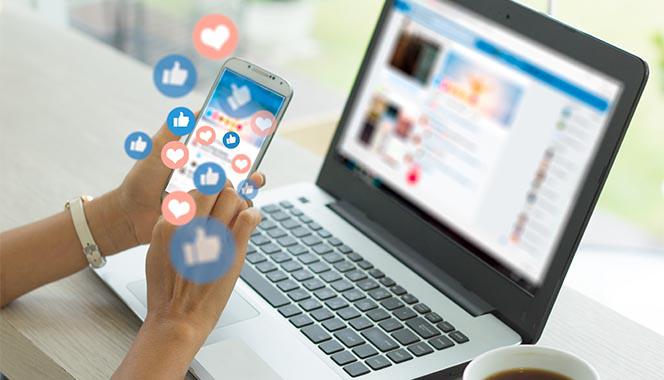 If you are parents to teenagers, you will surely know that their pics are private and strictly to be shared only on social media! Well, let's face it, social media is here to stay and will be an integral part of their lives now. However, what you can do as a parent is to have a candid chat about privacy and cyberbullying with your teen, and explain the dangers of putting too much out there. Teens these days are always in search of the perfect photograph to post. But what if you told them how exciting it would be if instead of posting, they created a secret album to store their pics and only share a few selected ones?
You can even create a family ritual where every member shares one or two pics from their smartphone every week maybe over a late Sunday tea as you discuss the week that went by? Kids can vote for their favorite ones, and maybe those can go into an album labeled 'Printing'? And once a year, maybe, the selected pics can be printed into a family yearbook!
You can start by sharing a pic every day with them so that they open up to the idea of sharing their pics with you. It can be a family thing. This way, you'll be more involved in what's going on in their lives, too!
Build an album together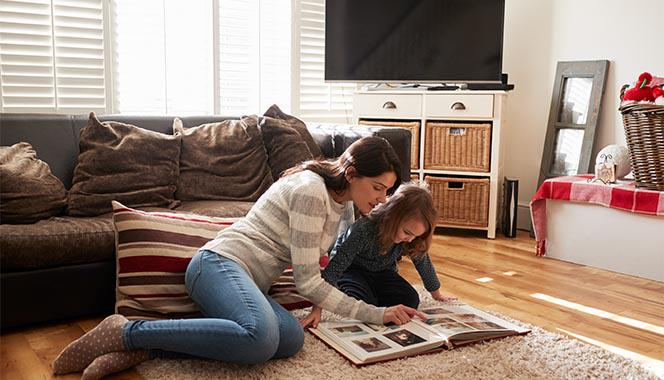 But all said and done, there's an inexplicable joy that comes from sitting around an old family album with your family and flipping through the photographs. So, yes, invest some time and effort in creating that family photo album together. In this age of shared access to each other's data, it will be quite an easy thing to create a shared family folder to which every member can add photographs. Get the kids excited about choosing the best photos and going to the studio to get them printed. You will have a beautiful photo album that each one of you can relate to.
On a final note, whether digital or printed, a family album is in essence a precious keepsake preserving the photos of everyone in the family and that remains unchanged. All you need to do is to create those magical moments and go click!