9 Tips To Keep Your Child Safe This Holi
Virgina Jacob
5 Mins Read
From colours of joy to rings of laughter echoing in the air, the colourful festival of the year is here. We bring some useful tips for parents.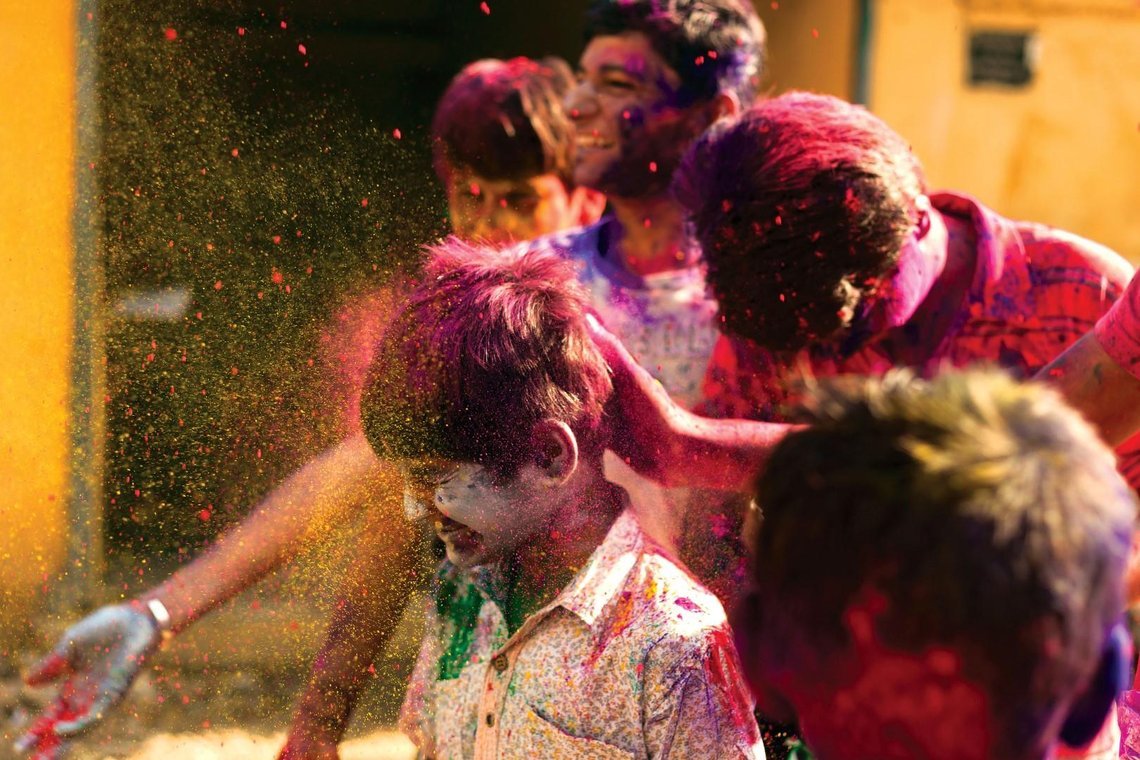 Festival of lights and festival of colours. Two great ways for families to come together, but both have one very common trait - worried parents. During Diwali, parents are concerned about the dangers posed by firecrackers, and during Holi, due to the after-effects of the game of colours.
During Holi, while children can't wait to have a splash of colours, parents are certainly dreading what's coming their way - water balloons, pichkaris (water gun), friendly fights and colour powder smears. If not celebrated with caution, the festival of Holi can become extremely dangerous for your child.
Now, some good news. You can retain the smile on your child's face by making these smart parenting moves:
Use organic colours: Synthetic colours are a big no-no. Non-toxic, organic, natural or herbal colours are better as they don't contain any chemicals. It will be softer on your child's skin, and will be easier to wash off.

Avoid water balloons: Playing with balloons is fun, but if thrown at a person with force, especially at children, it can cause serious injuries to eyes, ears and skin. Teach your child about the dangers of using balloons, and encourage him to use the simple pichkaris instead.

Get the goggles: Colours can be very harsh on the eye. Get your child to wear funky goggles to steer clear of eye damage or infection.

Choose the right clothes: Make your child wear full-sleeved shirts and long pants. The idea is to prevent exposing the skin to colours as much as possible.

Pay attention to skin care: Apply generous amounts of petroleum jelly or moisturisers on your child's skin. To safeguard the scalp and hair, apply coconut oil.

Teach children 'water manners': Teach your child not to take aims with water guns at people's faces. Also, advise him to respect other's wishes, and not force an unwilling friend to play.

Be ready for emergencies: Keep the contact number of your paediatrician and the nearest hospital handy. You never know when you may need them, considering Holi involves so many hidden dangers.

Colours are not food supplements: Even natural colour powder, when ingested can be dangerous for children. Intake of colours can cause severe outburst of reaction and food poisoning. Teach your child to avoid oral contact with colours.

Keep an eye on your child: Watching where your child plays is very important. To avoid any kind of an untoward incident, keep a close eye on him. He may hate it, but tell him that you just love to see the way he is playing colours.

Remember, Holi is a time for colourful celebrations. Indulge in fun-filled activities even as you savour tasty delicacies. Let your lives be filled with happy colours, good health and memorable moments! Happy Holi!
Looking for expert tips and interesting articles on parenting? Subscribe now to our magazine. Connect with us on Facebook | Twitter | Instagram | YouTube