Want your children to explore a city through its vibrant street food culture? Food connoisseur Anubhav Sapra tells us how to eat safe food outdoors, while inspiring families to take food walks
Have you ever thought of discovering the local delicacies of your city through a food walk? Exploring a city by eating the unique food there and understanding how it is prepared, gives us a glimpse of its heritage, culture, unique practices, and people. Children can learn a lot about a place through its food trails and taking a food walk can be a unique experience not just for them, but the entire family.
Founder of Delhi Food Walks and food enthusiast Anubhav Sapra organizes a variety of food walks in Delhi that explore a range of gastronomical delicacies and experiences. He spoke to ParentCircle about his ideas and inspirations and gave us some valuable tips to ensure children eat safe street food.
Excerpts from the interview:
How did you come up with the idea of a food walk?
When I was pursuing my college degree from Delhi University, I explored many small food joints around the university. I discovered many interesting places in the area, but hardly anyone knew anything about them. This led me to start a food blog in 2010. In 2011, I began to concentrate mainly on street food in Delhi, for which I received much appreciation and encouragement. I realized that many people from Delhi had hardly explored the street food in the city and I came up with the idea of a food walk.
I conducted the first walk around the Paharganj area in Delhi, which is known for its famous street food stalls. It was a pleasant surprise that 30 people joined me on this walk. The idea was well-received, and I became quite passionate about it. Since I was still working at a regular day job, I organized the walks over the weekends. I subsequently quit my regular job, and Delhi Food Walks is now my full-time job!
Tell us about the different kinds of food experiences walkers can have...
We currently organize about 17 different walks, where we explore various food experiences in Delhi. These experiences include delicacies from street food stalls and even specialty restaurants. We organize the walk based on the customer's preferences. We also try and discover new places and interesting foods to enjoy. We even curate walks during specific festivals.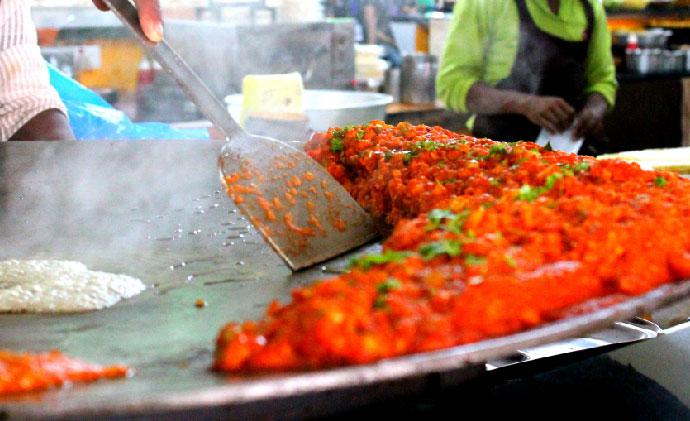 "For instance, there are certain special foods and dishes that are available only during the month of Ramzan. So, we take people around the area where these foods are served and sold during Ramzan."
Do these walks interest tourists?
Initially, the walks interested local people who were keen to explore these authentic foods of the city. As they gained popularity, we now mostly have tourists from all over the world wanting to explore these experiences with local food. However, our walks during festivals are often patronized by people from Delhi. It's the young working professionals and the college-going youth who enjoy these walks the most.
Do children join these walks?
We do have children joining these walks with their parents. In fact, we customize the walks for children where we include a lot of sweets and avoid food that is too spicy!"We usually recommend the Breakfast Walk for children in the morning as it is calm and quiet. These places are quite crowded during the evenings and the kids may not enjoy the experience entirely."
Are there any interesting experiences with children on these walks that come to mind?
A chef from abroad, who was traveling around India, brought his little son along for a food walk. He encouraged his son to taste everything. For instance, he made the boy taste chaat masala and asked us to explain to him what it was! To our surprise, the little boy tasted everything without a fuss. We usually see parents being extra cautious with their kids especially when having street food, and that too in another country. But this little boy thoroughly enjoyed the experience!
Parents don't encourage their children to eat street food due to various concerns. Your advice to parents?
It's very important to avoid any food with added water or ice in it. Since children can easily pick up water-borne diseases while eating street food, avoid dishes like paani puri. Also avoid cut onions and chutneys that are served along with a dish, even in restaurants. So anything that is freshly cooked grilled, boiled, or fried is safe. Tea is also safe to have anywhere as it is boiled well. But make sure you are drinking from a disposable cup. You can also make sure you eat in places that are well-established. For instance, there are places where specialized dishes have been sold for generations. Eating from these stalls is generally safe.