He has been inspiring the youth with his wellness mantras. In an exclusive interview, actor and doting father Suniel Shetty talks about being a friend to his children and leading a balanced life
He was the quintessential action hero of Hindi films in the 90s, known for his brawny appearance and macho looks. But, by his own admission, he rarely worked towards being healthy or embracing fitness in those days. Now, Suniel Shetty is the face of India's biggest 120-day fitness drive, Mission Fit India, through which he motivates citizens to make fitness a way of life. What's more, for someone who was earlier wary of social media, the actor has now warmed up to the idea of spreading his message through the Internet. His stylish and super-cool dad posts on Instagram are proof!
A family man, Suniel Shetty believes in keeping the communication channels open with his children and, in letting them work towards their success, in their own way. Here are excerpts from an exclusive interview with ParentCircle:
Q: You have said that age is just a number and at 57, you are as fit as any 21-year-old. What is your fitness mantra? 
A: Many people don't know this but food habits play an important role in your journey towards fitness. Knowing about food intolerance and allergies, and especially the role of your DNA is of great help. So, my fitness mantra is nothing but creating a balance between working out and healthy eating.
Your workout won't show any results if you aren't complementing it with the right diet. I am an avid believer in natural foods and have moved away from all kinds of processed foods. I usually have big breakfasts and small dinners. I include a lot of fruits as well.
Q: Tell us about your association with Mission Fit India and how it happened? 
A: I owe my life to fitness and being fit. Fitness is something that has always been close to me but it is an area where there is yet to be a concerted effort in this country. I wanted to change that and make waves for the fitness industry. This campaign is one of the ways I aim to do that.
Q: How do you plan to spread this message of Mission Fit among citizens of India?
A: You have to practice what you preach -- the people involved with Mission Fit India are some of the fittest people I have met, including me! Secondly, the campaign is four months long and will reach almost 43 cities through radio programming and print. It will simplify fitness for every citizen of this country by answering their questions, with guidance from a team of experts.
Q: What was the motivation behind starting the Swasth Bharat campaign? 
A: You could say I was inspired by Prime Minister Narendra Modi's Swacch Bharat campaign. I believe that cleanliness is where wellness begins, so swacch and swasth are interlinked. My motivation behind this campaign was the saying, a healthy mind resides in a healthy body. I want to promote the concept of fitness and wellness amongst people so they become more aware and healthy. Additionally, this campaign is also an extension of my fitness reality show.
Q: What is your fitness regime? 
A: The thing is, as you grow older, you must tweak your fitness routine and diet. Your body isn't the same and your muscles start deteriorating with age. For me yoga does the trick - I do yoga at least six days a week, an hour each day. I also spend some time in the gym but never more than 45 minutes. With age, your muscles start weakening and you must change your routine to ensure that you are caring for your body, not harming it. Therefore, now I train with lighter weights but do more reps.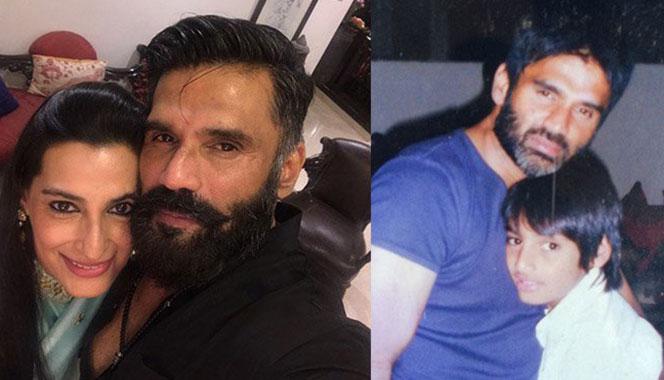 Q: Have you inculcated the need for fitness in your children as well? 
A: Of course, I have made every effort to inculcate the value of fitness in my children. From their school days, I urged them to play a sport and go to the gym. Every season, they would take up a different sport. They have both also trained in martial arts to make themselves stronger. Ahaan started young and has been taking classes ever since he was 12 years of age. Athiya has taken to it in a big way just recently.
Q: Would you consider yourself a cool dad? What is the parenting approach you and your wife Mana follow? 
A: I would like to think that I am a cool dad! Mana's and my parenting approach with the kids has been simple. We are protective and encouraging and have always kept communication open.
Our relationship with the kids is more like friends rather than that of a traditional parent and child. There's mutual respect and a lot of communication. You just need to be cautious and conscious about the things you do. That's all.
Q: What are the values that you taught your children growing up?  
A: I can say this with a guarantee that my kids are very well behaved. They are grounded and have strong values and, will never ill-treat anyone. I have worked hard to reach where I am and never got anything on a platter. They were never given any preferential treatment. They know that they'll always have me to support them, no matter what. Honestly, I just want my kids to imbibe my dedication and ethics. Athiya is just like me, in her temperament.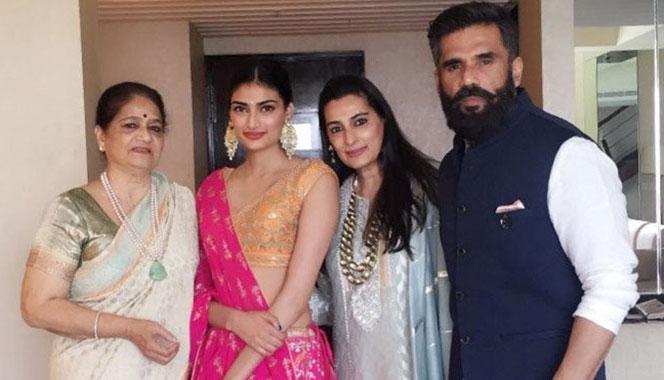 Q: Do you give movie advice to Athiya? Do your children come to you for guidance? 
A: I have had the privilege to work in the same industry as Athiya and thus, I give her advice now and then. To me, it is like deja vu, but I want her to discover the industry using her own sensibility. I encourage her to take her own decisions and be her own person. Apart from that, we have an open forum at home. The kids can and have come to us to discuss anything. No subject is taboo.
Q: What is your take on the lifestyle of youngsters today and what is your advice to them?
A: A lot of people from this generation are very fit and a lot aren't. The thing about this generation is that it constantly worries about fitness, yet in most cases, that never gets translated into action. There are many reasons for this - lack of motivation, lack of guidance, time-crunch, etc. But, my advice to them is: You only have one body; start taking care of it seriously. Take out at least one hour every day to do some light exercise and switch to eating healthier. Doing just this will go a long way towards becoming fitter.
Q: You were known to be averse to social media. What are your thoughts on the growing influence of the Internet and social media on children these days?
A: I would say that averse is a very strong word. I was just reluctant, previously. There is a lot of hue and cry about celebrity tweets or posts. However, I have now realized the power of social media. Tweets and posts are not only a way for me to share my opinions and anecdotes, I have realized that I can positively influence people through them as well. #MissionFitIndia and #SwasthBharat are just two examples of how we can propagate a great message through the Internet.
Q: How do you spend time together as a family?
A: My philosophy is, involve your family in whatever you do, for nothing brings more joy. We all work together. One takes up something, another something else and, so on. I also plan to get into producing films for my kids. We also enjoy doing simple things like watching a match or eating a meal together. It's just about spending quality time and enjoying each other's company.