Do you find school lunches brought back unopened? Don't worry, here's a collection of creative ideas for colorful, delicious, and also healthy Bento box lunches your child will totally love!
Packing lunch boxes can be quite an ordeal for some parents. It is especially disheartening when your child brings the dabba back unopened or unfinished — leaving you even more exasperated.
After all, you put so much of thought into your child's lunch box — the meal needs to be tasty, nutritious, a good-sized portion and appealing enough so that it motivates your child to finish his food. Sometimes, you run out of ideas or quickly pack some junk food, or the meal lacks variety... And what are you left with? A guilty conscience for the rest of the day.
So, what can parents do?
Try the Bento box idea! It is the Japanese way of creatively packing and serving colorful, attractive and wholesome meals in lunchboxes for your child. Bento boxes are conveniently thought-out boxes, designed to hold small portions of a variety of foods, thus encouraging the child to eat a balanced meal that's loaded with nutrition and flavor. Sounds interesting, doesn't it?
Here are some Indian' Bento box ideas to pack for your child!
What to pack
Mini beetroot and moong dalidlis (high protein)
Watermelon lollies (for hydration)
Add-ons:
Cheese cubes (calcium)
Cucumber slices (fiber)
Mini beetroot and moong dal idli's
Ingredients ( serves 4)
½ cup yellow moong dal
½ cup white urad dal
1 tsp methi seeds
Salt to taste
2 tsp oil
1 tsp mustard seeds
1 tsp urad dal
6 curry leaves, thinly sliced
1 small beetroot, finely grated
Method
Wash and soak the dal's and methi seeds for about 4 hours.
Set aside some of the water used for soaking. Drain the rest. Grind the dals to a thick batter of a smooth consistency, adding some water as required. Stir in some salt.
Cover the batter and set aside to ferment for about 6 hours or overnight, until the batter rises well.
Heat the oil. Add the mustard seeds and wait for them to pop. Stir in the urad dal and curry leaves. Add this seasoning to the batter along with the finely grated beetroot.
Ladle the batter into greased mini-idli moulds and steam in an idli cooker or pressure cooker (without the weight) for about 10 minutes. Remove the moulids from the cooker and slide the idlis out using a wet spoon or spatula.
Cool slightly and pack.
Watermelon lollies
Cut watermelon into 1" cubes. Remove the seeds using a toothpick. Skewer the watermelon on flat, small sticks or bamboo skewers. Sprinkle with thinly sliced mint leaves and pack them right away.
What to pack:
Millet and rajma patties (complex carbs)
Apple yogurt (fiber and protein)
Add-ons:
Steamed broccoli (calcium)
Grapes (vitamins)
Millet and rajma patties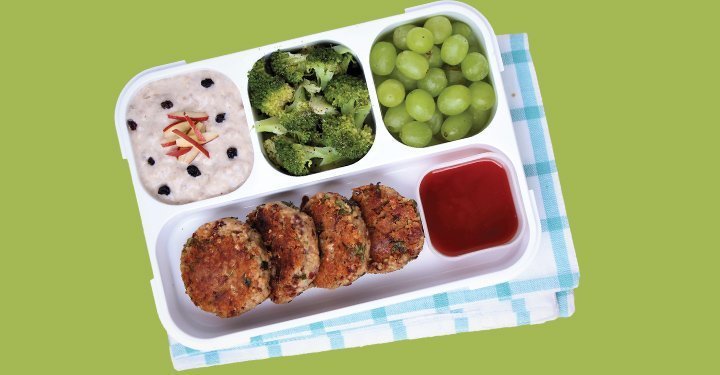 Ingredients (makes 12)
1 tsp oil
1 small onion, chopped
1 green chili, minced
½ cup foxtail millet, cooked
1 cup cooked rajma
50g grated cheese
Salt to taste
1 tsp chaat-masala
1 tsp jeera powder
¼ tsp chili powder
1 tbsp corn flour
A handful of coriander leaves, chopped
Oil for shallow frying
Method
1.Heat oil in a small frying pan. Add the onion and chili and cook until soft. Set aside to cool.
2.In a large mixing bowl, place all the remaining ingredients (except the oil for shallow frying). Add the fried onions and mix everything well.
3.Shape the mixture into 2.5 diameter patties. Place on a greased plate, cover and refrigerate until ready to fry.
4.Shallow-fry the patties using a little oil until crispy and well-browned. Cool for a few minutes before packing.
Note: To cook the millet: Wash and soak the grains for 15-20 minutes. Bring 1¼ cup water to boil and add the millet. Cover and cook on low heat until tender. Cool before mixing with the other ingredients.
Apple yogurt
Peel and dice an apple. Cook the apple with a splash of water, until tender. Mash slightly and add 2 tablespoons of brown sugar and a large pinch of cinnamon powder. Cool and stir the apple into a bowl of thick, hung curd. Add raisins and chopped walnuts, if desired.
What to pack:
Paneer rolls (whole grain with calcium)
Chili hummus (protein)
Add-ons:
Veggie sticks (naturally low in fat and calories)
Dry fruit mix (fiber)
Paneer rolls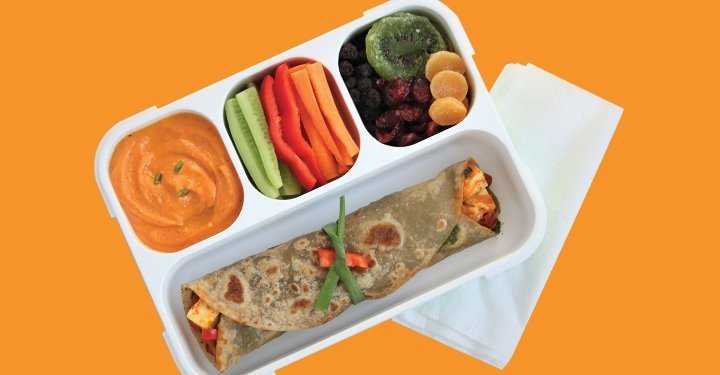 Ingredients (makes 4 rolls)
200g paneer, cut into cubes
1 tbsp oil
1 large onion, thinly sliced
1 large capsicum, thinly sliced
1 tbsp ginger-garlic paste
Salt to taste
1 tsp coriander powder
½ tsp jeera powder
¼ tsp chili powder
¼ tsp turmeric powder
1 tbsp powdered kasuri methi
1 tsp saunf (fennel seeds) powder
1 tomato, chopped
¼ tsp garam masala
4 large chapatis
Method
Heat the oil in a frying pan. Add the onion and capsicum. Fry briefly on high heat, then lower the heat and add the ginger-garlic paste. Cook well.
Add salt, coriander powder, jeera powder, chilli powder, turmeric powder, kasuri methi and saunf powder. Stir well.
Add the chopped tomato and cook until mushy.
Drain and add the paneer cubes. Stir in the garam masala and take the pan off the flame. Set this filling aside.
Spread 1 tbsp green chutney on each chapati. Place 1-2 tablespoons of filling on top of each chapati and roll it.
To make the green chutney: Grind together a cup each of coriander and mint leaves, a green chili and 4-5 almonds. Add salt, a pinch of sugar, and lemon juice to taste.
Chili

 hummus
Soak two Kashmiri or Byadgi chilies and one spicy whole red chili in hot water for a few minutes. Grind together a cup of cooked chana, soaked chilies, 2-3 garlic cloves, a tablespoon of tahini (sesame seeds paste), juice of one lemon and salt to taste. Add some water, as needed to achieve a smooth and thick consistency. Transfer to a container and use as a dip or spread.
What to pack:
Chana tawa pulao (protein and fiber)
Veg medley salad (vitamins and minerals)
Add-ons:
Mango or seasonal fruit slices (beta-carotene)
Raita (calcium)
Chana
 tawa pulao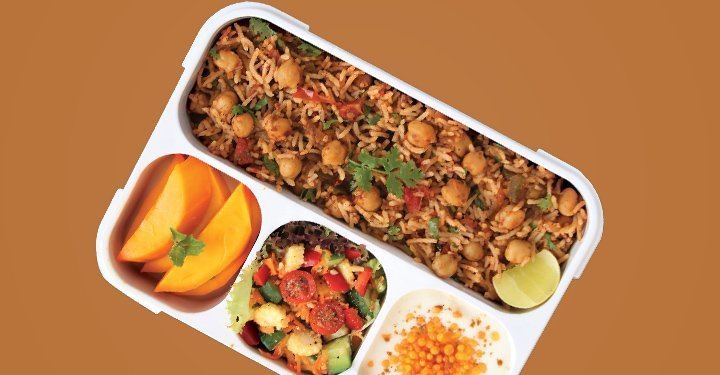 Ingredients ( serves 2-3)
½ cup basmati rice, soaked for 20 mins
1 tbsp oil
1 onion, chopped
1 capsicum, chopped
1 green chili, minced
1 tbsp ginger-garlic paste
1 tsp coriander powder
½ tsp cumin powder
¼ tsp chili powder
½ tsp Kashmiri chili powder
A pinch of turmeric
1 tbsp pav bhaji masala
Salt to taste
2 tomatoes, chopped
1 cup cooked chana
A handful of coriander leaves, chopped
1 tbsp branded salted butter
Juice of half a lemon
Method
Heat the oil in a large pan (kadai). Add the onion and fry on low heat until the onions are lightly browned.
Stir in the capsicum and green chili, and fry for a few minutes.
Add the ginger-garlic paste and cook until the raw smell disappears. Put in all the masala powders and salt, and fry for a few seconds.
Stir in the tomatoes and cook until mushy.
Turn the heat to high and add the cooked rice and chana to the pulao . Toss constantly for a couple of minutes.
Lastly, stir in the coriander, butter and lemon juice. Cool slightly before packing.
Veg medley salad
Chop up any salad vegetables like cucumber, red capsicum, baby corn and cherry tomatoes. Stir in grated carrot. Dress the salad with honey, lemon juice, salt and freshly ground pepper to taste. Stir in a tablespoon of coarsely crushed sunflower seeds or peanuts for texture. Your medley salad is ready!
Hope your kids relish these lunch box ideas!