2-Minute microwave mug cake recipes which parents and kids can bake together
Chef Sheeba Tilsley
3 Mins Read
Chef Sheeba Tilsley
Follow
Written For ParentCircle Website new design update
Wondering how to make a quick and simple dessert that even your child could help you make? Look no further! Here are some easy mug cake recipes that you can make at home in just two minutes!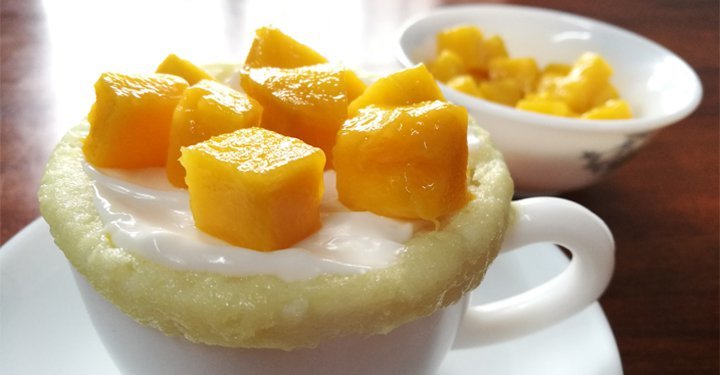 Imagine just having finished dinner after a long day, and your family suddenly asking for dessert. Or sitting down for tea in the evening and realizing some cake would've been lovely. Imagine baking a cake in under five minutes. Sounds impossible? Well, its not!
Introducing five tried and tested recipes of microwave mug cakes, which take just under two minutes to cook. No fuss, no fancy equipment or baking pans required not even an oven. What's not to like in a microwave mug cake? Try these once, and you'll be hooked for life.
Remember to make the cakes in microwave safe mugs or bowls only, and in the microwave mode, and not in the usual heat food mode on your oven.
On to some yummy recipes now!
1. Brownie (eggless)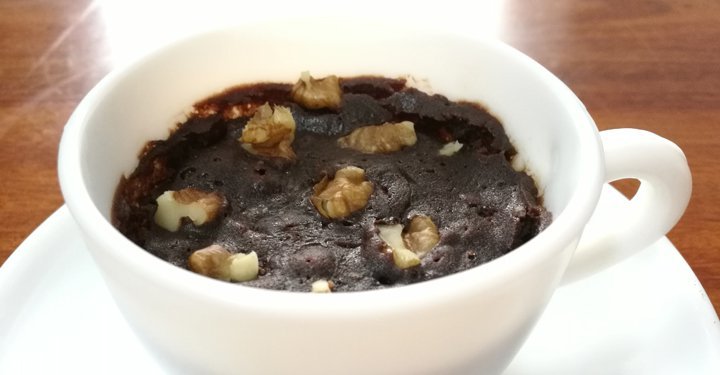 Ingredients 
4 tbsp flour
3 tbsp sugar
2 tbsp cocoa powder
3 tbsp vegetable oil
3 tbsp water
a pinch of salt
tsp vanilla essence
1 whole walnut
Method
Mix together all the ingredients in a small bowl.
Pour the batter into 2 microwaveable mugs.
Garnish the batter with crushed walnuts.
Microwave for 1 to 2 minutes, and voila your cake is ready!
Serve with a scoop of vanilla ice cream on top.
2. Chocolate lava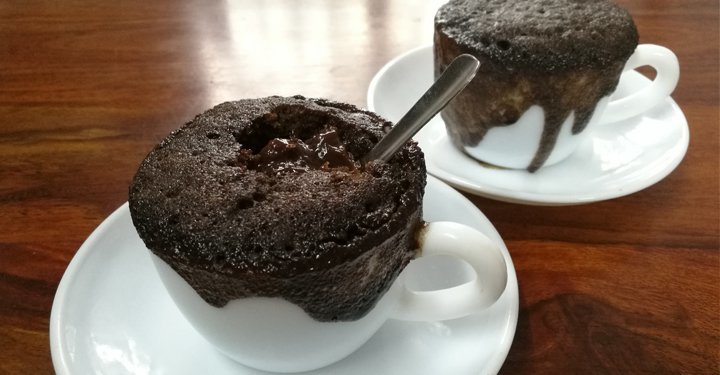 Ingredients
30g flour
50g sugar
2 tbsp cocoa powder
tsp baking powder
3 tbsp milk
3 tbsp melted butter
tsp vanilla essence
1 egg
4 to 5 squares of any chocolate you have
3 tbsp water
Method
In a bowl mix flour, sugar, baking powder, baking soda and cocoa powder.
Now mix in the melted butter, milk, vanilla essence and egg, until there are no lumps. Pour into 3 microwaveable mugs.
Place the chocolate pieces on top and pour the water right on top of this.
Microwave for 1 minutes, or just until the cake rises, when the sides look cooked, and the center is still wet (do not over bake, or the cake will be dry).
Let the cake cool for 5 minutes, before serving, so that the chocolate inside thickens a little.
3. Mango (eggless)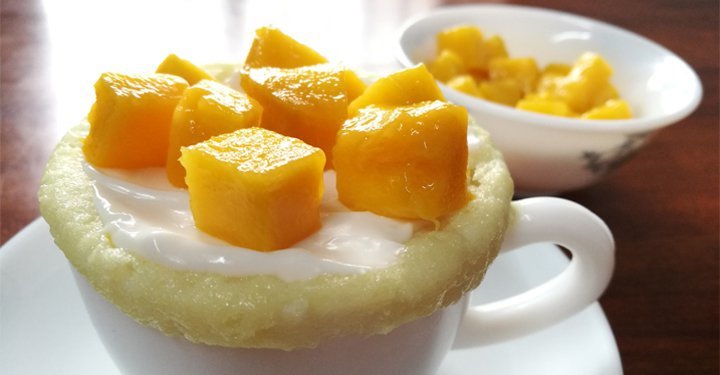 Ingredients
3 tbsp flour
2 tbsp sugar
A pinch of baking soda
tsp baking powder
1 tbsp vegetable oil (sunflower oil, or any oil that doesnt have a strong smell)
2 tbsp milk
1 tbsp milk powder
1 tsp vanilla essence
1 tbsp white choco chips  chips
a pinch of salt
Method
In a microwaveable mug, add the essence, milk, oil and mix well.
Add sugar, flour, milk powder, baking soda, baking powder and white choco chips, mix until just combined.
Microwave for 1 to 2 minutes, and garnish with mango cubes.
4. Blueberry cheese cake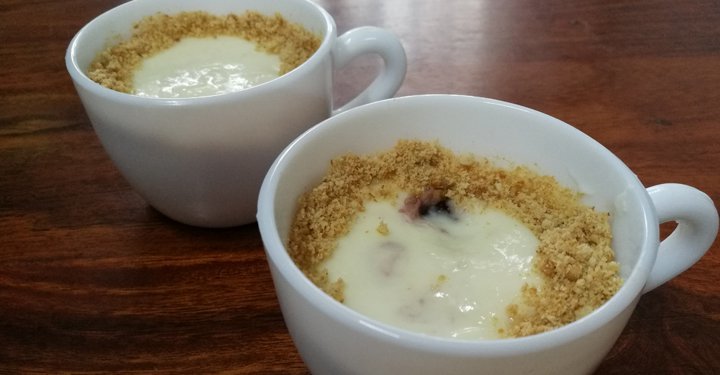 Ingredients
1 tbsp flour
115g cream cheese at room temperature
1 cup heavy cream
4 tbsp sugar
tsp vanilla essence
2 slightly beaten egg whites
1 tsp lemon juice
1 tbsp blueberry jam (or strawberry jam)
1 tbsp crumbled digestive biscuits
Method
Take a bowl and beat the cream cheese with a whisk, until it gets light and fluffy
Add in the heavy cream, vanilla essence, egg whites, flour, sugar and lemon juice.
Pour into two microwaveable mugs and swirl in the blueberry jam with a spoon.
Cheesecakes tend to overcook easily. Microwave just until the center starts bubbling. (It is important to just microwave for short, 20-second intervals until the sides are cooked, and the center looks wet and jiggly. Depending on your microwave, this could take as little as 40 seconds. Do not overcook, or the texture will become rubbery.)
Once done, refrigerate until fully chilled. If there is any liquid on top, spoon it out.
Garnish with the biscuit crumbs on top (and more blueberry jam if you want) and serve!
5. Vanilla-sprinkles  (eggless)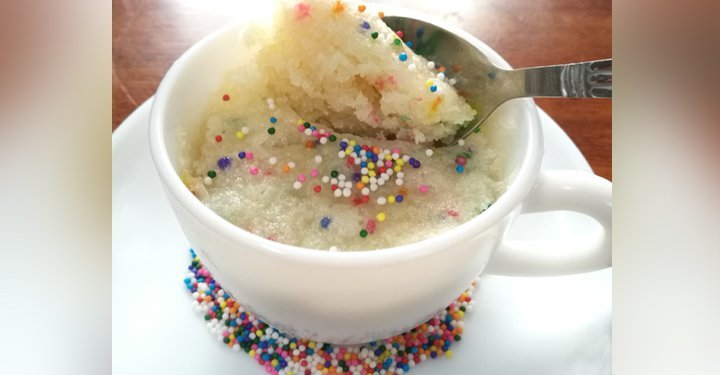 Ingredients

4 tbsp flour
3 tbsp sugar
tsp baking powder
3 tbsp vegetable oil
3 tbsp water
a pinch of salt
tsp vanilla essence
1 whole walnut
3 tbsp melted butter
3 tbsp milk
1 tbsp sprinkles
Method
Mix all the ingredients together in a bowl.
Pour the batter into 2 microwaveable mugs.
Microwave for 2 minutes.
See? It is definitely possible to make this simple and delicious dessert in such quick time. However, timings for the cooking may vary, depending on the wattage of the microwave. The recipes above were made in a 1200-watt microwave. If the wattage of your microwave is lower, then it will take just a minute or two longer.