Goodbye refined flour, hello whole wheat! Welcome health into your family with these 5 tasty whole wheat recipes
Priyanka G Mehta
4 Mins Read
Want to lure your kids away from cakes and doughnuts made with refined flour? Try these delicious whole grain recipes that give a twist to traditional ingredients and will appeal to the whole family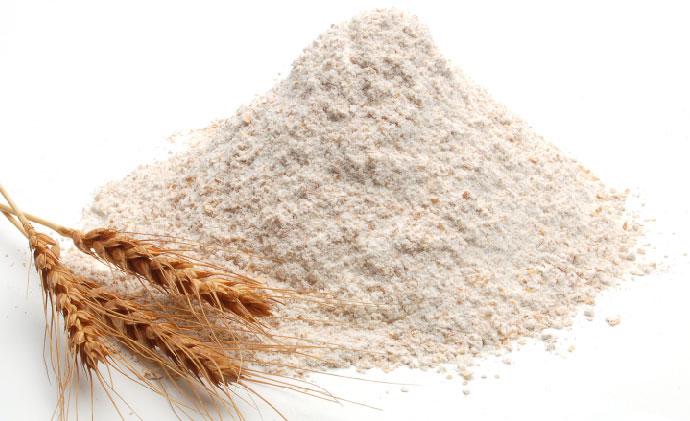 Do you reminisce of days gone by, when a whole wheat paratha, hot from the griddle and with a dollop of ghee on top, would bring a wide smile on your face? Are you often disheartened that your children prefer unhealthy pizza made of refined flour to a wholesome home-cooked meal?
Whichever way you turn these days, all you see are glass shelves filled with calorie-laden goodies, pastries, sweet treats, cookies packed with sugar, refined flour, and zero nutrition. Whole wheat, on the other hand, is full of vitamins and minerals and is high in fibre. What's more, wheat has been a part of traditional Indian cooking for centuries.
So, here are five amazing nutritious recipes that use whole wheat and other healthy ingredients. Make these mouth-watering foods for your family and watch them ask for more!
1. Broken wheat cutlets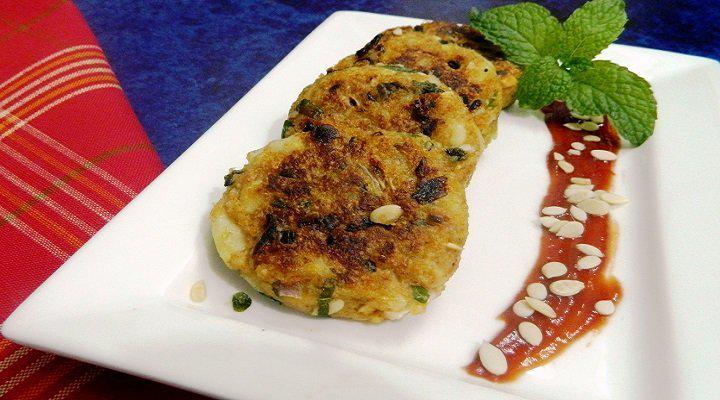 Ingredients
1 cup broken wheat
3 medium potatoes (boiled and mashed)
1 cup chopped spring onion greens
1 medium onion, finely chopped
1 tbsp roasted melon seeds or coarsely powdered roasted peanuts
2 tbsp chopped coriander leaves
Salt to taste
1 tsp red chili powder
1 tsp cumin powder
1 tsp chaat masala
Oil as required
Method
Cook the broken wheat in one cup of water over a medium flame for 5-7 minutes till the wheat absorbs all the water.
In a large mixing bowl, take the cooked broken wheat along with the other ingredients and knead it into a dough.
Divide the dough equally into small, round discs.
Drizzle some oil on a hot griddle and shallow fry the discs.
Cook the cutlets till nice and crisp on both sides. Serve hot with tomato sauce or chutney.
2. Choco-banana bread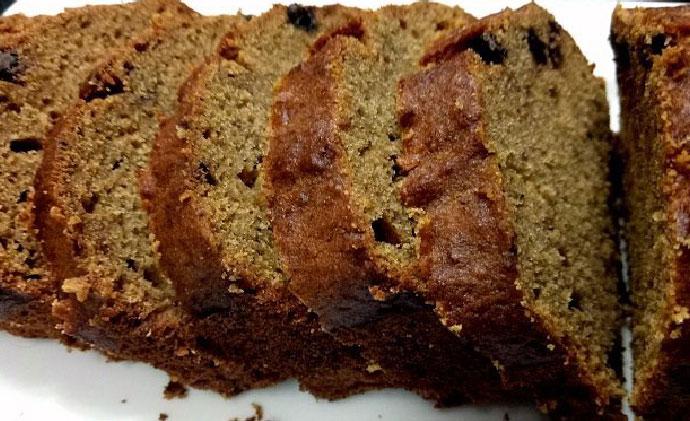 Ingredients
1 cup whole wheat flour
4 medium-size ripe bananas
1 cup coconut sugar
1 cup rice bran oil
1/3 cup dark chocolate chips
1 tsp baking powder
1 tsp baking soda
2 tsp vanilla extract
A pinch of salt
Method
Preheat the oven to 180°C.
In a mixing bowl, take the peeled bananas and mash well.
Add oil, sugar and vanilla extract to the bananas and mix well.
In another bowl, sift together flour, baking powder, baking soda and salt.
Add chocolate chips to the dry ingredients. Reserve some chips to use as a topping later.
Add the banana mixture to the flour mixture and combine all the ingredients, so there are no lumps.
Pour the batter into a greased bread mold and top with the reserved chocolate chips.
Bake in a preheated oven at 180°C for 30-35 minutes or until a toothpick inserted in the middle of the bread, comes out clean.
Let cool completely, and enjoy.
3. Apple dosa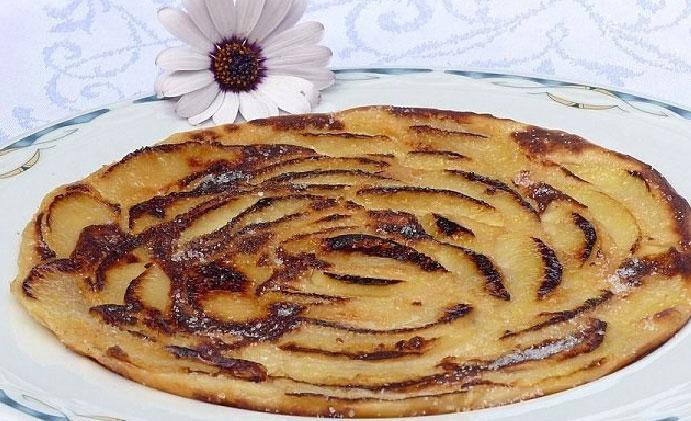 Ingredients
1 large apple (grated)
1 cup whole wheat flour
1 tsp baking soda
2 tbsp grated jaggery
1 cup milk
1 tbsp melted butter
A pinch of salt
Method
Sift the wheat flour, baking soda and salt together in a mixing bowl, add grated apple and mix well.
In another bowl, combine the milk, jaggery and melted butter till the jaggery is completely dissolved.
Add the milk-jaggery mixture to the flour and apple mixture to make a smooth batter. If needed, add another spoon of milk to adjust the consistency.
Heat a pan and smear some butter on it, pour a ladleful of the batter to make a mini dosa.
Cook the mini dosas on both sides till nice and golden.
Drizzle some honey and dig in!
4. Tabbouleh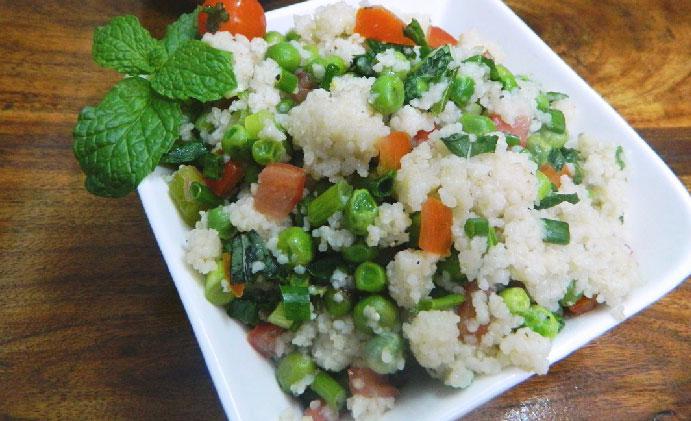 Ingredients
1 cup broken wheat
2 cup boiled green peas
1 cup chopped spring onions
2 medium tomatoes, finely chopped and seeds removed
1 small onion chopped
Juice of one lemon
1 tbsp extra virgin olive oil
Salt to taste
Crushed black pepper to taste
A handful of fresh mint leaves
Method
Cook the broken wheat in two cups of salted water on a medium flame till all the water is absorbed. Once cooked, keep aside to cool.
Once it is cooled, combine with peas, onions, tomatoes and spring onions.
Tear the mint leaves and add them to the tabbouleh.
In a small bowl, mix together olive oil, lemon juice, salt and pepper, and pour over the prepared salad.
Your healthy broken wheat tabbouleh is ready.
5. Whole wheat cashew cookies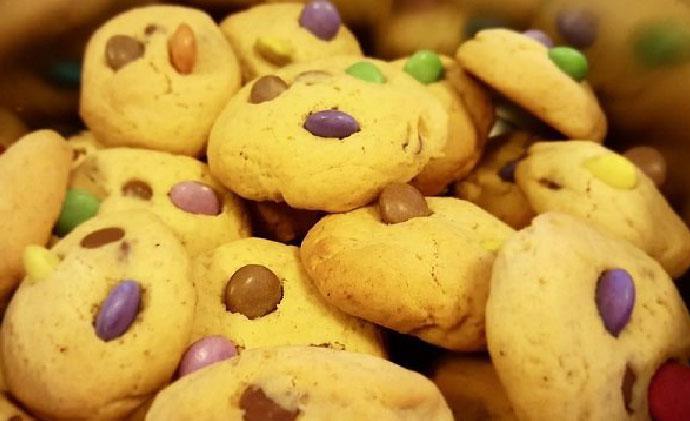 Ingredients
1 cup whole wheat flour
1/2 cup butter (at room temperature)
1 cup grated jaggery
1 cup powdered cashew nuts
A few halved cashews for decorating the cookies
Or, some multi-colored choco chips as a topping
A pinch of salt
Method
Cream the butter, jaggery and a pinch of salt together till the butter becomes fluffy and creamy.
Add the powdered cashews and mix well.
Add the flour and make the mixture into cookie dough.
Pull out small lemon-sized balls and flatten between your palms a little. The discs should still be an inch thick.
Decorate the cookies with halved cashews or multi-colored choco chips. Arrange the cookies on a parchment-lined baking tray.
Bake the cookies in a preheated oven at 170°C for 12-14 minutes or till both sides are golden.
Cool the cookies completely and store them in an airtight container. These can last for up to a month.