In an exclusive interview, Siddhartha Basu, the father of Indian quizzing, talks about how quizzing can help children handle pressure and aid imagination
Rewind to the 1980s: Sunday night and the clock ticks past 8:45 p.m.; the whole family is seated in front of the television set; the countdown begins and the atmosphere builds up. Quiz Time, one of the most popular television shows is set to air in just about 15 mins.

Fast forward to the new millennium: The clock ticks past 8:45 p.m.; the whole family is again seated right in front of the television set; the countdown begins and the atmosphere builds up. Kaun Banega Crorepati, one of the most famous modern television shows is set to air in just about 15 mins.
The common element in both these shows, other than the visible user excitement, is the iconic quizzer, Siddhartha Basu. He was the host for Quiz Time and is also the brain behind the KBC. At an event in Bengaluru recently, the ever-smiling father of Indian quizzing was happy to be quizzed by ParentCircle on a host of issues.
Here are the excerpts.
PC: How does one define the concept of quizzing?
Basu: General knowledge is about going beyond textbooks. It enriches your thought, your mind and your life beyond just limited things. I believe knowledge is its own best reward. Facts are sacred. It is important to understand a subject as well as you can. Children need to understand how to find out and how to savour what you find out. After that, it is about how you share what you picked up. To me, this is what general knowledge is all about. Always remember, what is trivial is not relevant, but what is essential is relevant.
PC: Is quizzing an art or science?
Basu: A bit of both. When we make questions for shows like KBC, where there may be lakhs or even crores (of rupees) riding on them, authentication and verification becomes paramount. It is not my word versus yours and it definitely is not about one source versus another, which is why quizzing is about the science of making questions. Question-writing is partly science and partly the art of precision. It has to kindle your imagination. So, it is partly craft and partly art.
PC: Are some children naturally inclined towards quizzing?
Basu: Quizzing is just questioning. Simple. You should equate quizzing with curiosity. Kids are natural quizzers. They question everything. The key to the right answer is the right question. It is all about inquisitiveness, curiosity, scepticism and, above all, passion to know and explore. Eventually, a child has to grow up to find answers to those questions through experiences.
PC: Research has shown that quizzing helps the cognitive development of a child. There's also the suggestion that it helps children handle pressure better. Do you subscribe to those theories?
Basu: Of course it does. Quizzing sparks imagination. It is important to understand or try to understand the subtle elements of a question. The first Chief of the Indian Air Force is not the same as the first Chief of the Indian Air Force after Independence, which again is not the same as the first Indian Chief of the Indian Air Force. You should be able to distinguish and discriminate. That differentiation is what quizzing can do to you. To work things out is important. To be able to make the best connection is even more important. Let me give you another example - When we talk about the star closest to the earth, we instantly talk about Alpha, Proxima Centauri, among others. That's the natural inclination. But, we forget that the sun is a star. This is one of the first things we learn at school and forget soon after. Quizzing keeps these things alive.
PC: Why does that happen?

Basu: The primary reason is, today's school children are over-loaded. There's a difference between what you learn, what you want to learn and what you like to learn. Importantly, you retain what you savour, what you find value in and what you connect with. Our education system needs to gear up to not just let children scram or memorise a bunch of things from a textbook but to help them make connections.
PC: Are children not reading enough these days?
Basu: Reading is the key to awareness and true education. If you are not a good reader, you are not likely to be a knowledgeable person. Reading wisely, well and widely is terribly important for the growth of the mind. For mastering any field, it is vital to read well. It doesn't matter what your choice of reading is - book, newspaper, magazine or anything. Having said that, it is important to cut through a lot of rubbish, which I call noise. Pick out quality over quantity. Today, the world is like a hypermarket. You go in, get lost and come back picking nothing. It is about making the right choices.
PC: Do children find subjects increasingly boring these days? How important is it for schools to look at teaching methods to encourage students to love subjects better? Should quizzing be made mandatory?
Basu: There are enough mandatory elements in a curriculum already. So, it's better to have quizzing as a choice. Kids these days have plenty on their plate. I guess any education system that allows children to work things out on their own is a good system. Also, if a subject is taught well, it can make a world of difference. If mathematics is taught well, children really go for it. Any subject, even history, can be scintillating if taught well.
PC: You are the CEO of a leading entertainment production house. Yet, quizzing is very close to your heart. How do you keep yourself going?
Basu: (laughs) They say, too old to quiz and too young to die. They say this about rock music. I am a theatre person and I love communicating. It's all about enjoying it. It's all about ensuring you are doing it interactively. It is more than entertaining. It is about edutaining. Over the years, there have been plenty of changes. Just look at my hairline (laughs). It's been 31 years. Back then, Doordarshan was the only television network in the country. Today, we are spoilt for choice. But, it was great fun then. I still remember we had some very interesting names participating in the first edition of Quiz Time. Rajdeep Sardesai came with St Xavier's and the present RBI Governor, Raghuraman Rajan represented IIT Delhi. Plenty of fun. After all, life is all about celebration of knowledge and that has definitely not changed over the years.
PC: You are a parent to two beautiful and successful kids. What was your parenting style? Was there plenty of quizzing at home when they were young?
Basu: My wife was an extraordinary Tiger Mom who, incidentally, wasn't the fierce Tiger Mom. She was a very compassionate and caring Tiger Mom. I was neither strict nor too lenient, but for me, my kids have been my best production (bursts into laughter). I always wanted my kids to enjoy every moment. They are very good kids and are all-rounders, which is great. My son is now a film-maker and my daughter is studying law in international diplomacy in the UK. She is also actively into theatre and dance. To answer your question on quizzing at home, not really. There was already enough of quizzing elsewhere. But yes, we loved debating and discussing on a range of issues at home.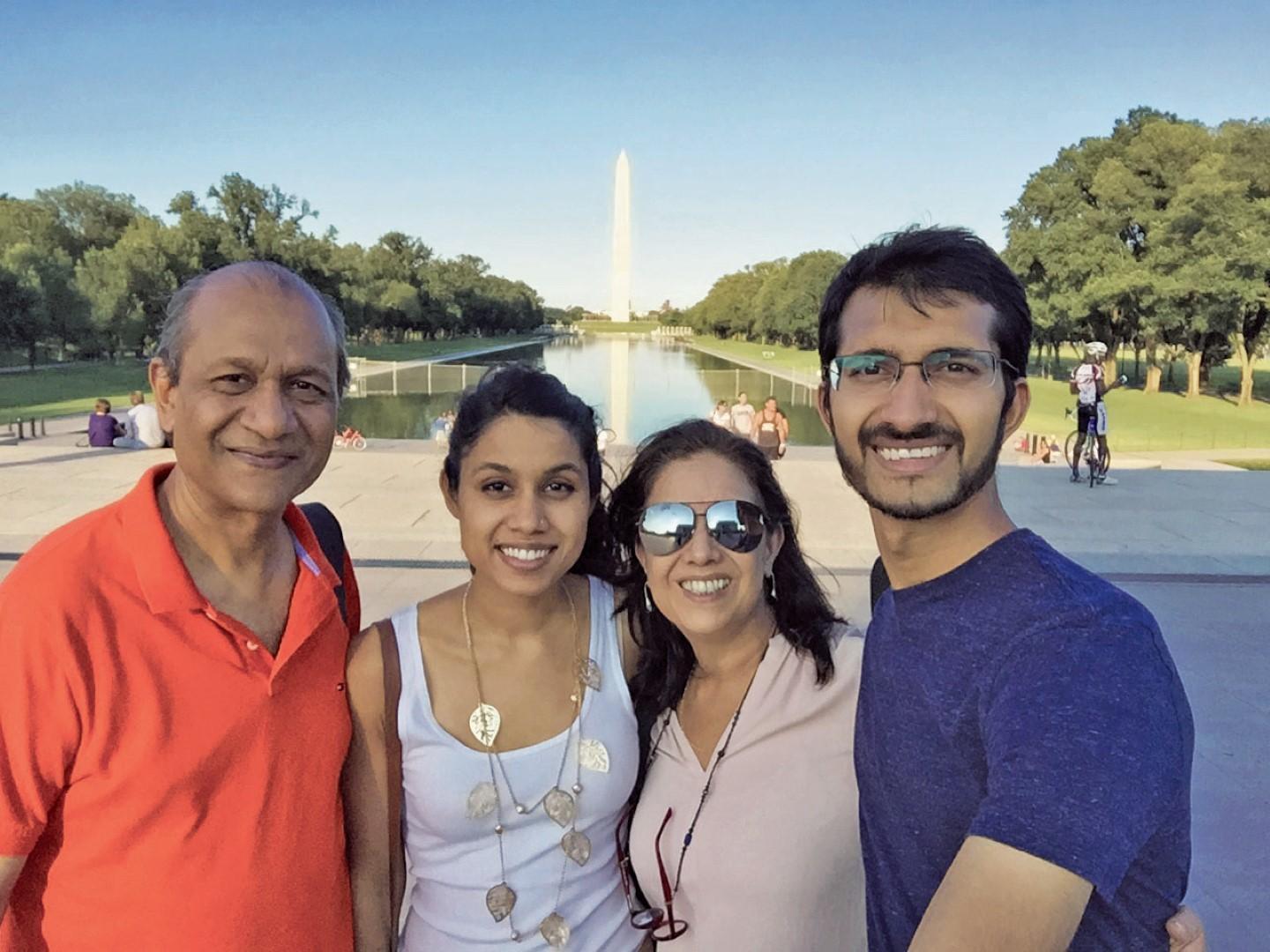 PC: Is a junior version of KBC on the anvil?

Basu: I would not even recommend it. KBC is linked to money, which is fine for adults but for kids, they wouldn't know the value of money. They are too young for it. I wouldn't recommend KBC Junior, although we have the occasional one-off episodes.
PC: ParentCircle is all about the fabulous experience of knowledge-sharing when it comes to child upbringing. How important is the model of knowledge-sharing in today's world?
Basu: Knowledge-sharing is everything. We live in an information-led era dominated by everything digital and are definitely in the middle of a major knowledge evolution. This is why knowledge-sharing can make the biggest difference. It is the key to enriching life. You are in the right space and knowledge-sharing is the way to go. Good luck!
I always wanted my kids to enjoy every moment.
Fact File
A product of Kendriya Vidyalaya, IIT Madras (Schooling), St Stephen's, Delhi (Graduation) and Hindu College, Delhi (Post Graduation)

Started with Quiz Time on DD and went on to host & produce popular shows like 'Mastermind India' on BBC World, 'India's Child Genius' on Star World among others

Along with his wife, Anita Kaul Basu, founded Synergy Communications, a company that produces extremely popular talent shows like KBC, Jhalak Dikhhla Jaa and India's Got Talent for different television channels in India

Author of the highly popular Encyclopaedia Britannica General Knowledge book series, 'Know for Sure'

5 Quick 'Home' GK Tips
Active newspaper reading sessions at home

Stock up home library

Encourage your child to socialise

Family bonding through fun GK games

Encourage your child to read, read and read