Did you know there is a lot your child can learn from the Elephant God we all adore? Celebrate this Ganesh Chaturthi with prayers, modaks, laddoos, sundal, and meaningful stories!
Children are absolutely fond of Lord Ganesha. They admire him for his great wit and unique appearance. In this exclusive article, we first take a look at the symbolic meaning of Lord Ganesha, and his embellishments. We present three stories that teach your child moral values and talk to children to understand what the Elephant God means to them.
The symbolism of Lord Ganesha
Lord Ganesha is loved by children for his elephant head, large ears, huge stomach, and more! Explain to your child the meaning and symbolism behind each part of Lord Ganesha and his adornments.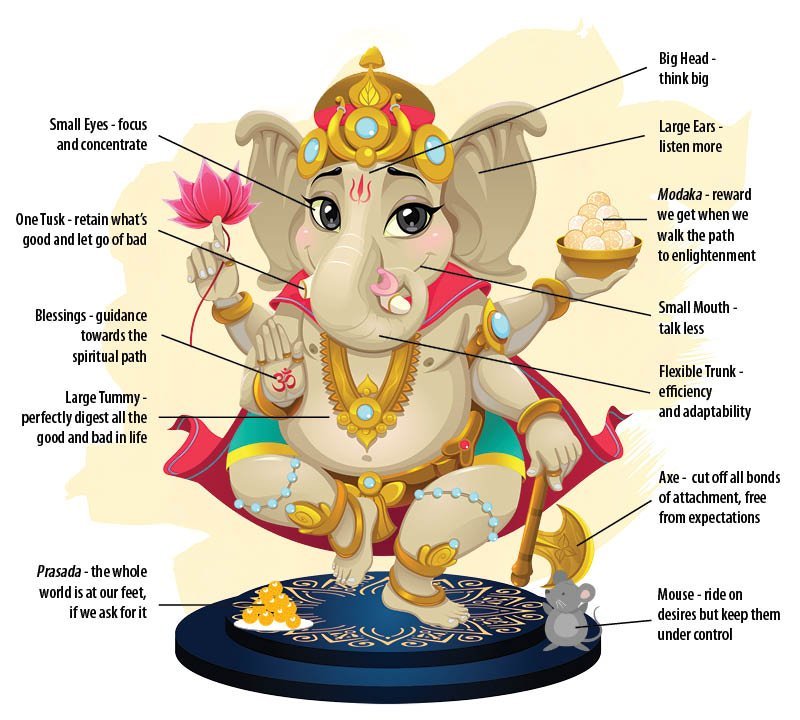 How Ganesha gets an elephant head
One day, in the snow-capped mountains of Mount Kailash, Goddess Parvati is getting ready to take a bath. She realizes there is no one to guard her door. So, she sculpts a beautiful boy out of turmeric paste and gives him life. She adores him as her own son and calls him Ganesha. She lovingly instructs him to safeguard the door and not allow anyone inside. When Lord Shiva returns from his meditation, Ganesha stops him at the door. Even after Lord Shiva reveals his identity, he refuses to let him enter. In a rage, Shiva fights the boy and beheads him using his Trishul. Parvati is infuriated that her boy has been killed and sets out to destroy the world. Lord Brahma, the Creator, intervenes and convinces her to change her mind.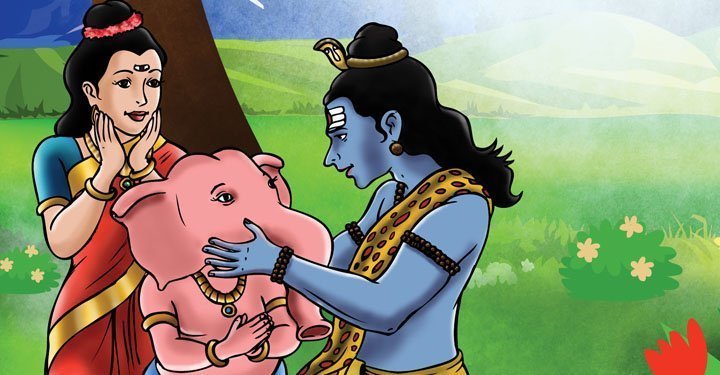 Parvati accepts on the condition that Ganesha is brought back to life. Shiva places the head of a strong and powerful elephant, Gajasura, on Ganesha's body and breathes life into him. Ganesha's sense of dedication and responsibility impress Lord Shiva and Goddess Parvati, and they accept him as their own son.
Values for children:
Persistence and courage made Ganesha the leader of all beings, earning him the foremost position among all gods. Ganesha's story teaches us that we need to be true to our duties. We should not fear powerful obstacles in our path. If we value the trust placed in us and perform our duties wholeheartedly, we will be rewarded with the respect and love that we deserve.
The fruit of wisdom
One day, Saint Narada comes to visit Lord Shiva and Goddess Parvati with a mango. He calls it the 'fruit of wisdom' and says that whoever eats the mango will be blessed with eternal wisdom. But, to reap the benefits, the fruit must be consumed whole without splitting it. Shiva and Parvati plan to give it to one of their two sons, Ganesha or Karthikeya. To decide who deserves the fruit, Narada sets up a competition. Both the sons have to go around the world thrice and whoever finishes first will win the fruit. Confident about winning the race, Karthikeya mounts his peacock vehicle, and swiftly flies away. Ganesha realizes that if he uses his own vehicle, the mouse, he would definitely lose. He immediately puts his mind to work. He happily circles his parents thrice. Then, he proudly declares that his parents, Shiva and Parvati, are his world and for him, there is nothing beyond them. Impressed, his parents gift him the 'fruit of wisdom'!
Values for children:
Lord Ganesha's actions teach us to value and respect our parents and elders. There is nothing more important in this materialistic world than the relationship we share with them. We must know our strengths and weaknesses and act accordingly. We must use our minds creatively in every situation. If we do so, victory is always ours.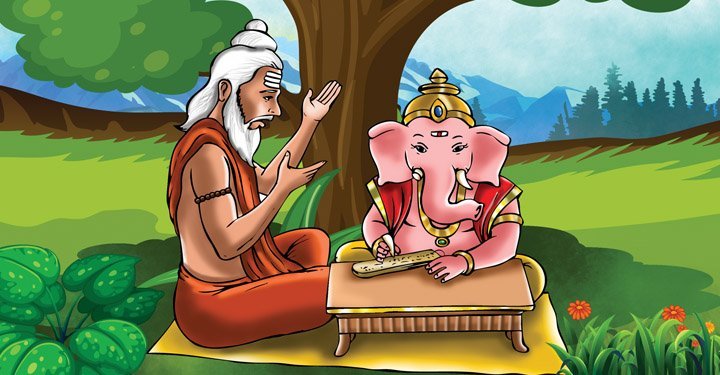 Lord Ganesha and the Mahabharata
One day, Sage Vyasa comes to Lord Ganesha asking for his help in writing the epic, Mahabharata. The sage wants Lord Ganesha to write the epic as he dictates it to him. Lord Ganesha agrees on the condition that he will not stop writing once he starts and that the sage should dictate it continuously without a pause. Sage Vyasa, being a wise man, adds a twist to it. He tells Lord Ganesha that he should understand the meaning of every verse before writing it down. The exercise begins as agreed. Every time the sage needs a break, he deliberately throws in a tough verse. Lord Ganesha pauses and takes the time to analyze and understand the verse. Sage Vyasa uses this time to recoup and organize more verses in his head. The writing continues. Unfortunately, Lord Ganesha's writing quill breaks due to continuous writing. In order to keep his promise of writing without a pause, Lord Ganesha, without any hesitation, breaks half of his tusk and uses it to write.
Values for children:
This story shows why Lord Ganesha is called the remover of obstacles. No obstacle is too big for us to overcome. Lord Ganesha teaches us the importance of keeping one's word. All we require is a committed mind and determination. If we have the right mindset, there is nothing we cannot achieve.
What Ganesha means to children
We asked a few children, "What comes to your mind when I say 'Ganesha'?" Now, be ready to go 'aww' over and over again, as here are their cute responses:
"The corner Pillaiyaar Temple! And elephants. But the real elephants are grey in color. The God in the temple is black with big eyes."
- Kathiravan Arunkumar, 5 years
"Kulla Kullane, Gundu Vayirane, Velli Kombane, Vinayaga Murthiye, Saranam, Saranam, Saranam." (Begins to sing a slokam taught by Aya, which means 'Oh Lord Ganesha, the short, pot-bellied one with a silver tusk! I surrender to you'.)
- Mahalakshmi, 3 years
"Kozhukattaiii" (Steamed rice dumpling - a favorite of Lord Ganesha)
- Sairam, 12 years
"Lord Ganesha is a good God. He has many powers. He is big in appearance. He is my best friend."
- B Sahana Sree, 8 years
"Lord Ganesha is The First God, and he will give whatever we pray for. He likes Kozhukattai very much. And he has his mouse always with him. His father cut off his head and placed an elephant's head."
- B Sadhana Sree, 8 years
"Lord Ganesha is a God. We must pray to him. He has a face like an elephant and he has a big nice round belly!"
- S P Hanith Sai, 4.5 years
"Elephant! Because that's my favorite animal."
- Shashwath, 12 years
"I love Lord Ganesha among all the gods because he seems to be 'friendly.' I think he is 'cute' as he sports an Elephant head. I'm also fond of him as he likes laddoos, just like me!"
- Akshita B, 6 years