Do you love starting your day with a strong cup of coffee? This International Coffee Day, we celebrate coffee for its countless uses, apart from being a flavourful beverage. Read on to know more.
"It's amazing how the world begins to change through the eyes of a cup of coffee" - Donna A Favors
Do you dream of that steaming cup of freshly brewed coffee as you roll out of bed? French vanilla, caramel macchiato, mocha or hazelnut - whatever the flavour, nothing kickstarts your day better than a hot cuppa and some 'me' time. Being a coffee lover also means you have a lot of coffee grounds after you brew your favourite beverage. Next time, think twice before throwing them out. Would you believe that coffee grounds can work wonders for your skin and hair? And that's just the tip of the iceberg. We are here to 'spill the beans' about how you can effectively reuse coffee grounds or leftover coffee, and show you how artists create art from coffee. From acting as a natural deodoriser to being a sensory tool for your kids, coffee will help you sail through your day in many ways. It's time to wake up and smell the coffee!
For Kids
Coffee mud play dough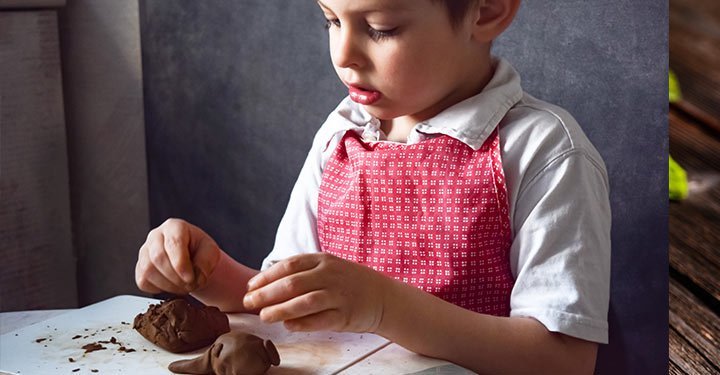 Give your child the excitement of making his own play dough. Add coffee grounds to give your child's play dough the look of mud. This dough is not edible but is great fun to play with.
How to make coffee mud play dough
Mix together 1 cup flour and half cup coffee grounds. Add 2tbsp oil and salt and stir well. Add half cup of hot water little by little to get the consistency of dough. If the dough is too oily, add more flour and knead. Add glycerin and stir well. Your play dough is ready!


Coffee slime
If your kids love to play with slime, this will be a hit, because this slime made from coffee feels and smells amazing. Check out this video to learn how to make coffee slime.
Surprise Eggs
Make surprise eggs which have hidden toys for your child using this simple method. This will keep your kids engaged for hours.
Combine 2 cups each of sand and flour, with 1 cup of coffee grounds and water in a big bowl. Ask your child to help with the mixing and kneading. To make a rock, take a small portion of the dough and flatten slightly. Then keep a small toy in the dough and fold it till it is completely covered. Make many such 'rocks' and bake them. You can then bury them in your garden or simply hand them over to your kids and watch them break the rocks to get their surprise.

Sensory bins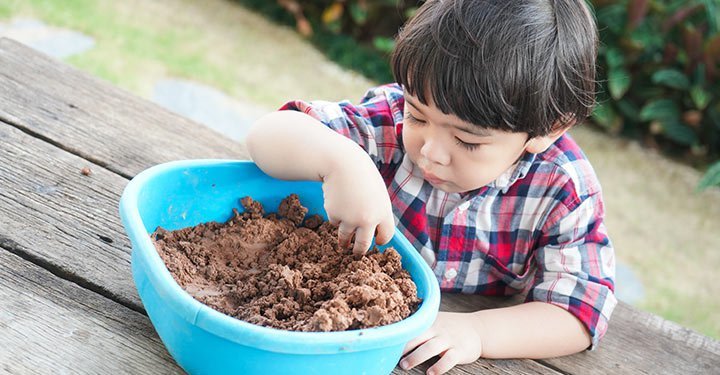 A sensory bin is a large tub filled with materials of different textures, with the objective to stimulate your child's senses. You can choose from any material - wool, cotton, beads, buttons, aquarium rocks, sand, pom poms, bird seed, feathers, and of course, coffee grounds. With sensory bins, your child will use his senses of sight, sound, touch and smell to explore and learn. Coffee grounds are a great component for sensory bins because of their cold and soft texture. Kids will love dumping and refilling their bins and you can use the grounds later for your garden.
For your home
Natural deodoriser
Place a cup of whole coffee beans in your room or bathroom. The smell will not be strong, and you will get short bursts of coffee scent when you walk by. Placing used coffee grounds in old socks and tying them up also works as an effective deodoriser. Use this for your car or refrigerator as well.
Natural compost for your garden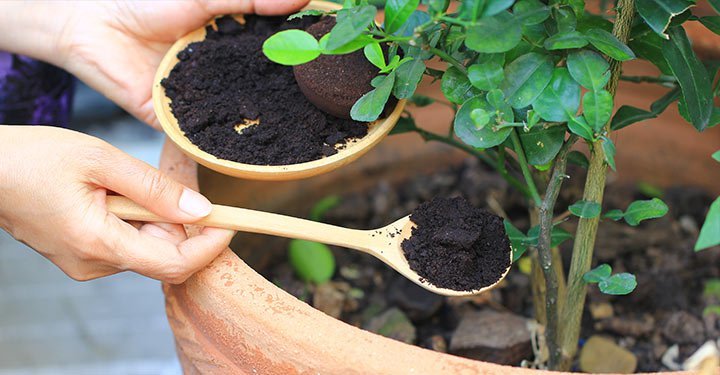 Coffee grounds can be used as a fertiliser for your plants. Just sprinkle them in a thin layer on the soil or add them to your compost. As they are nitrogen-rich, you will need to balance them out with carbon-rich materials like dried leaves or sawdust. Coffee grounds are also great for vermicomposting.
Scrub for pots and pans
Coffee grounds work their magic even on tough stains or grease. Just sprinkle on tough spots and scrub to remove the grease without using chemical cleaners.
Coffee candles
Fill your house with the amazing aroma of coffee with these home-made candles, made from used coffee grounds. Watch the video to learn how.
Insect repellent
You might love the smell of coffee, but it is not the case with everyone. The strong smell of coffee repels insects, bugs, ants and slugs. Burning dried coffee grounds also repels mosquitoes.
Treat your pet's fleas
Add some coffee grounds to your pet's shampoo to act as a natural flea repellent, or just brush them on fur and let it stay for some time before washing it away.
For your beauty regimen
Body scrub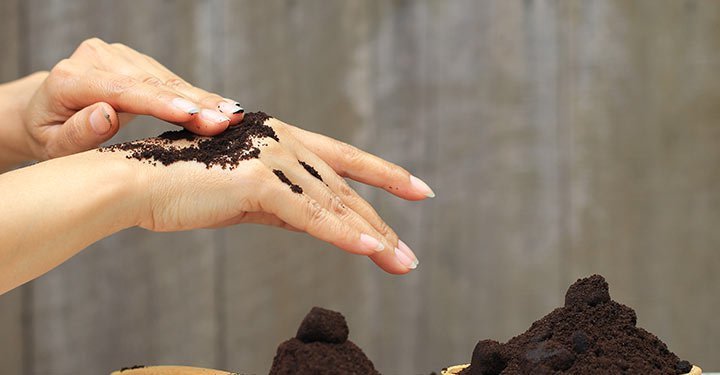 Mix half cup of freshly ground coffee powder and half cup of sugar. Add half cup coconut oil and mix well. Add 1 tsp of vanilla extract (optional) to the mixture. Apply all over your body and face. Rinse after some time. The caffeine in coffee powder, when applied topically, constricts blood vessels ad helps reduce inflammation and puffiness. It also tightens and brightens the skin, reducing wrinkles and cellulite.
Check this page to learn how to make your own coffee body scrub. Coffee Scrubs for smooth skin
Lip balm
Coffee is efficient to treat sore or dry lips. It exfoliates your lips and makes them flush with colour. Even otherwise, who doesn't love a coffee flavoured lip balm? Click on the link below to know how to make lip balm with coffee. This method involves a special process of infusing oil with coffee grounds so that you get the scent, flavour and benefits of coffee.
Coffee lip balm recipe
Shampoo, hair mask and hair dye
To add a bit of shine to your hair, add 1/2 tsp of coffee powder to your regular amount of shampoo and use as usual. The caffeine in coffee will boost blood circulation in your scalp and make your hair healthy and improve growth.
How to make coffee hair mask
For a hair mask, blend together 1 tbsp each of honey and olive oil, along with 2 tsp of coffee powder to make a thick paste. Apply liberally on your hair, wait for 20 minutes and rinse off with cool water. Repeat this twice a week to nourish and soften your hair.
How to make natural hair dye with coffee
To give your hair a darker look, try a simple dye with coffee. Brew a cup of dark roast coffee, mix about half cup of coffee with 2 tbsp of coffee grounds and 1 cup of leave-in conditioner. Apply this to damp hair, let it rest for an hour and wash. This may not stay for a long time, but gives your hair a quick boost of colour.
For Art
While we might have seen or heard about baristas creating art in a foamy cup of coffee, artists have also taken inspiration to use coffee in its raw form, in works of art.
Hrudhya Kaya, currently pursuing her 11th grade in Vikaasa World School, Madurai, tells us about her experience in coffee art, which is her theme for her Art and Design paper at school.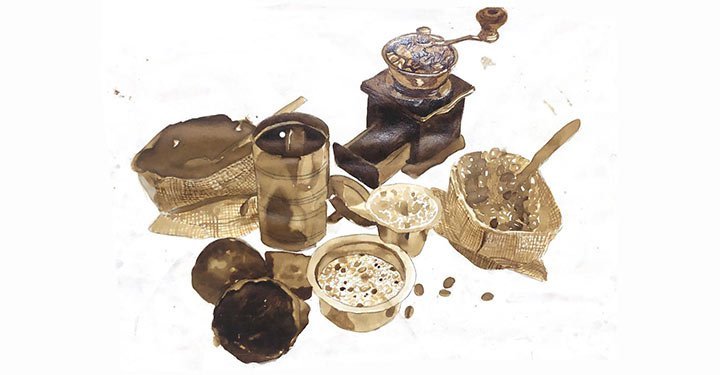 "Though I don't drink coffee, I've always been intrigued by the aroma, the dark colours and blends of coffee and its impact across cultures. After an extensive research on coffee, from bean to brew, and related artwork, I decided to express myself using coffee and the techniques used by renowned artists like Vincent Van Gogh and Pablo Picasso. Coffee can be a tough or an easy medium to make art but it more or less depends on what art the artist wishes to portray. Using coffee as a medium was more of a self-taught experience and involved several experiments with various blends of ground coffee to get the desired pigment."
Shoba Krishnan, an artist by passion, talks about her experience with coffee art.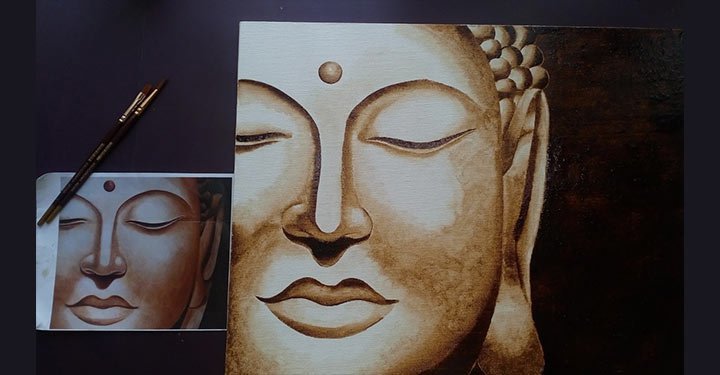 "When I heard about coffee art, I was intrigued and wanted to try it out. So, when I saw an advertisement for a workshop, I jumped at the opportunity. Instant coffee powder can be used to make the paint. Just add 2 tbsp of water to 100 g of coffee powder and keep stirring in the same direction, to avoid bubbles. Let this mixture rest for about 10 days, and keep stirring after each day, for the first three days. Make sure to leave the mixture undisturbed after that. Your coffee paint is now ready. You can easily use this mixture for 5 to 6 paintings. My favourite among my coffee artworks is a painting of Buddha. The fact that coffee can give you different shades of brown from the same mixture and the soul-lifting aroma makes painting with coffee very fascinating for me."
Now that you know about various interesting uses of your favourite beverage, remember to save the used coffee grounds and the extra brew, the next time you make yourself a cup. Here's to the drink which makes every day a little better!
Also Read:
7 Amazing Health Benefits Of Coffee

Popular Social Media Challenges Of The Year So Far
Mother's Health: Key to Family Health
About the author:

Written by Kerina De Floras on 1 October, 2020.
Join our Circles to share, discuss and learn from fellow parents and experts!
Looking for expert tips and interesting articles on parenting? Subscribe now to our magazine. Connect with us on Facebook | Twitter | Instagram | YouTube