Wondering how to keep your little ones entertained? Here are 20 fun activity ideas that are perfect for young children. Give these a go-to to liven your family time!
Age group: 3 to 6
Happiness is homemade! So, while you are at home together, indulge in some fun activities as a family. It could be one or a combination of different activities that we have curated for you. Watch time fly by as you create memories of a lifetime!
1. Walk the line: Put on some music, and all of you can take turns to walk one foot over the other across a straight line of duct tape. Make the game more challenging by trying to walk backward or trying to balance with one foot on the line!
2. Indoor picnic: How about a samosa party at 7 pm on your terrace or balcony? Spread a pretty bedsheet, lay out the cutlery, light some candles, and enjoy a family mealtime. Add some music and liven up the mood. Don't miss the orange skyline. A treat to watch.
3. Bond over photos: Pull out old family albums or your child's baby albums and look through the memories together. Recollect stories and fondly narrate them to your child. Some hilarious ones are sure to jump out. Have a hearty laugh together!
4. Indoor bowling: Create your very own bowling alley. Line up around six to ten old water bottles in bowling style, and then take turns to tumble it down with a ball. Keep score and make some noise!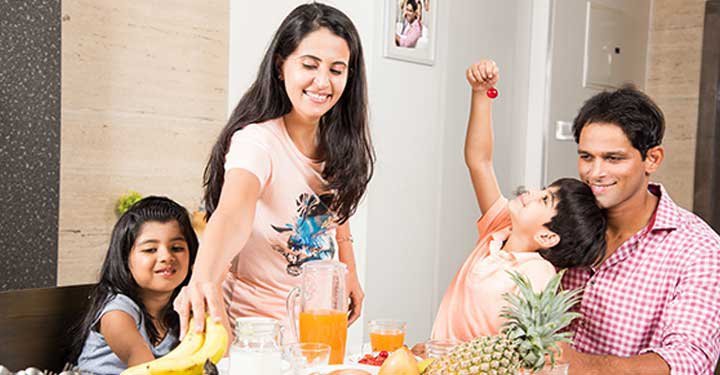 5. Stare and laugh contest: Do nothing but stare at each other and get the other one to laugh out first. Take this moment to also discover who has the loudest laugh!
6. Build a fort: Build a cozy little fort with cardboard boxes, blankets, pillows, cushions, and bed sheets. Let your child put her favorite soft toys inside the fort. This blanket-based private lair is perfect for playtime and naptime!
7. Reading made fun: Read a book together. But make it more fun and engaging with each family member enacting the different character roles and 'literally' bring the story alive!
8. Splash of colors: Spread sheets of paper on the floor. You and your kiddo can splash paint on these sheets. Use your hands and spread it if you like, or make some handprints or just turn it into an abstract piece of art.
9. Bedazzled: If you don't have jewelry craft kits at home, no worries! You and your children can use everyday items, like pasta, noodles, straw bits, beads, paint, string, wool, bottle tops, shells, and other things to make some fun jewelry. Consider wearing it for the next house party you attend.
10. Bookmark this: Sit together and make your own bookmarks. You can add some colors and glitter, stick some pressed flowers, write a quote on it, draw something cute, add some stickers - use it for your own books or gift it to someone who loves reading!
11. Vegetable art: Children can never get bored of vegetable printing. Let the kids get busy (and a little bit messy) creating a veggie masterpiece. For instance, cut okra in half, dip the open-cut end in non-toxic paint, and print with it on paper. Make patterns and designs. Do it together!
12. 'Dough' it out: Knead, mold, and sculpt something fun with play dough. Create an entire scene based on a jungle or underwater theme. You can roll it flat with a roller and then use cookie cutters to cut shapes out of it. Get creative and just enjoy your time together!
13. Origami fun: Children simply love origami. How about a boat, a cup, or a dog? Go on, make some creative paper crafts together and then, simply decorate your child's room with the new collection. Your child's going to talk about it for the next week, at least.
14. Cake or pizza: Two-minute microwave mug cakes are a lot of fun to make. Plus, they are quick and absolutely yummy to taste. You could also try mini homemade pizzas or a batch of cookies!
15. Photo collage: Obtain prints of some wonderful family photos and make a collage of it. Involve your child in choosing the photos, or adding some ribbons, glitter, or buttons to enhance the collage.
16. Fruit salad: While mommy or daddy does the cutting, the kids can arrange the pieces creatively to make beautiful shapes or interesting cartoon faces.
17. Magic show: Abracadabra! Everyone loves magic. You can have each member of the family learn a different trick beforehand, practice, and then put up a magic show together!
18. Tongue twisters and riddles: There is another great way to get your child engaged. Take turns and give each other some tongue twisters to try. These are bound to make all of you laugh. You can also ask each other some witty riddles and see who gets the answers right. A nice, laid-back way to have some family fun! For now, try this - She sells seashells on the seashore...
19. Theme night: If the theme is 'red', then all family members must dress in red and the dinner cooked will predominantly be 'red' food - tomato rice and beetroot side dish for instance. Yes, we know your child may not get too excited about beetroot. But, this is a great way to get her to like it too.
20. Pretend play: What does your child want to be? Zookeeper? Princess? Vampire? Scientist? Chef? Let her be whatever she wants and then indulge in some imaginative play and make her story come to life. Act out scenes together. There is plenty of playsets you can buy - doctor set, vanity set, toolset, cooking set, etc. Or simply use things around the house as props.
Yes, it's as simple as that! Spending quality time to connect with each other can't be easier. Let's promise to give up our screen time and gadgets for at least an hour to enjoy and experience the happiness of connecting as a family.